Happy Next 'National Bubba Day:' What is Bubba Wallace's Real Name and How Did He Get His Iconic Nickname?
NASCAR fans should mark the day on their calendars: June 2 is "National Bubba Day."
To go along with some of society's most famous Bubbas, like former President Wiliam "Bubba" Clinton and former NFL star and actor Charles "Bubba" Smith, Cup Series driver Bubba Wallace is making a name for himself among those who share his moniker.
Bubba Wallace wears the name with pride.
Bubba Wallace is beginning to make a name for himself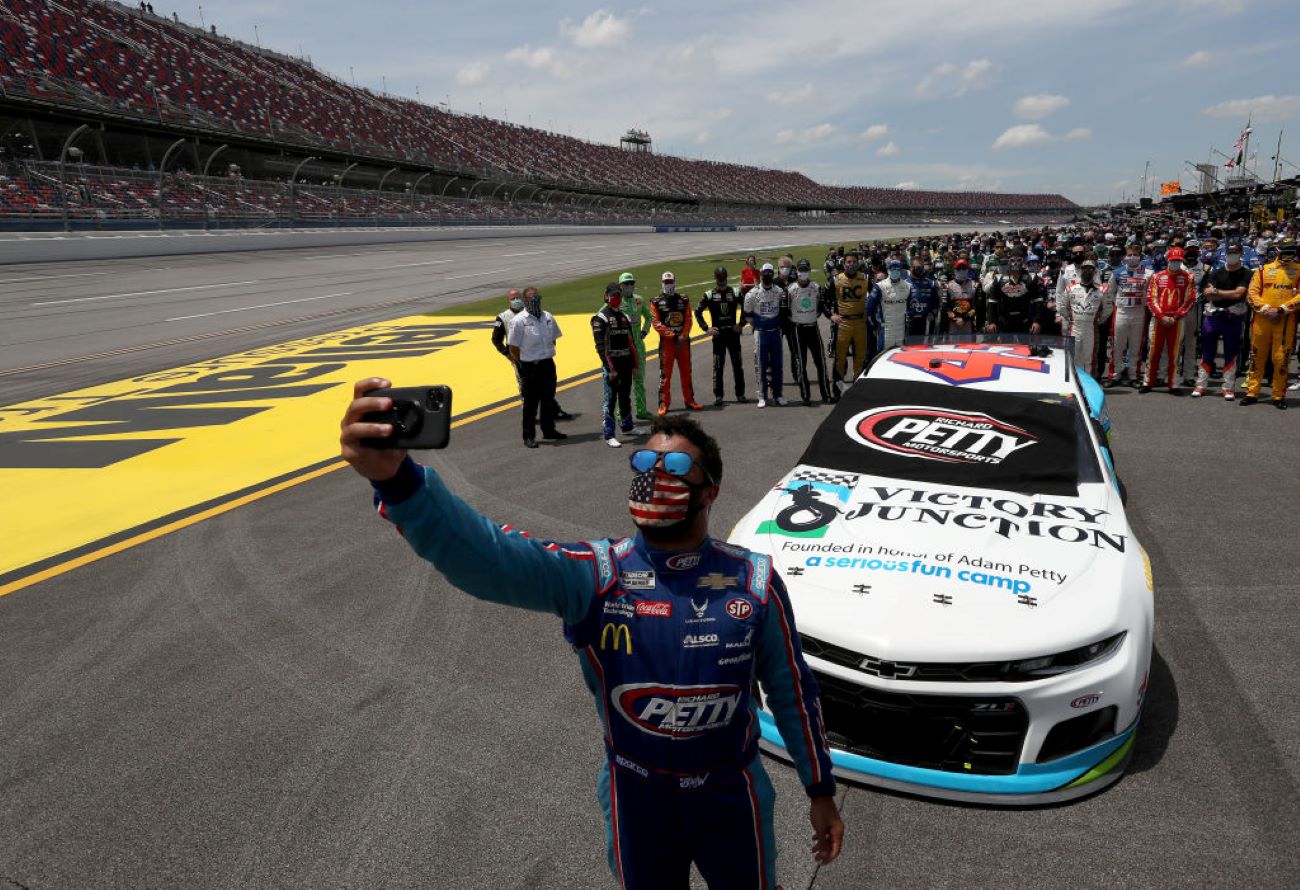 Bubba, according to dictionary.com, is Southern slang for "brother."
So how did "Bubba Wallace" become the driver's life-long calling card?
When he was born, 5-year-old Brittany began calling her baby brother "Bubba."
"It stuck," Wallace told kentucky.com.
Bubba Wallace does have a given name.
Can you guess it?
Well?
Most do not know because Bubba is about the only name he goes by, both on and off the track. For the record, it's Darrell Wallace Jr.
"I kind of like (having a nickname)," Wallace said. "At the racetrack, I don't get confused with my dad. People just say, 'Hey, Bubba.' "
People are talking more about Bubba.
They are talking about a history-making win, capturing the YellaWood 500 at Talladega Superspeedway on Oct. 3.
They are talking about his engagement with Amanda Carter.
More than anything else, though, NASCAR insiders identify Wallace as one of the industry's most critical up-and-coming drivers.
NASCAR experiencing cultural change
Since 1948, the year NASCAR was founded, only two black drivers have taken the checkered flag, Wallace and Wendell Scott.
Scott's Premier Cup victory, which came in 1963 at Speedway Park in Florida, raised controversy when the driver was denied the trophy and an opportunity to pose with a white girl who was scheduled to present the award. He also was initially denied being declared the race winner.
Driver Buck Baker, a white driver, received the award and posed for photographs with the trophy girl. A few hours later, after protesting the results, Scott was named the race winner. The trophy, however, vanished. Scott died in 1990 and last August, his family received a replica trophy, nearly 60 years later.
Wallace's mother, a former track and field competitor at the University of Tennessee, is Black, and his father is white. He understands his growing relevance in NASCAR society.
The industry's marketing footprint is rooted in the Southern states, populated predominately by white working-class males.
But society is changing, and NASCAR is attempting to become more multiculturally diverse. Wallace is fueling the change.
The victory was the first for the Michael Jordan-owned 23XI Racing and came at the track where Wallace experienced an apparent act of racism. Last year, Wallace's team discovered a noose in his garage stall.
Wallace said that type of social pressure has existed since he started racing go-karts.
"Yeah, there is some pressure," Wallace said. "But I just need to have my focus on winning races. If I do that, everything else will be good."
Bubba Wallace's top 20 finishes was not being like Mike
Is Wallace the "Tiger Woods of NASCAR?"
Time will tell.
Before his landmark victory, Wallace mostly struggled through the first season under Jordan's ownership. Through 28 races, he compiled just two top-10 finishes, and 13 times he placed worse than 21st.
That's not being like Mike.
Executing a late-season shakeup last month, Jordan brought in Bootie Barker to replace Mike Wheeler as crew chief. The win showcased their early chemistry.
Now, Wallace just needs to collect several more career victories and he, too, could be included among history's elite Bubbas.