'You're a Wizard Harry' and 'Let's Get Freaky': Spencer Dinwiddie Hasn't Stepped on the Floor and is Already Becoming a Washington Wizards Legend
The Washington Wizards made the biggest trade of the NBA offseason to this point, dealing Russell Westbrook to the Los Angeles Lakers.
The deal was so long ago in NBA terms (12 days) that it has already gotten lost in the shuffle. It doesn't help that the two-team trade expanded to an insanely complicated five-team deal.
Also lost in the shuffle is point guard Spencer Dinwiddie's landing spot in Washington. Westbrook is the obvious headliner, but Dinwiddie may be the most important acquisition as the Wizards attempt to build around Bradley Beal before another superstar hits the market with a trade demand.
Dinwiddie hasn't touched the floor yet in Washington. But he's already endearing himself to Wizards fans as he's had some fun after landing in D.C.
Spencer Dinwiddie is an underrated NBA point guard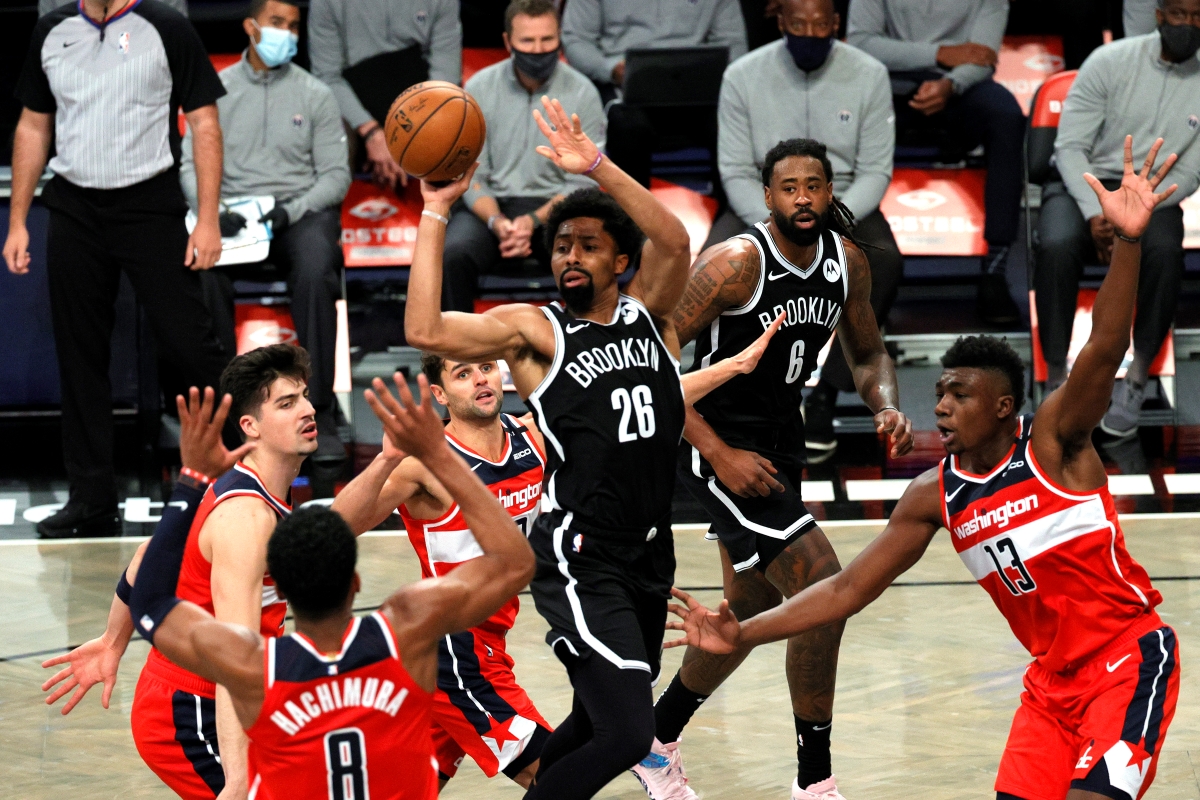 After playing the last five seasons in Brooklyn, Dinwiddie will likely slot in as the Wizards' starting point guard on opening night. He didn't play at all last year after tearing his ACL early in the season, although he said he hoped to play in the NBA finals had the Nets made it that far. The seven-year veteran has now officially been cleared to play.
According to Basketball-Reference, Dinwiddie has career averages of 12.9 points, 2.8 rebounds, and 5.0 assists per game. The year before his injury, the former Colorado Buffalo had a breakout season. He averaged career-highs across the board in points, rebounds, and assists while playing in 64 games, starting 49 of them. The 6-foot-5 point guard had become a core piece in Brooklyn.
Then the Nets acquired Kyrie Irving, Kevin Durant, and James Harden, and Dinwiddie tore his ACL. He became an expendable asset.
Dinwiddie is joining a young core aroud Bradley Beal, and he's already becoming a Washington legend
When Dinwiddie found out he was officially headed to Washington, he took to Twitter:
The clip is from Harry Potter and the Sorcerer's Stone, for those unfamiliar with the wizarding world. It's the first book and movie in the series. Hagrid, a loveable, doltish half-giant, is the first person to inform Harry that he is, indeed, a Wizard. So Dinwiddie decided that his first post as a member of the Wizards should be, obviously, someone being told they're a wizard.
Dinwiddie signed a new three-year, $54 million deal with Washington. When the details of his contract were released, an interesting stipulation came to light. According to NBC Sports, the 28-year-old will receive a bonus if the Wiz win an NBA championship. That bonus is $1.
As if that wasn't fun enough, Dinwiddie was asked in a local interview how he would like that $1 if the team does win a title. His response? "You know, let's keep it freaky, go 100 pennies, why not?"
Without stepping on the floor, Dinwiddie has reached Wizards-legend status
As the house-elf Dobby once said to Harry, "Dobby has heard of your greatness before." Now Wizards fans have heard of their new point guard's greatness.
The chances of Dinwiddie actually cashing in on that $1 bonus and collecting his 100 pennies is slim considering Washington's standing in the Eastern Conference. But the chances of him cashing in on his Wizards' infamy without playing is something magical.
RELATED: LeBron James Continues to Prove He's the Most Influential GM in the NBA With the Russell Westbrook Trade