Has an NFL Quarterback Ever Had a Worse Quarter Than This?
New York Jets quarterback Geno Smith had a first quarter for the ages Sunday afternoon against Buffalo. No, that's not a good thing. Smith was bad, terribly bad, even historically bad before getting pulled less than 11 minutes into what would end up  a 43-23 loss for Gang Green. His stat line for the game? (Please brace yourself before reading this — it probably needs to come with some sort of "parental discretion advised" label. ) Smith was 2-8 passing for 5 yards and 3 interceptions. Ouch.
So, how bad was it, really? Here are the five worst things about Smith's forgettable performance in a Week 8 defeat.
He completed more passes to the opposing team than to his own team
Of Smith's eight pass attempts in the game, two went to his team, three went to no one, and three went to the Bills. To put that in perspective: If the Jets and Bills had randomly switched uniforms for the day and not told the second-year quarterback, he might have had a better day than he actually did, because his passes ended up in the hands of the guys wearing white on a pretty regular basis. In the last 30 years, only New Orleans' Richard Todd (1984) and Chicago's Rex Grossman (2006) had thrown three interceptions with just two completions in a game. Until Smith, that is.
He finished with a 0.0 passer rating
You, me, and Geno Smith all have something in common — none of us posted a passer rating above 0.0 in Sunday's Bills-Jets game. Let's face it: If there was a way to have a passer rating under 0.0, Sunday's cringeworthy performance might have deserved it. Smith was on the field for just 11 snaps, encompassing four possessions, and the best drive was the first one — because at least the Jets got to punt the ball after going three-and-out instead of turning it over.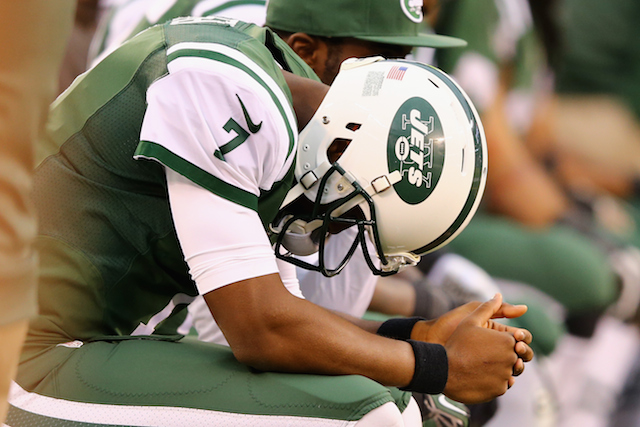 When he was pulled, he was on pace to throw at least 17 interceptions in the game
The NFL record for interceptions by a quarterback in a single game is seven, held by five players: Zeke Bratkowski, Steve DeBerg, Ty Detmer, Ken Stabler, and Tommy Wade. If Smith had stayed in the game, he had a chance to challenge, perhaps even shatter that mark. The Jets quarterback's three interceptions in the first 10 minutes and 11 seconds of the game mean he was on pace to throw at least 17 picks in a 60-minute contest. The way Smith's day was going, Rex Ryan benching him for Michael Vick should probably be seen as more merciful than embarrassing. At least Smith's propensity for giveaways didn't go into the history books.
He might have gotten hurt
After the game, the Jets announced that Smith had an X-ray on his right shoulder, with speculation on a possible injury centering on the diving tackle he made after interception No. 3. As if the day couldn't possibly have gotten any worse for Smith, his health status may be in question now also. Of course, you only need one arm to hold a clipboard, right?
His replacement had as many turnovers as he did
Perhaps the most shocking statistic from Sunday's Jets game is that Smith's replacement, Vick, didn't fare much better. While Vick was able to at least lead the offense to points eventually, he also turned the football over three times. That certainly doesn't make Ryan's decision of who should quarterback this team going forward any easier. We'd recommend that maybe it's time to give the third-stringer a look, except, well, there are only two quarterbacks on the Jets' active roster. Time to check out the practice squad?