Has Stephen Curry Ever Been Better? Golden State Warriors Coach Steve Kerr Doesn't Think So
After claiming his second NBA scoring title at age 33, Golden State Warriors superstar Stephen Curry bounced back nicely from a lost 2019–20 season during which he played in just five games. Curry is getting some high-profile support for a third MVP award after dragging the Warriors to 39 wins and a spot in Wednesday night's No. 7 seed play-in game.
While one close observer of Curry's game stopped short of an MVP endorsement, there was at least one vote declaring Stephen Curry has never been better. That's bold regarding a Hall-of-Fame bound player, but the numbers back up the case.
So, was 2020–21 Curry's best season yet?
Shaking off most of the injury bug led to large numbers for Stephen Curry
This season, Stephen Curry sat out nine games, the fewest he has missed in a season since playing in 79 of 82 contests in 2016-17. In the following three seasons, Curry missed 31, 13, and 60 games, respectively. Curry was showing signs he was on the downward slope and picking up speed. That was particularly true since he battled the injury-prone label early in his career.
The Golden State Warriors played without All-Star Klay Thompson for the second straight season. Andrew Wiggins was the only starter who did not miss significant time. Kelly Oubre is still out with a wrist injury. No. 1 overall pick James Wiseman is already out for the year with a knee injury. The Warriors are still waiting for Damion Lee to return from a bout with COVID-19.
Golden State needed Curry to give them a lot, and he responded. His 32.0 points per game were a career-high. He made 5.3 3-pointers on 12.7 attempts per game, both the highest marks of his career. Curry even reached never-before-seen levels as a rebounder, getting 5.5 a night. The 34.2 minutes per game workload was his highest since 2015-16.
Steve Kerr asked Curry to do more than ever for the Golden State Warriors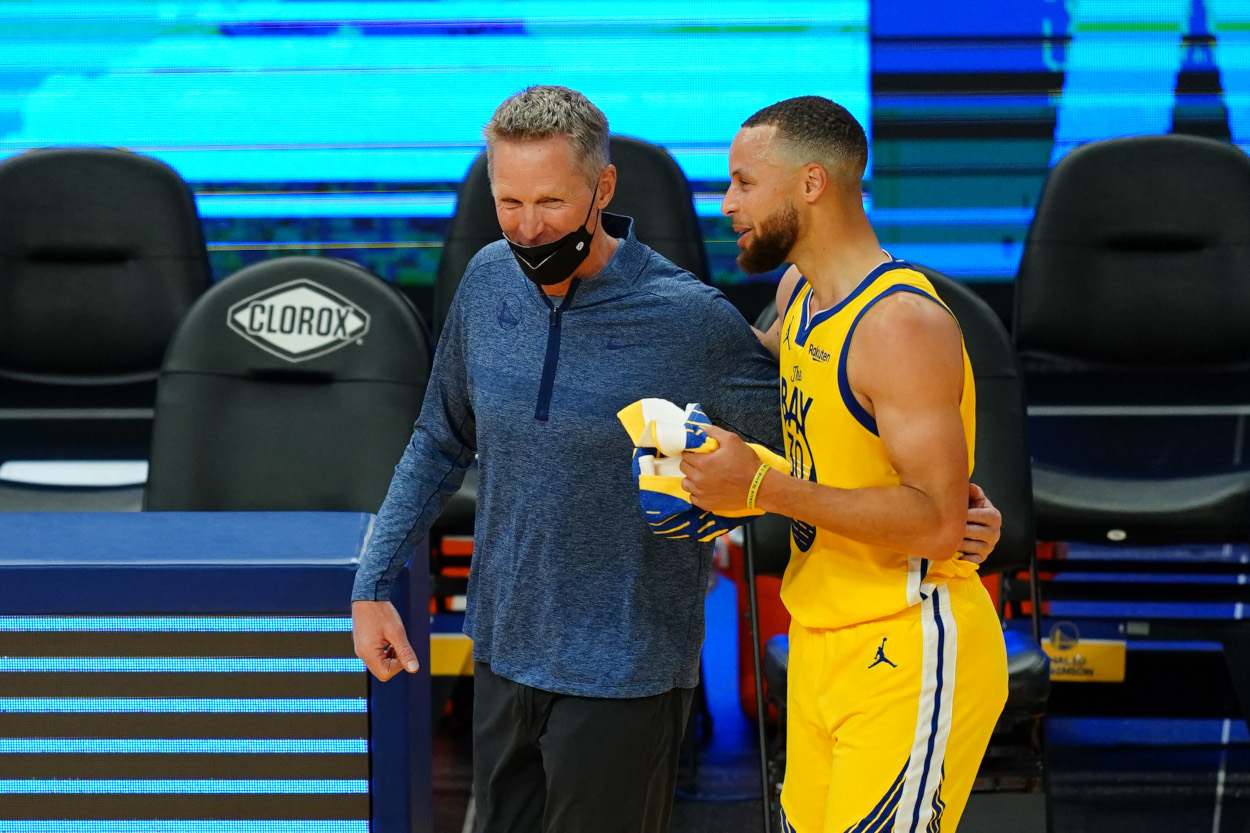 Coach of the Golden State Warriors since 2014, Steve Kerr has a literal front-row seat to watch Curry work his magic. Through three NBA titles, two MVP seasons, and six All-NBA caliber campaigns, Kerr insisted Sunday Curry is at a new level.
"He's never been better; I can say that," Kerr said, per ESPN's Nick Friedell. "He's been great for a long time, though, so it's hard to say he's at his best now because he's been like this for years. I think what's different this year is just the supporting cast is different. We've got a much younger team; he's been asked to do a lot more with this group, and he's gone above and beyond what we've asked of him."
Curry finished the season on an otherworldly roll. In his final 24 games played after March 29, Curry averaged 36.9 points a game, shooting 49.1% overall, 43.7% from 3-point range, and 90.1% at the foul line. During that stretch, Curry failed to score at least 20 points just once. He topped 30 points 12 times and cleared the 40-point mark in eight of those games.
His high-water mark during the end-of-the-season sprint was 53 points in a win over the Denver Nuggets on April 12, the ninth time in his career Curry scored at least 50 points and the third time this season. Curry poured in a career-high 62 in a Jan. 3 victory over the Portland Trail Blazers.
High-level MVP support for Stephen Curry
The Golden State Warriors take on the Los Angeles Lakers in Wednesday night's play-in tournament. The winner earns the No. 7 seed in the Western Conference and a first-round date with the Phoenix Suns. Lakers star LeBron James, a man who knows a thing or four about winning MVP awards, endorsed Stephen Curry as the man for 2020–21.
"We're playing, in my opinion, the MVP of our league this year in Steph. Just look what he's done this year."

LeBron James
James' teammate, Kyle Kuzma, had the same opinion, as did young star Ja Morant of the Memphis Grizzlies.
If Curry were to upset favored Nikola Jokić, he would be just the second MVP since Moses Malone in 1981-82 from a team with fewer than 50 wins (or the prorated equivalent for shortened seasons). Russell Westbrook won in 2016-17 for a 47-victory Oklahoma City Thunder team after averaging a triple-double for the first time in his career.
Statistics courtesy of Basketball Reference and Stathead.