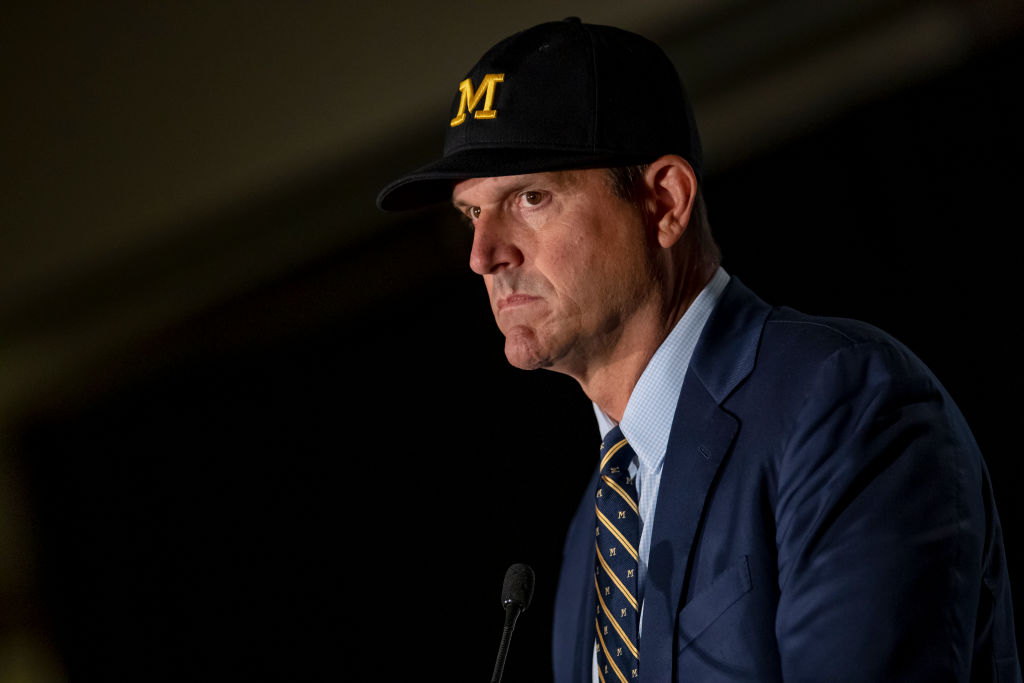 Has the Jim Harbaugh Experiment Failed at Michigan?
After losing its Big Ten opener 35-14 to the Wisconsin Badgers, the Michigan Wolverines have to be wondering if Jim Harbaugh is the answer.
Jim Harbaugh is one of the highest paid coaches in college football, earning roughly $7 million a season. After receiving rave reviews for his work in his first season as the Michigan Wolverines' head coach in 2015, Harbaugh hasn't been able to take the Wolverines to another level. An embarrassing 35-14 loss to the Wisconsin Badgers on Saturday in his fifth year with the program has people asking; has the Jim Harbaugh experiment failed at Michigan?
A lack of results over the last four years
It's difficult to grade Jim Harbaugh's first year at Michigan anything but a success. The Wolverines entered the season coming off of a 5-7 campaign under former head coach Brady Hoke. Harbaugh led the team to a 10-3 record, capped off by a 41-7 blowout win in the Citrus Bowl over the Florida Gators. Seeing as it was his first year with the program, expectations were modest.
As expectations started to rise each year, production did not. The Wolverines went 10-3 again in 2016, this time losing their bowl game 33-32 in the Orange Bowl against Florida State. In 2017, when Jim Harbaugh's recruits should have been making a serious impact on the roster, Michigan went 8-5 and ranked 91st in the nation in scoring.
In five years at Michigan, Harbaugh has failed to recruit and develop legitimate stars on offense. As a result, his Wolverines have failed to eclipse the 10-win mark in any of his first four seasons as head coach. Michigan is 0-4 against the Ohio State Buckeyes, 2-2 against the Michigan State Spartans, and 1-3 in bowl games under Jim Harbaugh.
And now even the defense isn't working
The only consistent positive that the Wolverines have enjoyed under Jim Harbaugh is an elite defense. While that defense has failed miserably against the Ohio State Buckeyes allowing 41.3 points per game in four games against Michigan's hated rival, overall it has been a point of pride with Harbaugh at the helm.
But so far in 2019, even the defense can't be relied upon anymore. Michigan gave up 21 points to Middle Tennessee State in its home opener in Week 1 and followed that up with a 24-21 double-overtime win over Army, a game that was far more of a nail-biter than it should have been with the Wolverines going off as 22-point home favorites. With all due respect to Middle Tennessee State and Army, these are teams the Wolverines would have dominated and potentially shut out on defense in previous seasons.
And then in Week 4 against Wisconsin, after having a week off to prepare, the Wolverines defense was torched for 359 rushing yards and 35 points. Does this look like the year that Michigan is finally going to crack the code on Ohio State's offense?
Harbaugh needs to prove something in 2019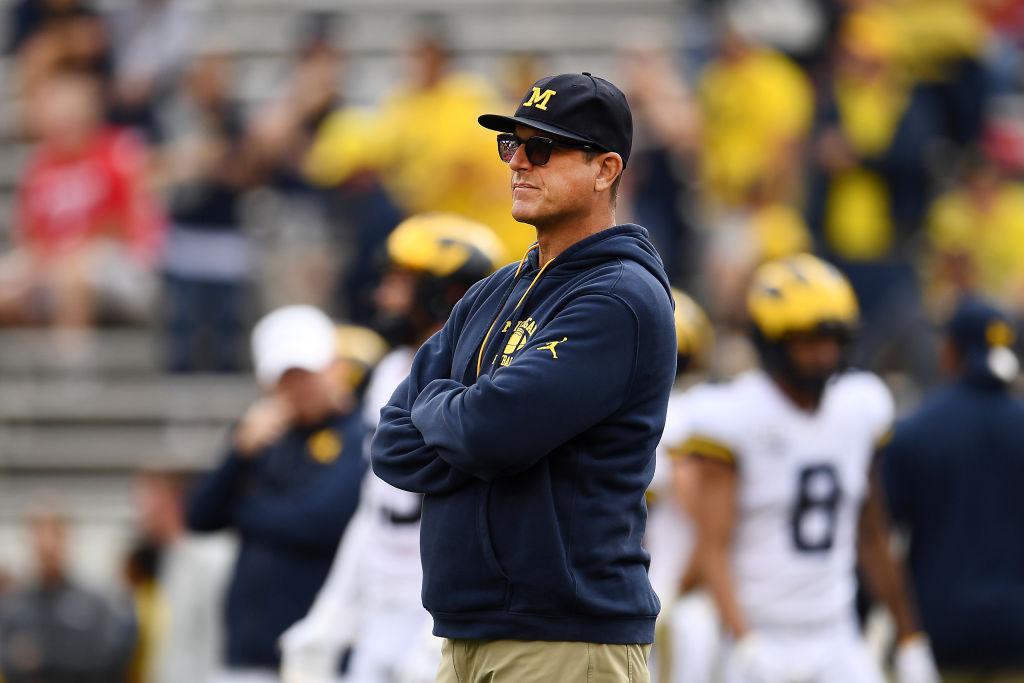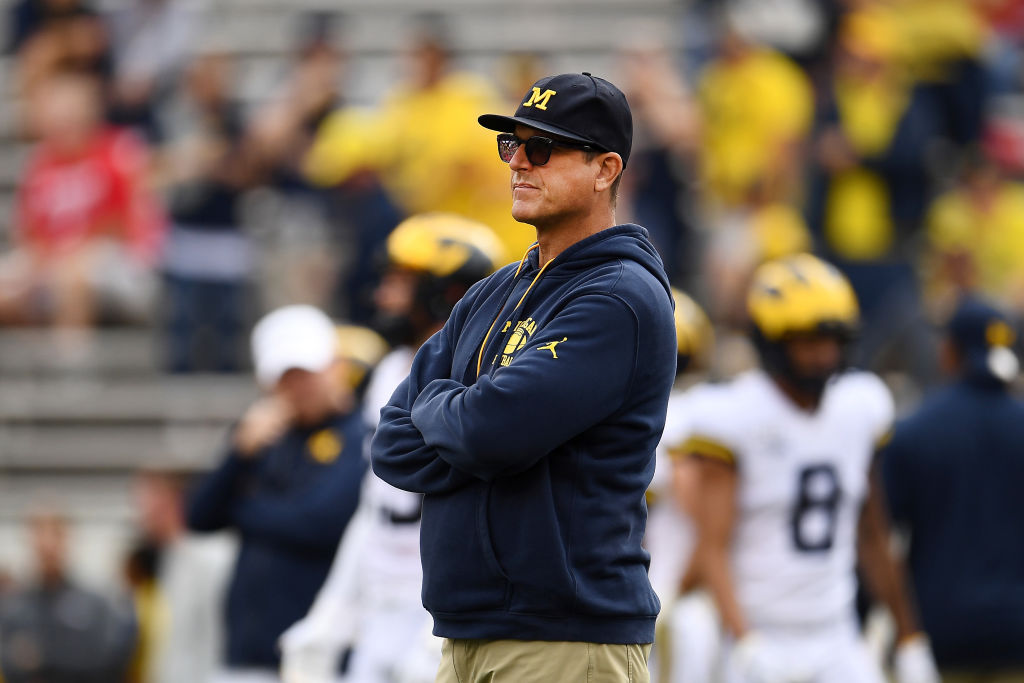 For as lopsided and ugly as the loss to Wisconsin was, it was only one game. If the Wolverines run the table the rest of the way, they could still win the Big Ten and make the College Football playoff. Two things that they've never done before under Jim Harbaugh.
With Urban Meyer no longer in the picture at Ohio State and a favorable schedule in which Iowa, Notre Dame, Michigan State, and Ohio State all come to Ann Arbor this year, 2019 is supposed to be the year that Jim Harbaugh finally proves that he can take Michigan to the next level.
If the Wisconsin game is any indication, this year's team isn't going anywhere. And while plenty of programs around the nation would be thrilled to just consistently win 8-10 games a year, the Wolverines will only put up with annual losses to Ohio State and empty shelves on the trophy case for so long.