Have Teams Figured Out How to Defend Giannis Antetokounmpo?
Giannis Antetokounmpo was one of the NBA's most dominating forces last season. The 24-year-old led the Milwaukee Bucks to a 62-20 regular season record and won the NBA MVP Award. He recorded new career highs in points per game (27.7), rebounds per game (12.5), and assists per game (5.9).
But despite all of these accomplishments, the 2018-19 season ended in disappointment as Antetokounmpo and the Bucks lost in the Eastern Conference Finals to Kawhi Leonard and the Toronto Raptors. And now after Antetokounmpo struggled in a FIBA World Cup game against Brazil, the question people were asking back in May is popping up again; is the book out on how to defend Giannis Antetokounmpo?
Brazil's head coach wasn't shy about bashing Giannis
Brazil was able to erase a double-digit deficit against Greece in their group stage matchup, pulling out a 79-78 upset in the FIBA World Cup. After the game, Brazil's coach Aleksander Petrovic had plenty to say about his team's success in shutting down Giannis Antetokounmpo.
"Why this sport is wonderful," Petrovic said in the postgame. "You have a guy who won MVP, he's 23 years old, and who stops him tonight? The guy who is 40 years old and kicks his ass."
The 40-year-old that Petrovic is referring to is 39-year-old Alex Garcia, a professional in the Brazilian basketball league that had an NBA career that lasted only 10 games back in 2003-2005. Garcia hounded Antetokounmpo on defense all game long, holding the reigning NBA MVP to just 13 points in 28 minutes and 35 seconds of play. Petrovic wasn't done there.
"We showed that we have several players who can stop Antetokounmpo," Petrovic continued. "But yesterday I was more occupied with [Kostas] Sloukas and [Georgios] Printezis, and that's what happened today. When I was preparing this game, a lot of people talked and joked about how to stop Antetokounmpo. I had for six months in my head, since the semifinals between Toronto and Milwaukee, how to stop Antetokounmpo. The problem tonight for us was Sloukas and Printezis."
Toronto neutralized Antetokounmpo in the postseason
According to Aleksander Petrovic, two Greek players who have never played in the NBA were a bigger concern to him than Antetokounmpo, who he had a game-plan for thanks to the Toronto Raptors.
Over the last four games of the series in which the Raptors went 4-0 to eliminate the Bucks from the postseason, Toronto held Giannis Antetokounmpo to 20.5 points per game and a 43.5% field goal percentage. These figures were a sharp decline from the 27.7 PPG and 57.8% field goal percentage Antetokounmpo posted during the regular season.
Kawhi Leonard, one of the league's best defenders, played a major role in the team's success against the Greek Freak. But the scheme that teams are going to try to emulate is creating a wall of players in the key to swarm Antetokounmpo as he tries to drive to the basket. Since the big man gets most of his points down low, forcing him to pull up and take shots from further out or to pass the ball off is much more preferable than trying to defend him one-on-one and letting him attack the rim.
Should Bucks fans be concerned?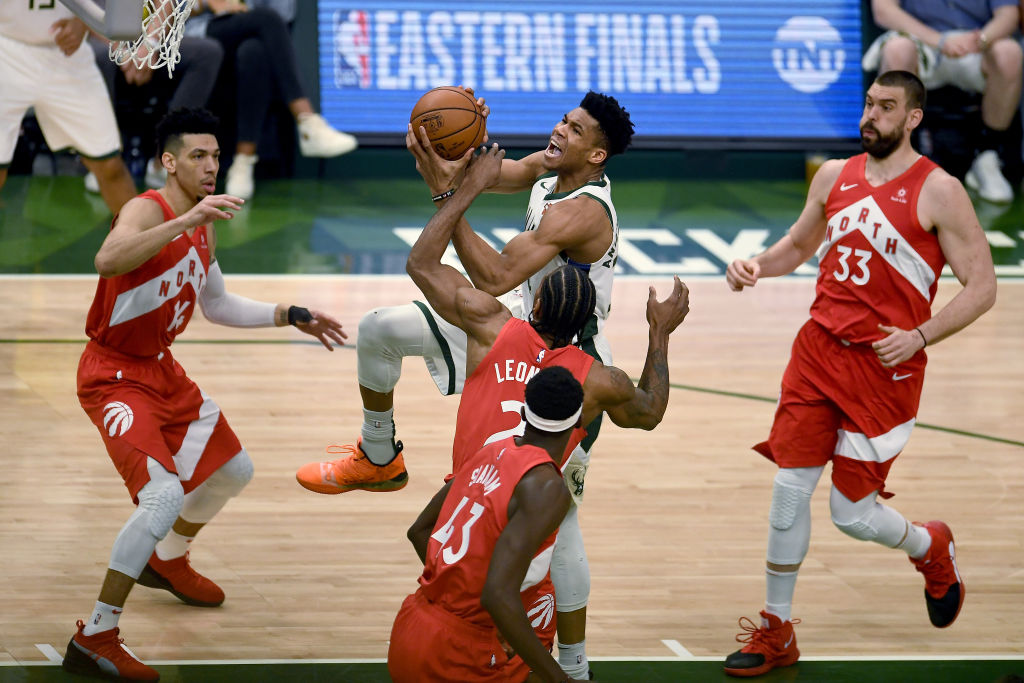 One bad exhibition game is exactly what it sounds like; one bad game. For as much trash as Aleksander Petrovic talked after the game, one off-night from Antetokounmpo doesn't mean that the sky is falling or that his days as an elite player are over.
Antetokounmpo is only 24 years old. He is a fierce competitor that has improved on his scoring totals every year that he's been in the league due to putting in the work every offseason. A wildly improved jump shot isn't going to happen overnight, but it is something that the Greek Freak is undoubtedly working on.
Toronto's strategy in the postseason last year was effective, and it is indeed one that other teams are likely to try to emulate in 2019-20 against Giannis Antetokounmpo. But keep in mind that this Raptors team was built to play elite defense; few teams will be able to execute at the level that they did.
And lastly, let's also keep in mind that we are talking about a sample size of five total games; four against the Raptors and one exhibition game against Brazil. Every player in the world has off-shooting nights and stretches. Antetokounmpo went only 17-for-36 (47.2%) from the free-throw line in those four games against Toronto, far below his career average of 74.2%. The Raptors deserve credit for what they accomplished, but there was some cold shooting involved, too.
So no, Bucks fans shouldn't be worried. Quite the contrary; opposing teams should be worried about Giannis Antetokounmpo entering the 2019-20 season with something to prove.