Have the Houston Cougars Ever Won the NCAA Tournament?
The Houston Cougars haven't stopped winning, even in the NCAA Tournament.
One of the greatest seasons in program history isn't over yet. Kelvin Sampson has reinvigorated the Cougars, who will play for a spot in the national championship following their most recent win over Oregon State.
It's been quite some time since Houston played in the Big Game, in large part because of a lengthy tournament drought. Have the Cougars ever won a national championship?
Houston has clinched a spot in the Final Four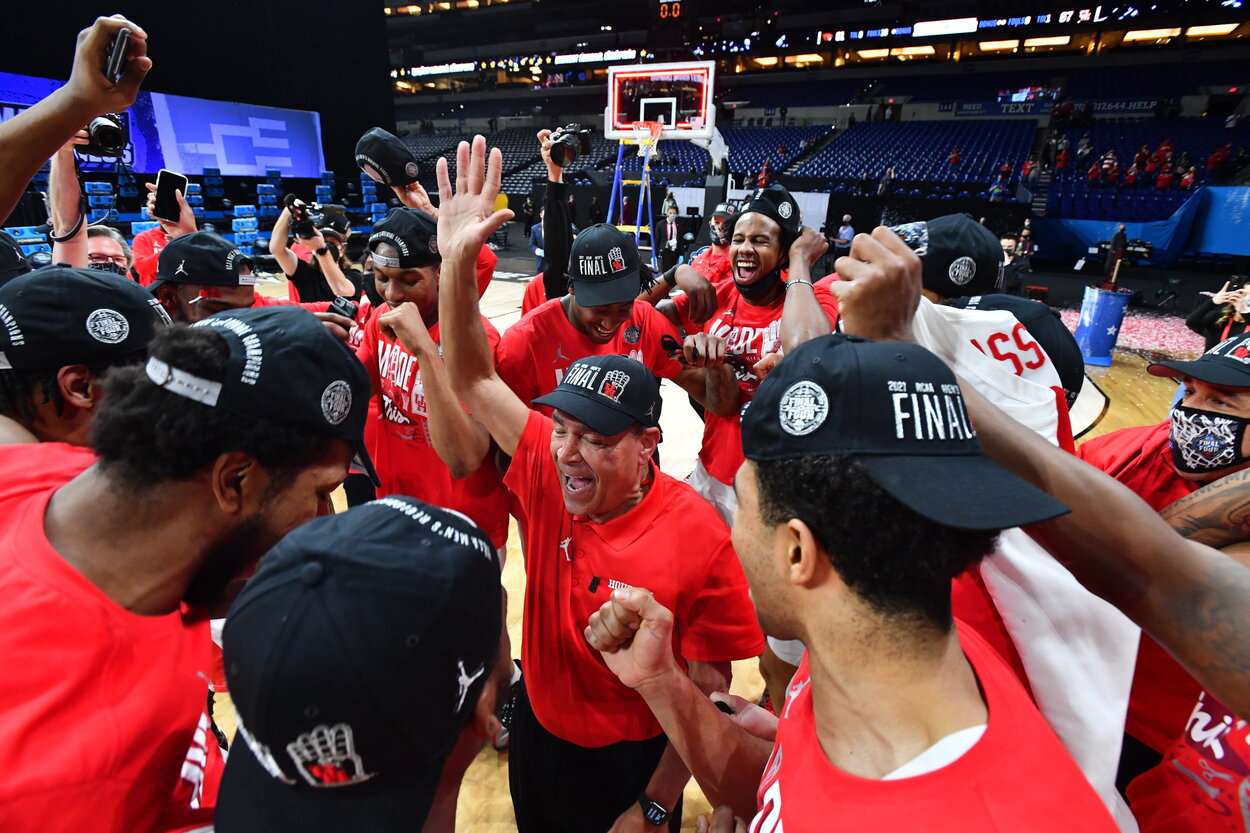 RELATED: NCAA Tournament: What an All-Time March Madness Fantasy Starting Lineup Might Look Like
The Houston Cougars aren't going down without a fight.
Houston, a No. 2 seed in the Midwest Region, held off Oregon State in the Elite Eight. The Cougars routed the Beavers in the first half and had a 34-17 lead after 20 minutes.
Oregon State clawed back, tying the game at 55 with 3:48 left in the game's second half. Houston held on to secure a 67-61 victory at Lucas Oil Stadium.
Cougars guard Marcus Sasser had a game-high 20 points but shot only 5 of 19 from the field.
It's been nearly 40 years since the Cougars last made it this far
RELATED: Baylor Basketball Has Climbed Back From a Horrific Scandal Involving Murder, Drugs, and Bribery
Kelvin Sampson has turned the Houston Cougars into consistent NCAA Tournament contenders.
Houston has reached the last three tournaments and likely would have made it last year if not for the coronavirus pandemic. Compare that to the stretch ranging from 1993-2017, when the Cougars lost their only tournament appearance in March 2010.
That helps explain the Cougars' Final Four drought, as they haven't made it this far since the spring of 1984. Georgetown, led by Patrick Ewing and head coach John Thompson, defeated Houston in the national championship game that year.
A year earlier, Lorenzo Charles' buzzer-beating dunk led NC State to a victory over Houston in the title game. Those are the Cougars' only National Championship game appearances as of March 30, 2020.
Houston has a tough test ahead if they want to break that drought
RELATED: March Madness: The Furthest Every Seed Has Advanced in the NCAA Tournament
If the Houston Cougars intend to reach the National Championship game, they'll need to take down their most formidable foe yet.
Houston's Final Four matchup will have a Texas-sized feeling to it when the Cougars play Baylor. Those teams did not play one another during the regular season.
Baylor is enjoying a brilliant season under Scott Drew, and their 92.2 winning percentage — courtesy of a 26-2 record — is the best in school history.
The winner of Houston and Baylor gets the winner of Gonzaga and UCLA, who have their own Final Four matchup on Saturday night. No. 1 Gonzaga defeated No. 6 USC, 85-66, in the Elite Eight, while No. 11 UCLA continued their tournament run with a 51-49 victory over No. 1 Michigan.
As with Baylor, Houston did not play either of those teams this season.
Like Sportscasting on Facebook. Follow us on Twitter @sportscasting19.