The Hawks Suddenly Have Every Incentive to Make a Blockbuster Trade for Ben Simmons
One season after a surprising run to the Eastern Conference Final, the Atlanta Hawks find themselves in need of a significant move. It could lead to a trade for Ben Simmons.
Rumors first circulated last weekend that the Hawks could make a splash for the Philadelphia 76ers star, who has yet to play this season as Philly continues to navigate his trade market. A deal for Simmons already made some sense for the Hawks, but the latest rumblings out of Atlanta give the general manager Travis Schlenk even more incentive to pull the trigger on a blockbuster deal.
Hawks star John Collins is (once again) frustrated with his role
When the Hawks signed John Collins to a five-year, $125 million contract this past offseason, it appeared as though the supremely talented 4-man etched his status as a foundational piece into stone. Collins is having a fine season, but his future in Atlanta is suddenly in doubt.
Shams Charania of The Athletic reported that Collins has grown "increasingly frustrated" with his current role in Atlanta. The 24-year-old appears to want the Hawks to show more togetherness and not be so Trae Young-dependent.
This is not the first time Collins has iterated such a message. Last January, The Athletic reported that Collins lit into the team during a film session and suggested that Young needed to switch his approach to get teammates more involved.
Perhaps Collins has a point. Young is in the midst of a career year and racking up historic performances. Collins himself is averaging 17.5 points, 7.9 rebounds, and 2.0 assists despite his usage rate being down for the third consecutive season. But the Hawks (17-22) struggle to string together wins.
Then again, the frustrations appear misguided. The offense isn't the problem in Atlanta. The Hawks rank second in offensive rating. It's defense and late-game woes that are killing the Hawks, as they rank 28th in defensive rating and 27th in net rating in the fourth quarter, per NBA.com.
Maybe Collins' latest gripes are the latest indicator that he and Young cannot coexist. If Schlenk deems that notion true, he might trade the disgruntled 4-man.
The Hawks could include Collins as part of a blockbuster trade package for Ben Simmons
John Collins might be as good and talented a young player as the Philadelphia 76ers could hope to get back in a Ben Simmons trade. The Hawks also have the roster, draft picks, and tradeable contracts to expand the deal.
In addition to Collins, Atlanta could look to flip veteran forward Danilo Gallinari. It might also choose to trade swingman Cam Reddish, whose two-way upside makes him an enticing asset and a risky one for the Hawks to consider dealing.
However, the Sixers could demand more creativity. Marc Spears reported on Brian Windhorst's The Hoop Collective podcast that Philly hopes to include Tobias Harris in any trade for Simmons, which induces some financial constraints for interested parties.
Again, though, the Hawks have the pieces and contracts to make it happen. A hypothetical trade might look something like this:
Hawks receive

Ben Simmons, Tobias Harris, 2024 first-round pick (unprotected)

Sixers receive

John Collins, Danilo Gallinari, Bogdan Bogdanovic, Cam Reddish, 2022 first-round pick (top-5 protected)
Collins is trade-eligible on Jan. 15, so this deal would have to wait at least a few days. However, it could be a win-win for both teams.
Breaking down the trade hypothetical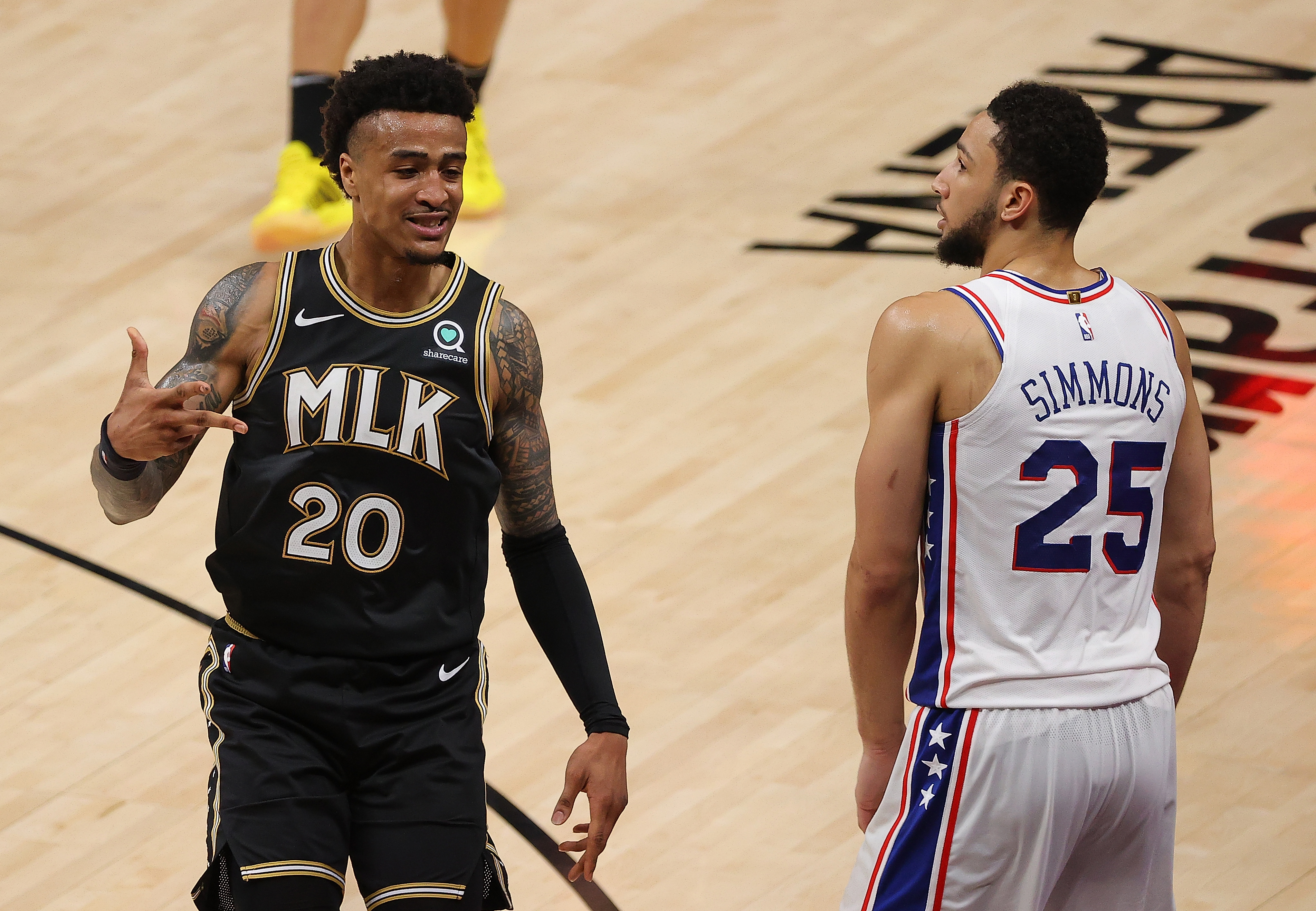 For those wondering why the above trade package makes some sense for both the Hawks and Sixers, let's take a closer look.
Collins is a perfect fit next to Joel Embiid. He's a floor-spacing forward shooting 42.7% from beyond the arc and is a big problem rolling to the rim for lobs. Gallinari also provides more spacing and is only under contract through next season. Bogdanovic and Reddish give the Sixers a pair of wings that can create off the dribble.
Some Hawks fans might feel they give up way too much in the above deal. But Simmons is an ideal piece next to Trae Young. He can replace Collins in the dunker's spot and spark the Hawks' transition game while giving Atlanta one of the best perimeter defenders in basketball.
Harris is shooting below 30% from beyond the arc this season. However, he can play an undersized 4-man and is averaging a career-high 3.9 assists. That playmaking upside matters, particularly as a frontcourt player.
Additionally, the Hawks' wealth of wing players make Bogdanovic and Reddish more expendable. They still have Kevin Huerter in the fold and will hope to welcome back DeAndre Hunter, who remains sidelined with a wrist injury.
Atlanta probably has to try something new to get back on track, and Schlenk already forecasted a certain willingness to be aggressive before the February deadline. It might not come as much of a shock if Collins' continued frustration leads to his inclusion in a blockbuster trade for Ben Simmons.
Stats courtesy of Basketball Reference unless otherwise noted.