Heat vs. Raptors: Playoff Preview and Prediction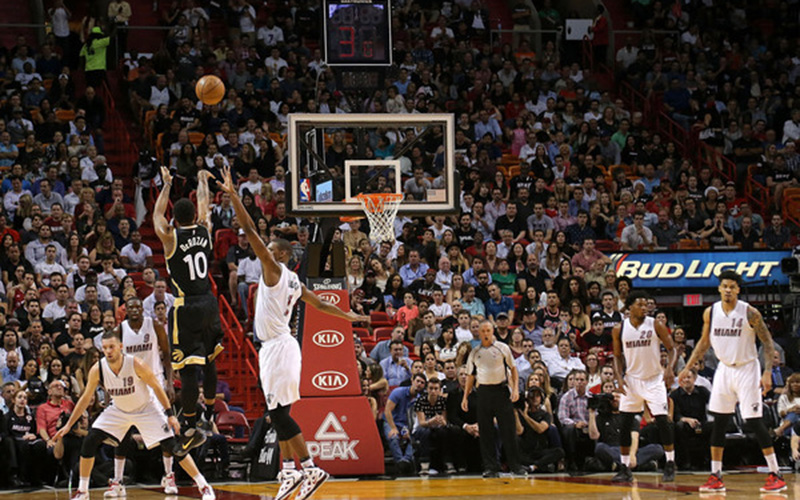 If there are any teams in the Eastern Conference that can stop the Cleveland Cavaliers, it would have to be either the Toronto Raptors or the Miami Heat. After finishing second and third respectively in the conference, both teams battled through tough seven-game series in round one.
Their reward? A conference semifinals showdown series that may go another seven games with a trip to the conference finals on the line. Getting past the first round must have lifted a huge weight off the Raptors' shoulders, as they haven't reached this stage in 15 years. This is also the farthest the Heat have advanced in the post-LeBron James era. A potential reunion with their former superstar has to be on their minds as they prepare for this series.
Regardless, after Toronto won the regular-season series 3-1, there is plenty of reason to believe that this will be a tightly contested set of games. With the series kicking off on Tuesday night, we have three key matchups that should determine the winner, as well as a predicted winner when all is said and done.
Goran Dragic vs. Kyle Lowry
Kyle Lowry has been one of the keys to the Raptors' historic season in 2015-16. He averaged 21.6 points, 6.4 assists, and 2.1 steals per game during the regular season, earning his second-consecutive All-Star game selection in the process.
However, the postseason has been a different story so far, as Lowry struggled with his shot in round one against the Indiana Pacers and averaged just 13.9 points per game during the series. He still managed to find success with his passing, but Lowry must be a more productive scorer against the Heat if the Raptors want to advance.
That task is made more critical by the presence of Miami's point guard Goran Dragic. Dragic feels like the perfect X-factor for the Heat. When he plays well, his team usually has a better chance to win. That's never been more evident then it was in Game 7 against the Hornets, when Dragic went for 25 points, six rebounds, and four assists in the Heat's series-clinching win.
Going up against one of the better point guards in the league in Lowry, Dragic could make or break this series for the Heat with his production on offense and his ability (or lack thereof) to cause havoc on defense.
DeMar DeRozan vs. Miami's defense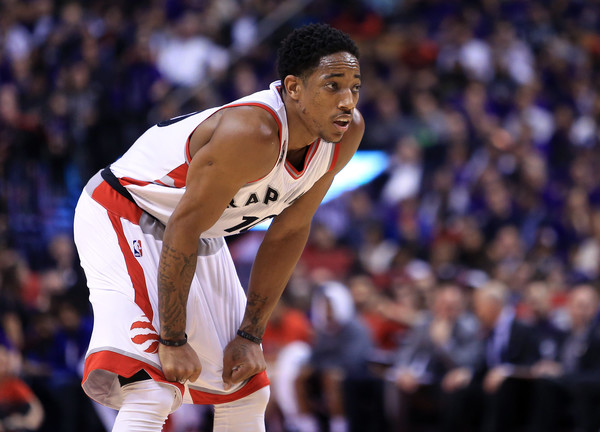 If there is any one player who must score in bunches so his team can be successful during this series, it's DeMar DeRozan of the Toronto Raptors. He led the team in scoring with 23.5 points during the regular season, which was a career best for the seventh-year man out of USC. He's also led Toronto in scoring during the postseason, but his production becomes all the more important against the Heat.
What'll be really key for DeRozan in this series is his ability to find points in the paint — still holding onto a streaky outside shot, it's an area where he likes to get a majority of his points. That makes the matchup with Miami's lengthy front court crucial for him and the Raptors.
Led by Hassan Whiteside, Miami led the league in blocked shots per game during the regular season with 6.5 per night. Against Charlotte in round one, the story was mostly the same. That interior defense has allowed Miami to give up the second fewest points per game during the playoffs to this point.
Shutting down the opposition's best player is a great step toward winning a postseason series, so the Heat will be focused on making life difficult for DeRozan every time he gets the ball. If DeRozan truly wants to be considered a great player, he will have to step up and take his team to new heights during this series.
Dwyane Wade vs. Toronto's defense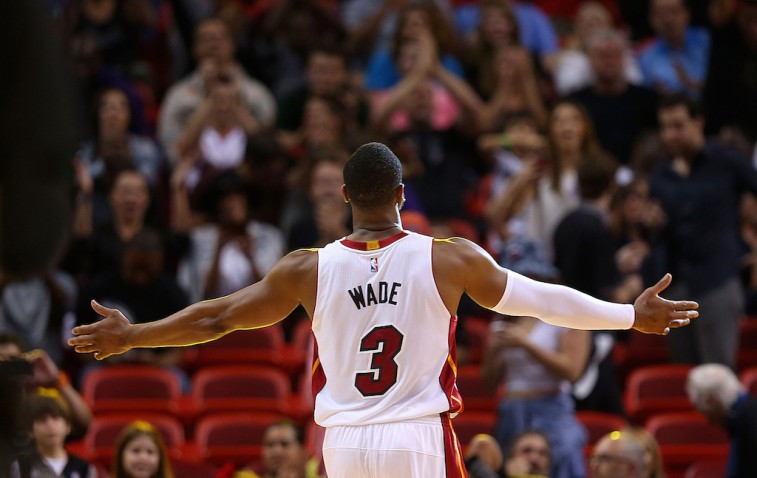 Out of all the players in this series, Dwyane Wade is the one with playoff experience and multiple championship rings to validate his status as one of the best players of his generation. Chasing a fourth ring in his 13th season, 34-year-old Wade might not be the same type of player he once was athletically.
In terms of mindset, however, it's clear that he's the leader of this squad and has the competitive nature to be truly dominate — as he proved he can still do during round one. Wade went for 23-plus points on three different occasions against the Hornets, as two of those performances came in wins for the Heat. Aside from scoring, he's also affected the game with his rebounding, passing, and defense so far this postseason, which isn't abnormal for him.
Against the Raptors, while he has help in the form of Dragic, Whiteside, Joe Johnson, Luol Deng, and others, this feels like a series where Wade might need to turn back the clock and completely take over (kind of like he did during his first title run back in 2005-06). Toronto has some talented defenders to make things difficult, but no one may be able to stop Wade in his pursuit of another championship.
Who wins?
While the Raptors should play better than they did in round one with the pressure of winning a series out of the way, we think the Heat have more assets in this series (along with one of the best players ever), which should see them through to the Eastern Conference Finals. It should be a lengthy series, but with the promise of a Heat-Cavs showdown on the line, Miami can make it happen.
Prediction: Miami in six games
Statistics courtesy of ESPN.com and Basketball-Reference.com.