Miami Heat Guard Tyler Herro Deserving of Several Top Awards After Displaying Great Growth
Considering how well rising star Tyler Herro has played — especially of late while carrying the Miami Heat during the injury absences of stars Jimmy Butler and Bam Adebayo — the third-year guard should be in line for some significant hardware this offseason.
Already the heavy favorite to win the league's Sixth Man of the Year award, Herro also deserves to be a first-time All-Star in a month and a strong candidate for the Most Improved Player award later in the spring.
Yep, Herro — who won't turn 22 years old until next week — has been that good for a Miami team that has strangely remained below the radar but keeps rolling even with Butler and Adebayo in street clothes.
Miami Heat guard Tyler Herro is quickly becoming a star — even in a reserve role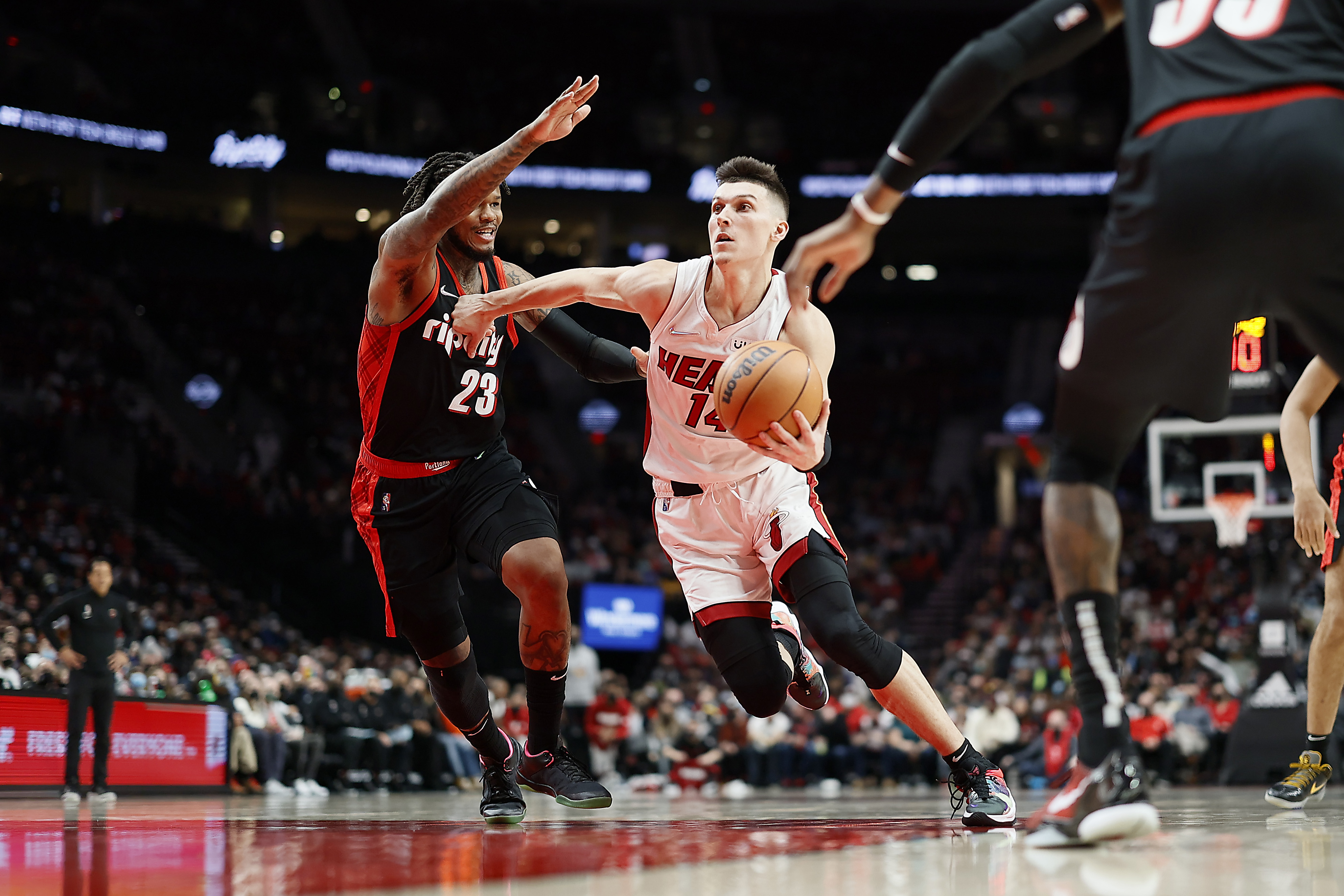 Herro, the No. 13 pick of the 2019 NBA Draft, showed nice progress in his first two seasons at the NBA level. He poured in 13.5 points on Miami's NBA Finals squad in 2019-20 and then averaged 15.1 points and 3.4 assists a game as a second-year pro.
Herro's star power has shot even higher now — despite being used as a reserve in 25 of his 35 games. At 20.7 points per night, Herro is easily the NBA's top-scoring reserve. However, there is much more to the 6-foot-5, 195-pounder's game — as evidenced by Wednesday's performance against the Atlanta Hawks.
He keyed a second-quarter rally from down double digits by carving up the Hawks shoddy defense for 16 points for eight assists in the first half — the first player to do so in the past 25 years off the bench, according to The Associated Press' Tim Reynolds. He finished with 21 points, a career-best 11 assists, and nine rebounds to narrowly miss posting the first triple-double of his career in another Miami win.
That performance followed what he did in Phoenix a few nights earlier when the Heat smashed the defending champion Suns despite having just a shell of their roster available. Herro poured in 33 points and drilled three of Miami's franchise-record-tying 22 3-pointers.
Herro is doing a little bit of everything this season for the short-handed Miami Heat
Herro's dynamic growth — one that has seen him pair four 30-point performances and 16 20-point efforts with 5.1 rebounds and 4.1 assists a night — is part of his maturation as a third-year pro. Herro's steady level of progression is apparent in his 30-point efforts. He scored 30 in an October game (at Indiana), he poured in 31 in November (at Detroit), he crafted a 32-point night in December (vs. Washington), and his 33-point effort was in January (at Phoenix).
"This is all part of the process," Herro said in his postgame news conference from Saturday in Phoenix. "Teams are guarding me differently, my shots aren't wide-open, and they aren't easy looks, so it's just about finding new ways to attack defenses and get to my spots.
"Then, it's just about being efficient," Herro added. "I take a high number of shots per game, so I'm just trying to be efficient. That's my biggest thing — I hate having those games that I've had in the past and in those three games (previously on the road trip). It's just about sticking with it and learning that everything is a part of the process."
Teammate Kyle Lowry, someone who knows a thing or two about the difficulties of playing point guard, marvels at the rapid progress that Herro has shown this season.
"He's playing with a purpose every time he steps on the floor," Lowry said in Tuesday's postgame news conference. "He knows what he's going to do, and he knows what to do. There's no `ahhhhh' or indecisiveness. There's a purpose to what he's out there to do. And he understands that the game's changing for him. He's getting double-teamed and blitzed, but he's still getting to his spots and making the right plays."
Tyler Herro's growth as a playmaker has made him deserving of multiple top awards
Herro is yet another success story to emerge from the Miami Heat's vaunted player development program, one that helped Dwyane Wade evolve into a superstar. Miami's dynamic reserve guard might be on a similar path considering how his confidence is soaring and his game is blossoming on a nightly basis.
Herro has not only helped keep the injury-depleted Heat afloat, but he has allowed them to thrive despite Jimmy Butler missing big chunks of time with injuries and Bam Adebayo being out since Nov. 29 following thumb surgery. Even with those losses, Miami sits third in the East at 26-15, and it is riding a three-game winning streak and a torrid stretch of eight victories in the past 10 games.
With Herro scoring 20.7 points a night, he should be a lock to become the first Heat player in franchise history to win the NBA's Sixth Man of the Year award. And because he's gotten so much better since last season, he should also be a leading candidate for the NBA's Most Improved Player honor. If he can pull that off, he would be the first since Orlando Magic guard Darrell Armstrong in 1999 to win the Sixth Man of the Year and Most Improved awards in the same season.
The accolades might not stop there for Herro, considering his rapid growth. Eastern Conference coaches would be wise to vote the Miami guard into the NBA All-Star Game, making him the first since Kobe Bryant in 1998 to nab that honor while playing primarily as a reserve.
Herro's contributions and growth are deserving of some significant individual recognition. The ultimate prize, he said, is a championship for the Heat. Herro's development and maturation as a go-to playmaker should only make the Heat a deeper and more dynamic squad once Butler and Adebayo return. That could put Miami in a position to seriously compete with the Brooklyn Nets, Milwaukee Bucks, and Chicago Bulls for supremacy in the Eastern Conference.
"I just want to win a championship," Herro said to the Miami Herald in November about his goals for the season. "Obviously, Sixth Man of the Year, for sure, and Most Improved. I feel like I can compete for those two, for sure."
All statistics are courtesy of ESPN.com.