Heavyweight Matchup: Hendrick Motorsports Has Dominated the NASCAR Cup Series So Far But is Joe Gibbs Racing an 'Underdog' to Capture Championship 4?
"Let's get ready to rumble …"
In this corner, the heavyweight champion Hendrick Motorsports.
In the other corner, challenger Joe Gibbs Racing (JGR).
On Nov. 7 at Phoenix Raceway, the combatants will fight it out during the NASCAR Cup Series' Championship 4.
Is JGR an underdog?
Championship 4 heavyweight bout featuring past title-holders
Statistically, early odds favor the two Hendrick drivers, Kyle Larson, and Chase Elliott, over the two from JGR, Denny Hamlin and Martin Truex Jr. Larson and Elliott have combined for 16 checkered flags through the Cup Series' 35 races this season. Larson has a career-best nine wins, including three straight on two occasions for the first time since Dale Earnhardt Sr. did it in 1987.
Truex, who overcame several late-race scares during the Round of 8 elimination race at Martinsville Speedway on Oct. 31, compiled four wins this season. Hamlin has two.
JGR's competition director, Wally Brown, believes Hendrick should be favored, as reported by motorsport.com.
"I think we're definitely the underdogs," Brown said. "We have to beat the guy – Kyle Larson – that has won so many races, been so dominant this year."
"Then you have Chase, the reigning champion at this track. We're definitely the underdog. We just don't have the raw speed they've had this year, to be honest. We're trying to figure that out.
"They've just beaten us, just faster everywhere."
What advantage? Hendrick official does 'not see it that way'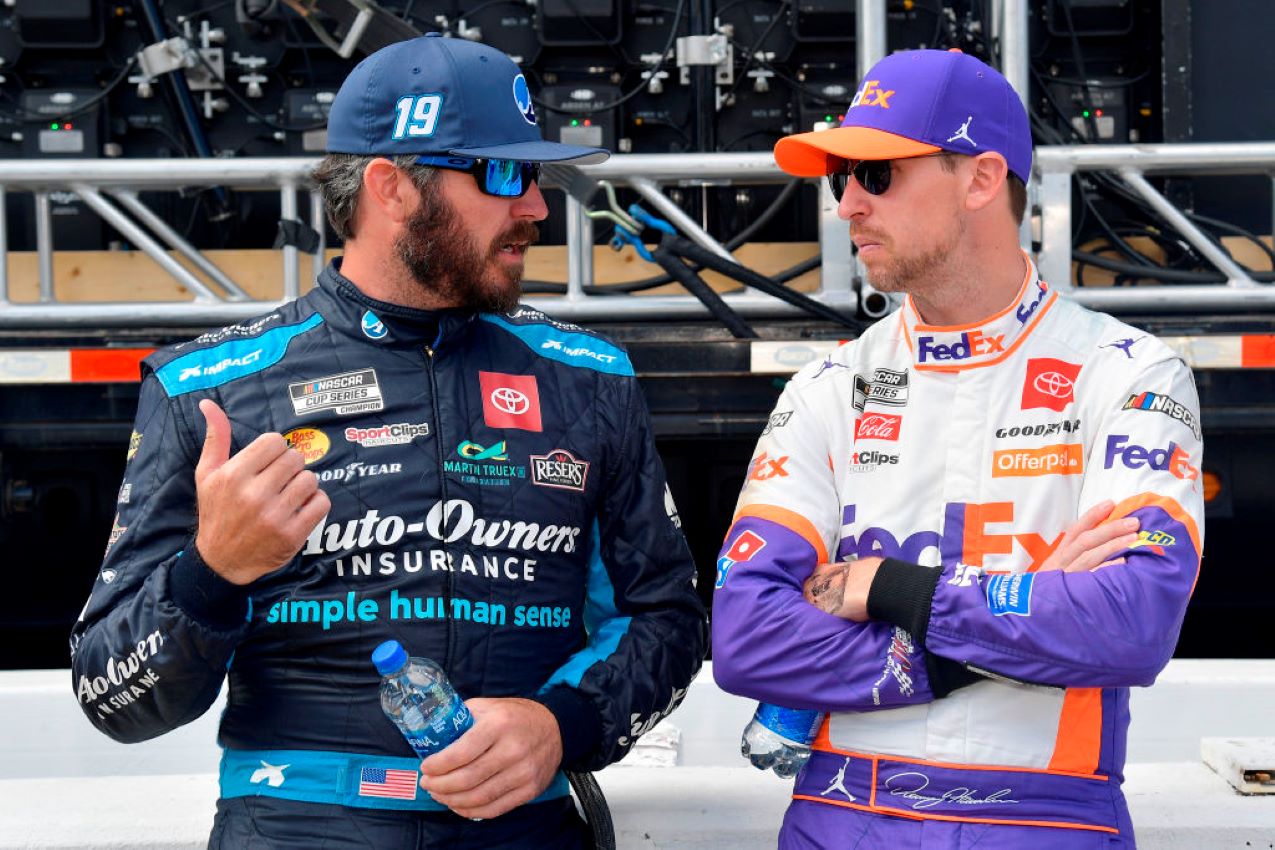 Hendrick has not just beaten JGR this year; it has sped away from the other teams, as well.
But don't expect Hendrick Motorsports Executive Vice President and General Manager Jeff Andrews to begin preparations for adding a new prize to the executive suite trophy case just yet. He doesn't want to hear Hendrick's drivers will be favored.
"As far as us going in with the advantage, personally, I don't see it that way," Andrews said. "Maybe statistically, you could make that argument. From ourselves and how we're approaching it, we're going out there to race with Joe Gibbs Racing, one of the best teams in the history of this sport."
Hamlin gives JGR one advantage, however slight. He has two wins at the 1-mile desert track. Both Truex, who won during the circuit's spring visit, and Elliott, who captured the fall 2020 race, each have one recent win at Phoenix.
"You know how this sport works," Brown said. "You're always working to get better. To say the cars are the same is not true. We've learned things. There's been other rule updates. We've had to make soft changes and things like that.
"They're never the exact same."
JRC drivers to go toe-to-toe with Hendrick for title
As an organization, Hendrick possesses 13 premier series titles. JGR owns five.
When looking at the two teams' laps lead mark, Hendrick again gets the nod. Larson led a Cup Series-high 2,474 laps, and Elliott paced the field 858 times. Hamlin placed second on the circuit with 1,502 laps led, while Truex rounds out the fop four with 793.
Toe-to-toe, Hendrick Motorsports appears tougher to beat.
Andrews scoffs.
"Our approach is not having the advantage," he said. "Our approach is to go into Phoenix, keep our focus on being better than we were in Martinsville, being better than we were at our last 1-mile track, so to speak, and focus on our race teams, focus on our pit stops – just making sure that we go in and execute and check all the boxes on our end that we're supposed to do."
"Let's get ready to rumble …"