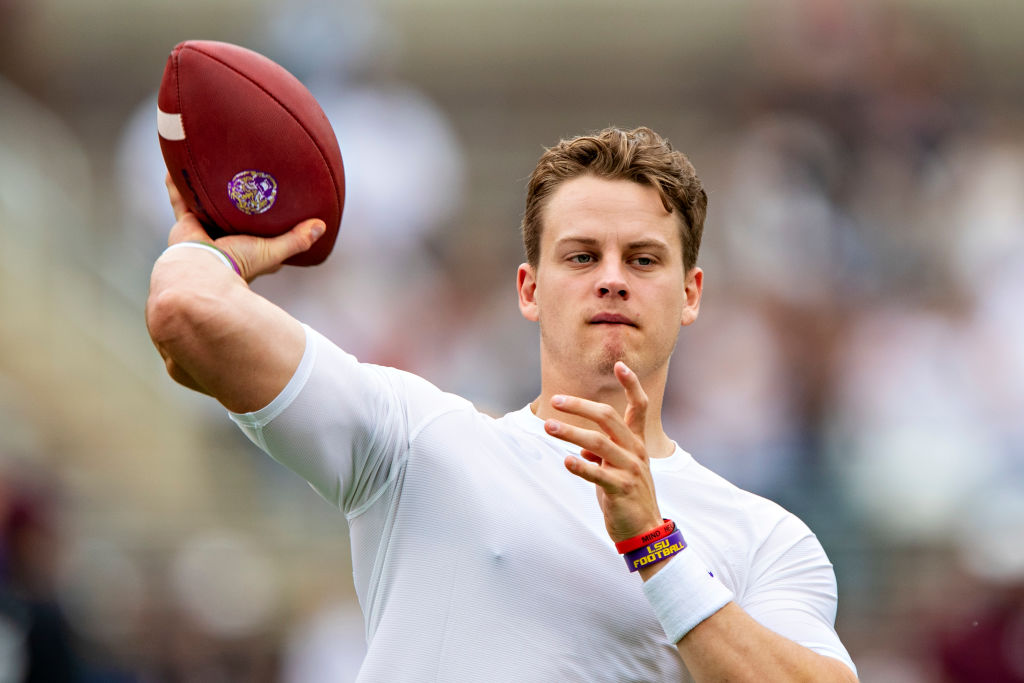 Heisman Race Could Be Down to Jalen Hurts vs. Joe Burrow After Tua Tagovailoa Injury
With Tua Tagovailoa falling two games behind on the stat sheet, the Heisman Trophy race could be down to Joe Burrow and Jalen Hurts.
Coming into Week 8, there was no sign of slowing down from Tua Tagovailoa, Jalen Hurts, and Joe Burrow. All three quarterbacks were putting up incredible numbers for their respective teams, and all three had perfect 6-0 records through the first half of the season. But what once looked like a three-man race for the 2019 Heisman Trophy could be down to two men as Tua Tagovailoa injured his ankle in the Alabama Crimson Tide's 35-13 win over the Tennessee Volunteers.
Tagovailoa was injured in the second quarter of the Tennessee game, forcing him out of action with only 155 passing yards, no touchdowns, and one interception. Early indications are that the Alabama star will only miss 1-2 weeks with a high ankle sprain, but even that amount of time will likely put him too far behind Burrow and Hurts in the race.
Joe Burrow sets a school record for touchdown passes… in just seven games
Joe Burrow is taking the LSU Tigers offense to heights it would never have thought possible before this season. Historically known for a rushing attack that often went two to three elite running backs deep, this year's Tigers offense unquestionably runs through Joe Burrow.
Burrow was masterful again on Saturday, completing 25 of his 32 passes for 327 passing yards, four touchdowns, and no interceptions in LSU's 36-13 road win over the Mississippi State Bulldogs. The senior's fourth touchdown pass of the day was his 29th of the season, passing Jamarcus Russell and Matt Mauck for the all-time single-season record. Russell had 28 touchdown passes in 2006 while Mauck achieved the feat in 2003.
Joe Burrow is on pace to shatter the previous record. He now owns a sensational 79.3% completion percentage in 2019 with 2,484 passing yards and a 29-to-3 touchdown-to-interception ratio.
Jalen Hurts continues to get it done both through the air and on the ground
Jalen Hurts isn't going to let Joe Burrow run away with the Heisman Trophy. He had an even better day than the LSU star in Oklahoma's 52-14 win over the West Virginia Mountaineers. Hurts completed 16 of his 17 pass attempts for 316 passing yards and three passing touchdowns while adding two more touchdowns and 75 rushing yards on 10 carries.
Like Burrow, Hurts is putting up video-game numbers on his opponents this season. Through seven games, Jalen Hurts has completed 74% of his passes for 2,074 yards and a 20-to-3 touchdown-to-interception ratio. On the ground, Hurts has rushed for 705 yards and 10 touchdowns on 84 rushing attempts, averaging 8.4 yards per carry.
Tagovailoa's injury might have cost him the Heisman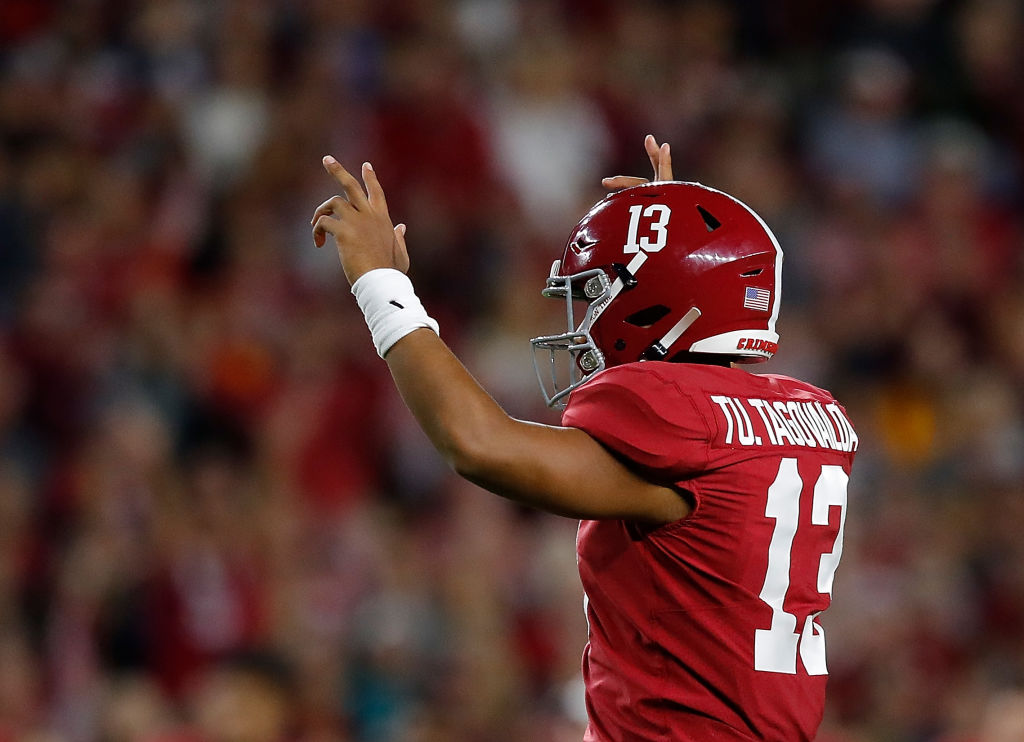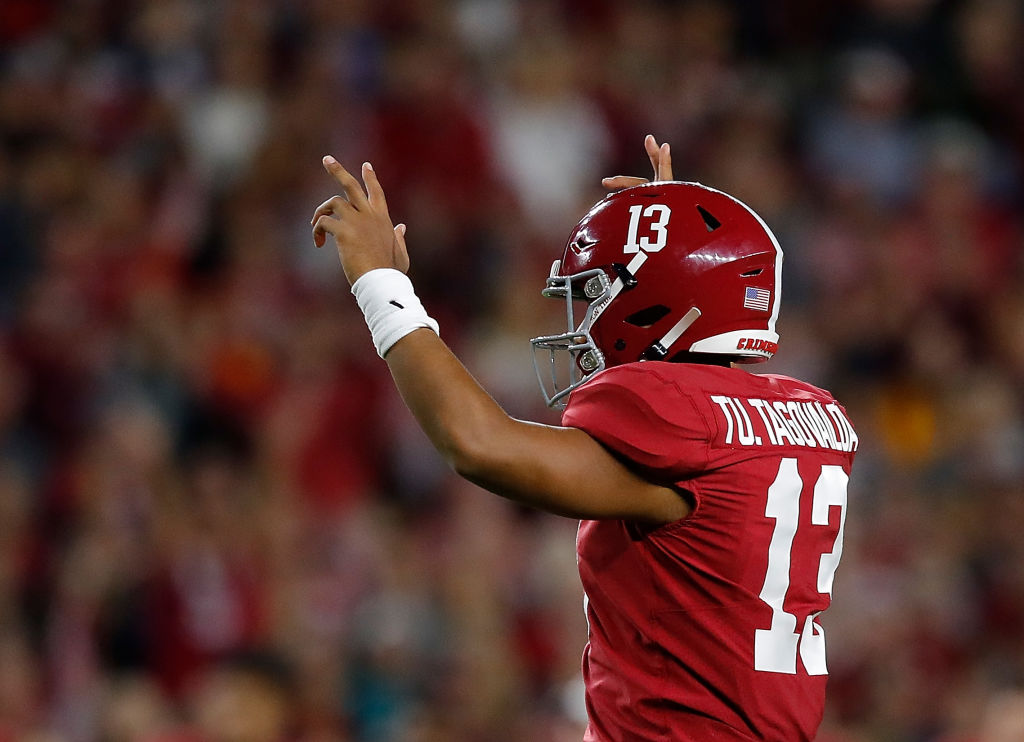 Before Week 8's action, Tua Tagovailoa was firmly in this Heisman Trophy conversation. He had a 73.6% completion percentage, 2,011 passing yards, and a sensational 27-to-1 touchdown to interception ratio. These two games at home against the Tennessee Volunteers and Arkansas Razorbacks were both golden opportunities to produce some big stats and to keep making his Heisman case stronger.
Instead, Tagovailoa will miss both of them with a high ankle sprain. But hopefully, he will be back in time to face Joe Burrow and the LSU Tigers on November 9; keeping his team's chances of winning a national championship alive would be more important to Tagovailoa than a Heisman Trophy, anyway.