Heisman Trophy 2015: Does Baker Mayfield Have a Chance?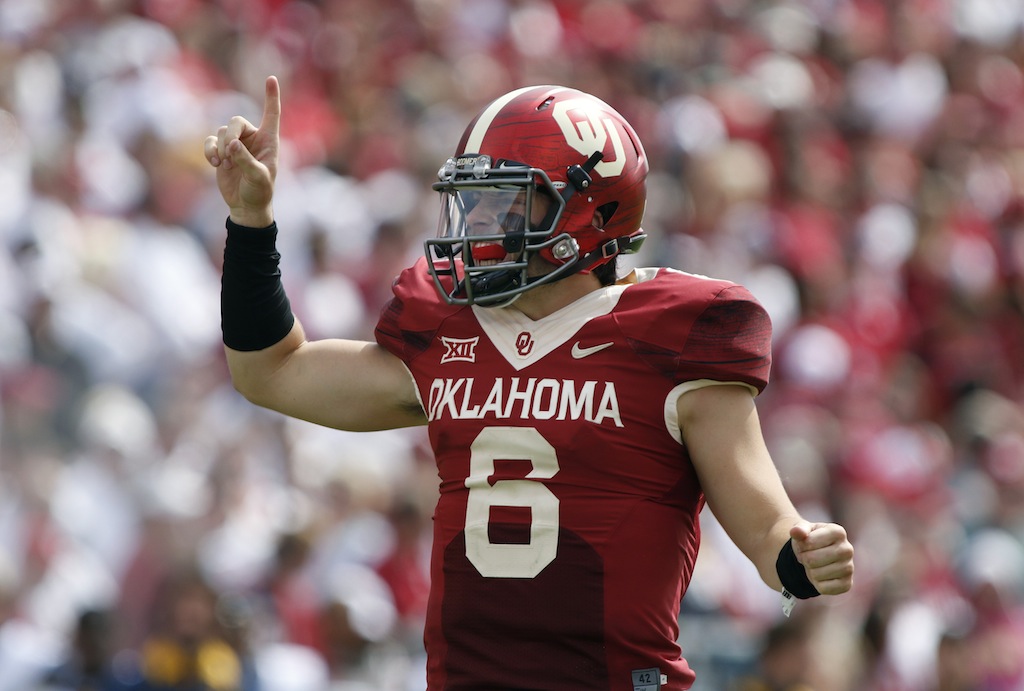 It wasn't long ago that we had all but written off the Oklahoma Sooners. That's what happens when you suffer an upset loss at the hands of a below-average Texas Longhorns team. Yet, something happened on the way to what was sure to be another underperforming season: the Sooners came to life.
Following that 24-17 defeat to Texas, Bob Stoops' group has reeled off five consecutive victories, including putting up at least 52 points in four of those contests. And while we've been more than impressed with the Sooners' recent display of offensive explosiveness, if there's one game that has us believing this team stands a chance at a spot in the College Football Playoff, it has to be their Week 11 win over the previously unbeaten Baylor Bears
While it was Baylor — at the time ranked No. 6 CFP, No. 4 AP — that came into this contest with something to prove to the selection committee, it was the Sooners that not only came away with a convincing 44-34 win on the road, but also may have made the biggest statement of the past weekend.
Against a high-powered Bears team, it was actually Oklahoma that dominated in the play. The Sooners outgained the Bears in total yards (511 to 416), controlled the time of possession (34:54 to 25:06), and won the first-down battle (28 to 18). And while it's safe to say this latest victory, which increased the Sooners' record to 9-1 — and 6-1 in Big 12 play — was a total team effort, there was one individual who managed to stand out among the rest. Therefore, it's time to give it up for Oklahoma quarterback Baker Mayfield, a player worthy of Heisman consideration.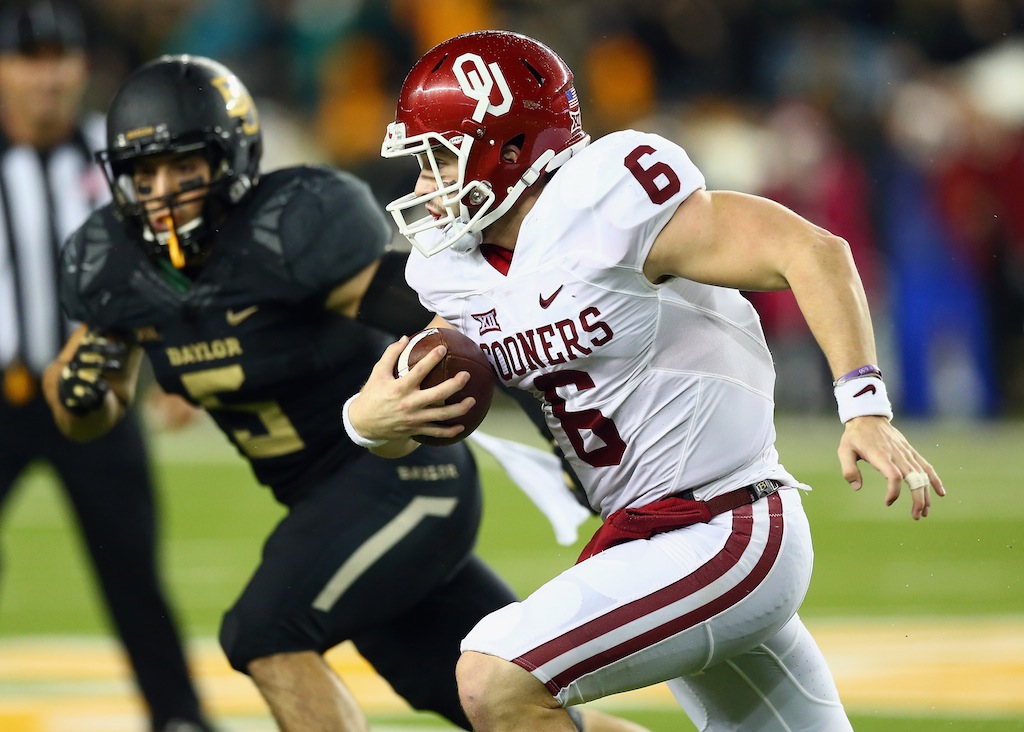 In a game when Oklahoma really needed its junior QB to step up and deliver a big-time performance, No. 6 was more than ready for the challenge. Aside from one interception, Mayfield brought the goods against Baylor. He completed 24 of 34 passes for 270 passing yards and four total touchdowns (three passing and one rushing). And for those of you, like us, who now find yourselves nodding with approval, the sad reality is that Mayfield has actually been doing this kind of work all season.
Through 10 games this season, Mayfield has put up some first-class numbers. He's completed 70.2% of his passes (first in the Big 12) and has a passing efficiency rating of 183.9 (second in both the NCAA and Big 12). On top of that, the 6-foot-2-inch quarterback has thrown for 3,082 yards, 31 touchdowns (first in the Big 12), and just five interceptions. With this kid leading the way, Oklahoma — now No. 7 in the AP Top 25 —  has firmly established itself as the best team in the Big 12 Conference. Suffice to say, with the way this group is rolling, we certainly wouldn't want to face them.
With the Oklahoma Sooners coming on strong this late in the season, it shouldn't come as a surprise that the team has also started to get the ball rolling on Baker Mayfield's Heisman Trophy campaign. In case you weren't aware, #Baker4Heisman is a real thing now. In the end, who knows how much good this will actually do. However, no matter how this all plays out in the end, we hope Oklahoma's quarterback is seriously considered for the game's highest individual honor. He's more than worthy of striking that famous pose.
All statistics are courtesy of SR/College Football and ESPN.go.com.