Heisman Trophy Winner Reggie Bush Is Enjoying a Successful TV Career
Reggie Bush defined the idea of a "cheat-code" athlete. Watching Bush run in his prime was like turning the ratings to 99 overall on a player in sports video games and effectively breaking the game. In the recent history of college football, few running backs were dangerous the way Bush was.
Nearly 15 years after his Heisman Trophy season, Reggie Bush has emerged as a rising star on TV. Here's more on the USC Trojans legend.
Reggie Bush is one of the greatest running backs in college football history
The record book is one way to gauge just how good a player is or was. Reggie Bush ran for 3,169 yards and 25 touchdowns in three seasons at USC. Bush's 1,740 yards and 18 touchdowns from scrimmage helped him to the 2005 Heisman Trophy title and a first-round selection in the 2006 NFL draft.
The eye test is the other ideal way to gauge how good someone like Reggie Bush. A quick look at Bush's highlights shows electrifying speed and athleticism straight out of a video game. Bush exemplified the trope of "breaking ankles" with his jukes and spins. If Bush found a hole, no one was stopping him.
Not even the college's best defenses could stop Bush in his Heisman season. Bush averaged a jaw-dropping 8.7 yards per carry in 2005 and averaged another 12.9 yards on 37 catches.
Bush's tenure at USC, unfortunately, ended in shame. The NCAA announced in June 2010 that Bush received improper benefits and the Trojans not only had to forfeit all of their wins from 2005, but the current program would lose scholarships.
New USC president Max Nikias effectively erased Reggie Bush's legacy at the school by removing the jerseys and mutuals bearing his name. Bush also voluntarily forfeited the 2005 Heisman Trophy.
Bush flashed with the Saints and Dolphins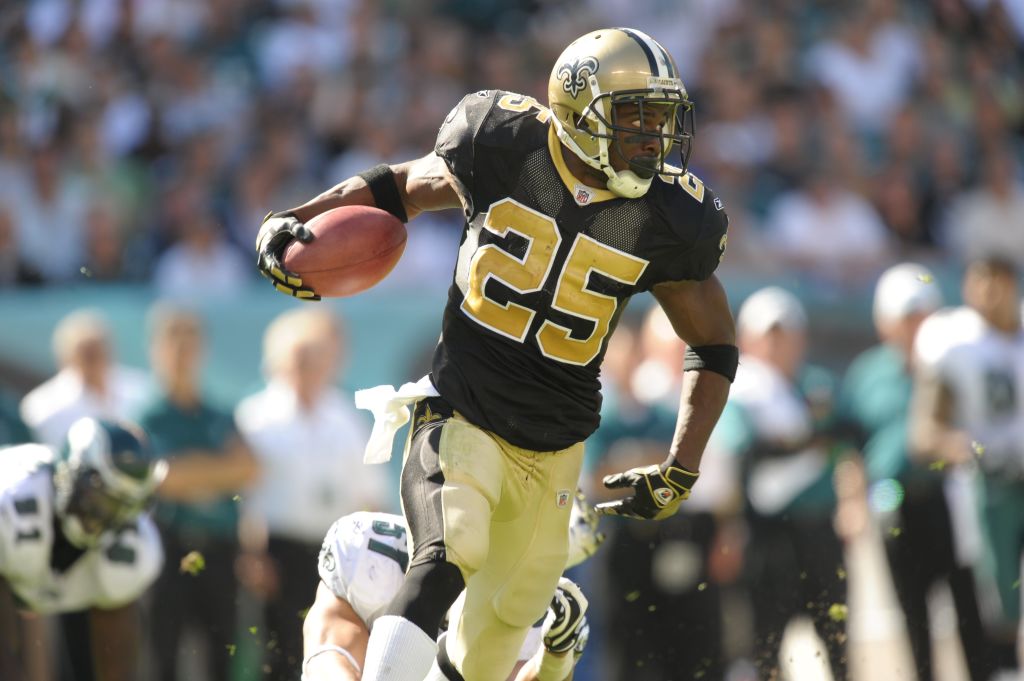 Considered by many to be a near-lock to be selected No. 1 overall in the 2006 NFL draft, Reggie Bush instead fell to the second overall pick and traded a Houston Texans jersey for a New Orleans Saints uniform. The Saints and new head coach Sean Payton already bolstered their offense with former Chargers quarterback Drew Brees and, by adding Bush, looked to have the NFL's next elite offense on paper.
Reggie Bush never became the dangerous lead back that was expected of him when New Orleans selected him with the second overall pick. At least, that didn't happen with the Saints. Bush averaged four yards per carry in five seasons with the Saints and caught 88 passes as a rookie, but his biggest contributions came on special teams. The speedy Bush scored four punt return touchdowns in his first three seasons — he earned All-Pro honors in 2008 when he brought three punts back for touchdowns — and helped the Saints to a Super Bowl title in February 2010.
Injuries sapped Bush of his effectiveness, though. Bush battled a lingering knee injury throughout his time with the Saints and suffered a broken bone in his right leg early in the 2010 season. With another former Heisman Trophy winner, Alabama's Mark Ingram, arriving as a first-round pick and the versatile Darren Sproles signing with the Saints in free agency, New Orleans traded Bush to the Miami Dolphins.
It was in Miami that Bush, then only 26, finally became a productive starting running back. Bush ran for a career-high 1,086 yards and six touchdowns on five yards per attempt for the 2011 Dolphins, then followed that up with 986 yards and six scores in 2012.
Reggie Bush's second and final 1,000-yard season came with the 2013 Detroit Lions. Bush had brief, unsuccessful stints with the San Francisco 49ers and Buffalo Bills before he retired in 2017.
Where is Reggie Bush now?
Like many great NFL running backs before him, Reggie Bush transitioned into a TV career when his NFL days ended. Bush was at NFL Network in 2018 and jumped to Fox last year. Bush's success at USC and experience in media — he worked with Sirius Radio in 2007 when he was only 22 — made him an easy choice for Fox's new college football pregame show.
The Fox job allowed Bush to finally return to USC last year. Bush worked as a pregame analyst before USC hosted No. 10 Utah in late September. USC needed to check with the NCAA to make sure Bush was allowed at the Coliseum. Bush's presence paid off and USC upset Utah 30-23.