Heisman Winner Matt Leinart Is Only the 100th-Highest-Paid QB in NFL History
Matt Leinart was expected to be the NFL's next great left-handed quarterback. Although there were concerns about his arm size, Leinart parlayed a Heisman Trophy at USC and a brilliant career with the Trojans into a first-round selection in 2006.
While Matt Leinart only made 18 career starts, he made enough money to rank among the NFL's top-100 highest-paid quarterbacks in total earnings. Here's just how much Leinart made, and what he's doing now.
Matt Leinart should be forever grateful for the NFL's old rookie contract rules
Matt Leinart was lucky the Arizona Cardinals used the 10th overall pick on him in 2006 instead of 2016. In a time before slotted draft pick contracts, Leinart signed a six-year, $51 million rookie contract in August 2006. Leinart also received $14 million in guaranteed money.
A Heisman Trophy-winning quarterback at USC, Leinart benefited from the expensive rookie contract. Leinart only started 17 games in four seasons with the Cardinals and threw 14 touchdowns to 21 interceptions.
While Leinart is USC's all-time leader in career touchdowns and completion percentage, he ultimately never fully put it together at the NFL level. The Cardinals made a coaching change after Leinart's rookie year and, although he opened 2007 as Arizona's quarterback, missed the final three months with a collarbone injury.
The 6-foot-5 lefty completed only 57.1% of his passes and permanently moved to the bench in 2008. That was the year teammate Kurt Warner led Arizona to the Super Bowl.
Leinart is with interesting company among all-time earnings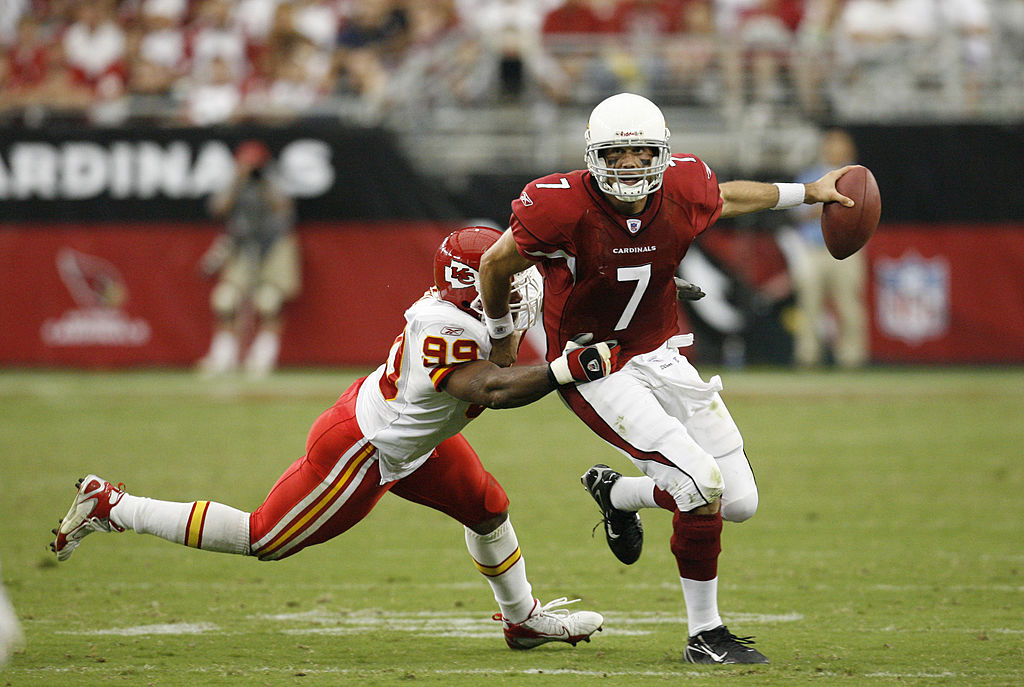 As of May 2020, Matt Leinart is the 100th-highest-paid quarterback in NFL history in terms of total earnings, according to Spotrac.
Leinart officially earned $18.81 million and narrowly beat out former Redskins and Bears backup Todd Collins for a spot in the top-100.
Many of the quarterbacks in Leinart's general vicinity were occasional starters known more for their stints as backups. That includes Billy Volek ($20 million), Matt Flynn ($19.2 million) and Charlie Whitehurst ($17.5) million.
Other NFL draft busts, including Tim Couch ($20.4 million) and Kyle Boller ($17.9 million), joined Leinart in the top-100. Colts quarterback Jacoby Brissett, who has made over $17 million so far, is expected to pass Leinart later this year.
For comparison, the Cleveland Browns used the 10th overall selection in the 2020 NFL draft on Alabama offensive tackle Jedrick Willis Jr. Forbes projected Willis will receive $19.7 million and an $11.9 million signing bonus.
Pittsburgh Steelers linebacker Devin Bush was the 10th overall pick last year. Bush earned a $495,000 base salary and received a $2.93 million signing bonus, according to Spotrac.
Where is Matt Leinart now?
Matt Leinart officially played his last football in August 2013. Leinart didn't make the Buffalo Bills out of training camp and retired shortly thereafter.
Like dozens of star college quarterbacks before him, Matt Leinart moved to the broadcast booth once his playing days ended. The Pac-12 Network hired Leinart as an analyst in August 2014.
Most recently, Matt Leinart has worked on Fox Sports' college football broadcasts. Leinart and former USC teammate Reggie Bush are two of the stars on Fox's Big Noon Kickoff. Former Ohio State head coach Urban Meyer and ex-Notre Dame quarterback Brady Quinn are the other major analysts.
It was unfortunate that Matt Leinart's playing career didn't pan out. Leinart, at least, appears to have found an ideal home talking college football with one of his best teammates.