Hendrick Motorsports Owner Rick Hendrick Owes Part of Kyle Larson's 2021 NASCAR Cup Series Title to Listening to Jeff Gordon's Advice
Hendrick Motorsports Owner Rick Hendrick listens well — when he wants to.
When former NASCAR premier Series driver Jeff Gordon returned to the Concord, North Carolina-based organization as vice chairman, he helped sway Hendrick on an important roster decision.
Gordon spoke with Hendrick regarding a disgraced but talented driver.
Hendrick Motorsports benefits from Jeff Gordon's keen eye for talent
Good thing Hendrick can be a good listener.
With a job reference from Hall of Famer Gordon, Hendrick decided to gamble on the unproven Kyle Larson. Early in the 2020 season, Larson competed in a streamed iRacing event and uttered a racial slur.
Chip Ganassi Racing did not wait long to suspend, then fire Larson. For its part, NASCAR officials forced the Cup Series' lone Asian American driver to attend sensitivity training before applying for reinstatement.
Gordon won 93 career races and four Winston Cup championships, helping Hendrick Motorsports grow into an industry powerhouse.
He knows talent. He helped recruit seven-time champion Jimmie Johnson into the Hendrick fold nearly two decades ago. Larson proved to be Gordon's next project.
Understanding Larson is an emerging, generational talent, Gordon started reshaping his image by helping him land a good job. What better place to do that than the Hendrick garage, surrounded by championship-caliber personalities and, of course, "Wonderboy."
"Kyle Larson is a great talent," Gordon told motorsport.com. "You give him a great race car and great race teams, and he does amazing things."
Larson retains championship calm to earn his first Cup title for Hendrick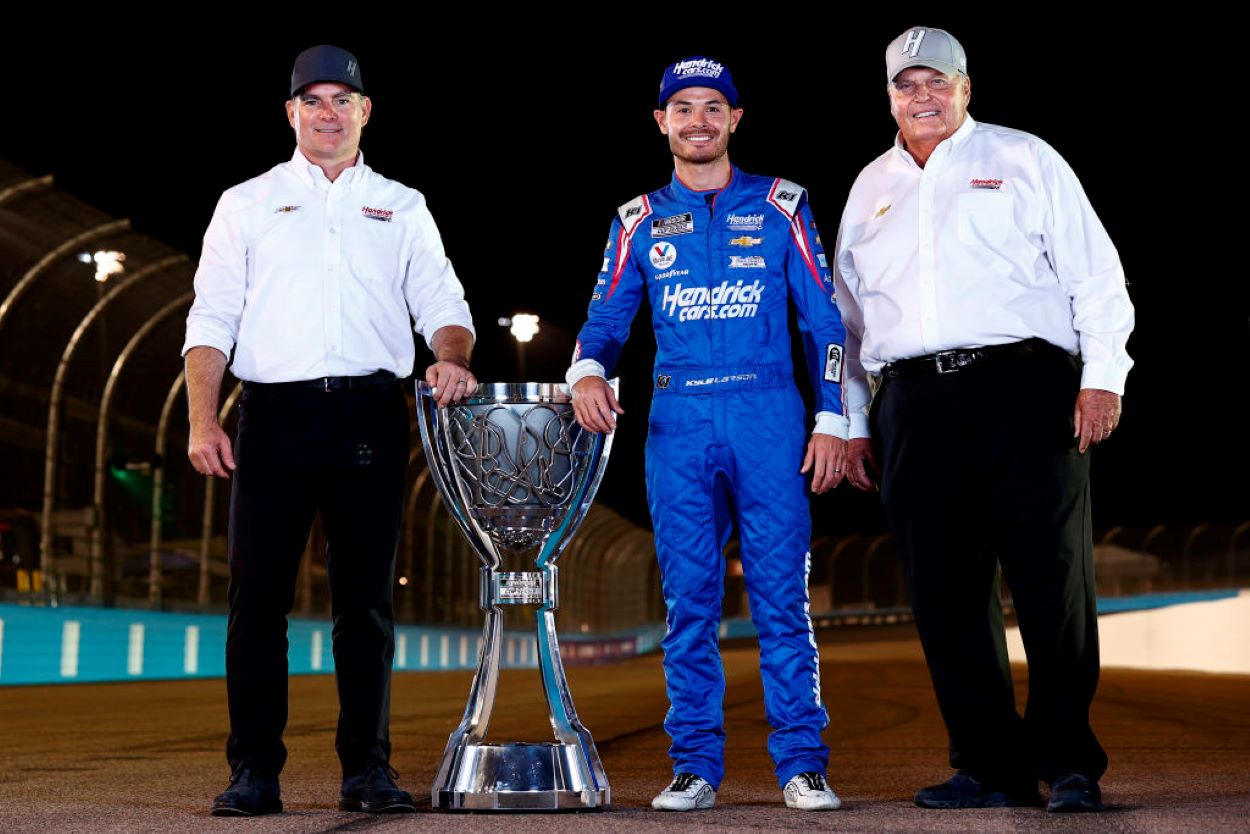 Larson showed off the amazing things he could do behind a Hendrick wheel with a new lease on life. He won a Cup Series-high 10 races, not including the all-star exhibition, and led the circuit with 1,288 fastest laps run.
Larson clinched Hendrick's 14th career Cup Series championship and 18th drivers' championship with a victory at Phoenix Raceway on Nov. 7. The winning maneuver came during the pit crew's blazing pit stop, allowing Larson to pick up three spots and the lead.
With Hendrick and Gordon watching intently, Larson remained calm over the final 13 laps and held off the other three Championship drivers: Martin Truex Jr., who placed second for the third time in four seasons, Hamlin (third), and teammate Chase Elliott (fifth).
"(Larson) and this pit crew and this team, they did it all year long," Gordon said. "They got to this point."
Gordon calls Championship 4 race at Phoenix a 'championship battle'
With a little help from new — and old — friends.
"I just want to say Phoenix Raceway, NASCAR, and all these fans that came out here (Nov. 7), this is what a championship weekend is supposed to feel like, and that was a championship battle," Gordon said. "Great competitors and a great champion here."
Larson faced a bleak future a year ago. Branded a racist, he was without a job, possibly a future.
Then Gordon spoke with Hendrick about giving the 28-year-old a second chance.
Now, Larson is 29 and a Cup champ.
Good thing Hendrick can be a good listener — when he wants to.
[Correction: An earlier version of this article stated Hendrick Motorsports had won 16 Cup championships.]