Henry Cejudo's Parents, Both Undocumented Immigrants, Taught Him That 'It Doesn't Cost a Thing to Dream'
Henry Cejudo has fought and beaten some of the best UFC fighters. Now, he's also retired from the sport despite winning his last fight. Not only has he been a UFC champion, but he's also lived an interesting life. Here's a look at how Cejudo's childhood changed his life.
A look at Henry Cejudo's childhood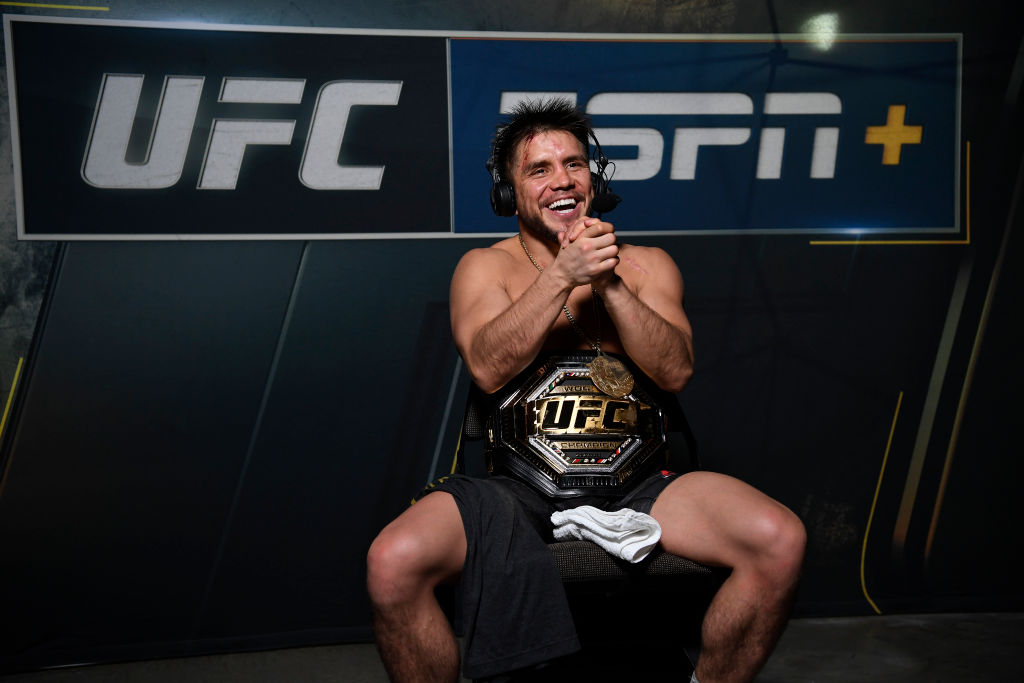 Cejudo's parents were undocumented immigrants, and they struggled to provide for their family. According to AZ Big Media, his mom raised him and his six siblings, since his dad was a drug addict who was in prison or in trouble much of the time. Cejudo's mom worked very hard to provide for her family, but they didn't have much.
The future UFC fighter said when he was a kid, he didn't have anything to do. Sometimes, he just got into fights to blow off some steam. Cejudo's dad lost his battle against addiction, however, and when the former UFC champion was 20, his dad died.
Despite this harsh life, he still dared to dream. Fox News said when he was nine years old, he watched the 1996 Summer Olympics on his family's TV. He saw Michael Johnson, an American sprinter, win the gold medal. From that moment on, he wanted to be an Olympian.
Henry Cejudo dares to dream
RELATED: Henry Cejudo Retires From the UFC With a Healthy Net Worth
As Fox News said, Cejudo's mom taught him one thing: "It doesn't cost a thing to dream." As The New York Times explains, like his brothers, Cejudo eventually used wrestling as a way to deal with his problems.
The UFC champ's brothers were good wrestlers, too. One of his brothers, Angel, had a 150-0 record in high school. However, Cejudo proved to be the best wrestler in the family. In 2008, he won the Olympic gold medal in his weight class for wrestling. Cejudo did this feat at just 21-years-old, which made him the youngest American to win gold at the Olympics, ever. 
With this win, he decided he wanted to give back to his community in a way that only he could. Cejudo wants to use his platform as a young Latino Olympian to share with other Hispanic Americans that, just like mom taught him, it's free to dream. 
Henry Cejudo after the Olympics
A few years after winning gold, Cejudo decided to pivot and became a UFC fighter. His wrestling skills, dedication, and mentality allowed him to eventually win gold in two weight classes. Cejudo also defeated three UFC champions considered some of the best pound-for-pound fighters in the world.
With these wins, he decided to retire from the sport at the age of 33. As he said in his retirement speech, he'd made sacrifices since he was 11. Now, he wants to start a family of his own as well as advocate for Latinos growing up in similar situations.
Like Fox News said, Cejudo mentors for Beat the Streets. The organization teaches kids wrestling in order to help them overcome hardship and poverty. Cejudo also gives talks to kids who are growing up where he did. The former UFC champ hopes to become a role model for how Latinos can succeed in the U.S. despite the prejudice they face.