The 8 NFL Sportsmanship Finalists for 2014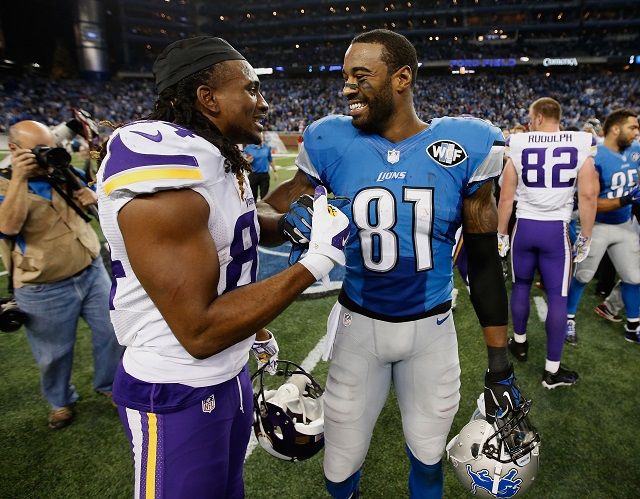 While this year has largely been bereft of happy stories about NFL players, the finalists for the 2014 NFL Sportsmanship Award have just been announced, and we're happy to talk about them — insofar as talking about players who are, plainly, good dudes is infinitely more fun than talking about those athletes who aren't quite as unblemished.
The Sportsmanship Award, which was created earlier this season in an effort to honor a player "who best demonstrates the qualities of on-field sportsmanship, including fair play, respect for the game and opponents, and integrity in competition," whatever that might actually mean, will include a $25,000 donation to a charity chosen by the winner.
As for how the award is going to be judged, a panel of former Pro Bowlers created this list of eight players, and teams will have the ability to vote on which player they feel most deserves the award, with the caveat that they're not allowed to vote for their own teammates. So without further delay, we present the eight players who are up for consideration, listed in alphabetical order by first name.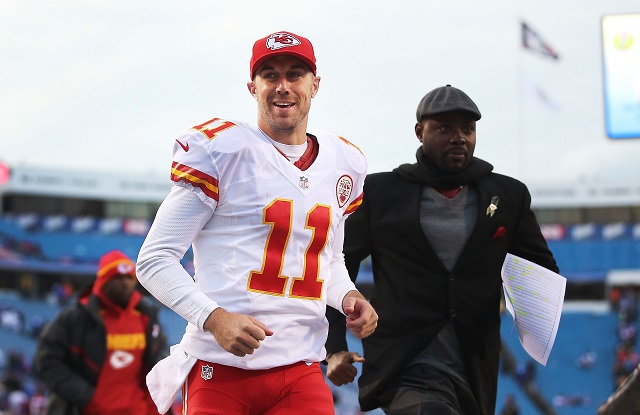 1. Alex Smith, Kansas City
Alex Smith says all the right things in post-game press conferences, particularly in the face of contention. When asked how he felt about his dismissal from the San Francisco 49ers, Smith was diplomatic, saying: "This is a team game and I wasn't going to put myself, or my situation, ahead of any of that. I said that at the time and I still feel the same way. No one is bigger than the team. That certainly was my frame of mind." The fact that the Chiefs are doing better than the Niners this season doesn't hurt, of course.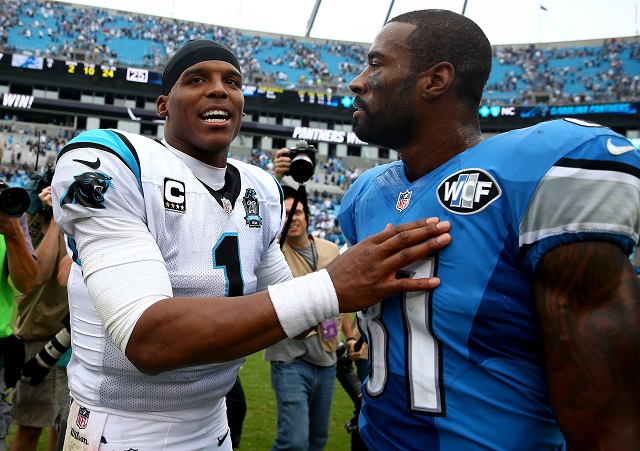 2. Calvin Johnson, Detroit
Grantland's Bill Simmons summed up Calvin Johnson's appeal in a column last year, when he marveled at the absurdity of the phrase "Enough with that Calvin Johnson, I hate that guy." The Sports Guy kept going for another thousand words or so, but they're largely unnecessary — everyone likes Calvin Johnson. Fans, players, analysts. He's inclusive, rather than divisive.
He's also the best receiver in the NFL right now, but he does it in such a way that no one resents him for it. He torpedoed at least one of our fantasy teams this year, and we still can't hate him for it. Plus, he routinely puts his money where his mouth is when it comes to helping others: A whole bunch of athletes have foundations and charities with their names emblazoned on them, but Johnson's actually seems to be doing something, which is rarer than you might want to think.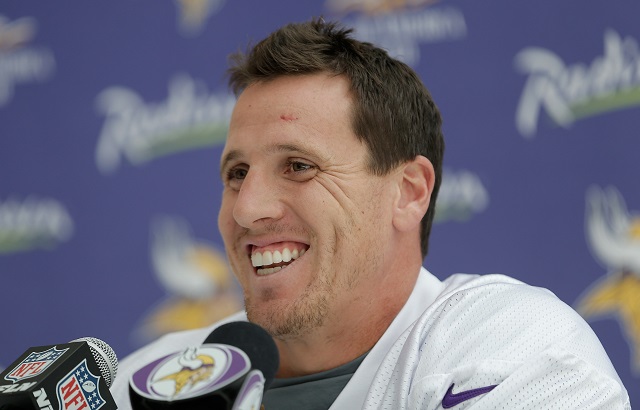 3. Chad Greenway, Minnesota
Chad Greenway is one of the more unheralded players in the NFL. As a linebacker, he's one of the few players on this list who doesn't resonate as a household name in places that root for the Vikings. Astonishingly durable, Greenway played in every game that he could from 2007 until 2014, when he was finally forced to sit one out after suffering a broken hand and broken rib. Iron men are always welcomed in the National Football League, and Greenway is no exception.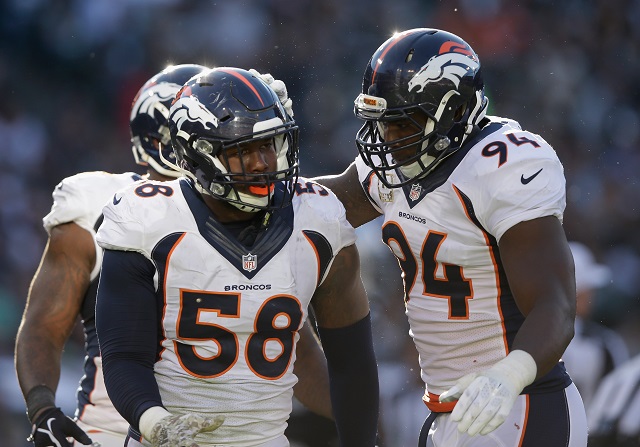 4. DeMarcus Ware, Denver
DeMarcus Ware was one of the more high-profile free agent signings last year, and his commitment to the community has been well known from Dallas to Denver. Most recently, he arrived unannounced at a soldier's home in Colorado — the Marine sergeant was left speechless, while Ware was able to explain his commitment to the armed forces to reporters afterward.
"I've been fortunate enough to have some family members in the military and I know how important it is to sometimes just set time aside and just show that you really care," the defensive end said.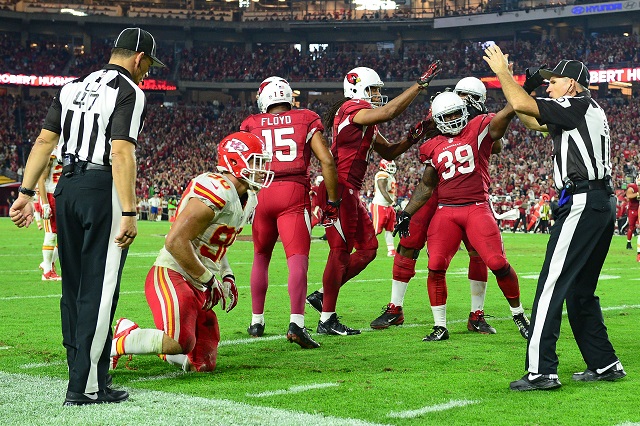 5.  Larry Fitzgerald, Arizona
Larry Fitzgerald (center) is nothing if not a consummate professional. He's played his entire career in Arizona and has managed a series of up-and-down seasons with nothing more than an infectious smile. That's harder than it looks, particularly when you've only missed six games over your entire NFL career. He's also been impeccable in his personal and public life, which counts for a lot.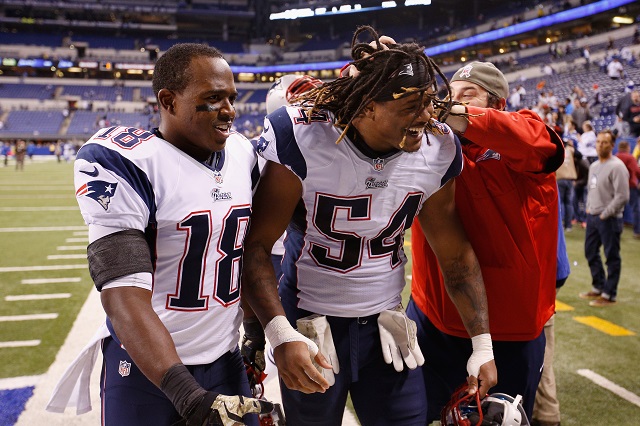 6. Matthew Slater, New England
Quietly serving out seven seasons as a special teams player for the New England Patriots, Slater (left) has already been recognized internally for his community service, earning the 2013 Ron Burton award from the team. At the time, owner Robert Kraft described Slater as "consistently one of the most active players in the community," and someone who was "always eager to volunteer." He also participates with United Way on behalf of the Patriots.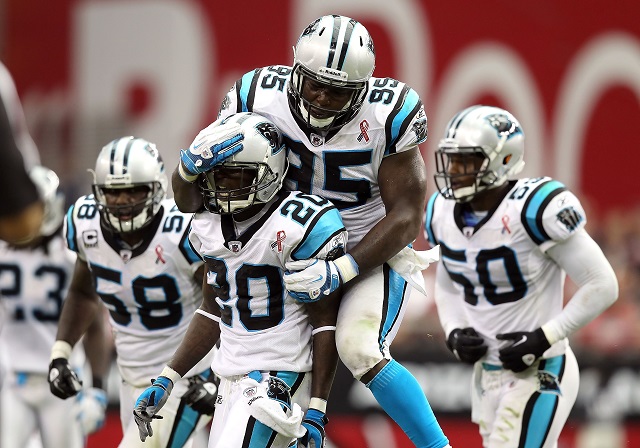 7.  Thomas Davis, Carolina
Another relatively unheralded finalist, Thomas Davis has been nothing if not a positive influence on the Panthers, his community, and the league in general — this time last year, he was spending $60,000 on a playground for his hometown, an accessory to the basketball court he'd also commissioned earlier, as well as "giving away toys to about 300 kids who otherwise might not have Christmas presents." That's pretty awesome. Davis was also a finalist for the league's annual Walter Payton Man of the Year Award last year.
8. Troy Polamalu, Pittsburgh
While the Sportsmanship Award is new this season, Troy Polamalu is not a new face when it comes to being recognized by the league and the Steelers for his community outreach. He's been honored in 2010 and 2014 for his extracurricular efforts, and the eight-time Pro Bowler has certainly proved his ability on the field.
The winner will be announced during the NFL Honors night, which precedes the Super Bowl, and it will be one of several awards handed out that night, including MVP and Coach of the Year. For more information on the award and the finalists, see ESPN's coverage here.