Here Are the Yankees' Top Trade Targets for the 2018 Playoff Run
As the 2018 season heads into the home stretch, everyone knows the New York Yankees need a starting pitcher. Well, the club might need more than one starter, and not just for this year.
Jordan Montgomery, a very reliable option in his '17 rookie campaign (9-7, 3.88 ERA in 155.1 IP), won't be back until 2019. Veteran Sonny Gray (7-7, 5.34 ERA) and rookie Domingo German (2-6, 5.68 ERA) have been unreliable at best. That leaves Luis Severino, Masahiro Tanaka, and C.C. Sabathia as the only solid starters. Sabathia may not return next year.
While this group may be enough to win a Wild Card, the Yankees will likely need another polished starter to take the AL East from Boston. (New York's July 24 trade for Zach Britton only edges the club in that direction.) Here are the starting pitchers the Yankees will target to make it happen.
1. Chris Archer, Rays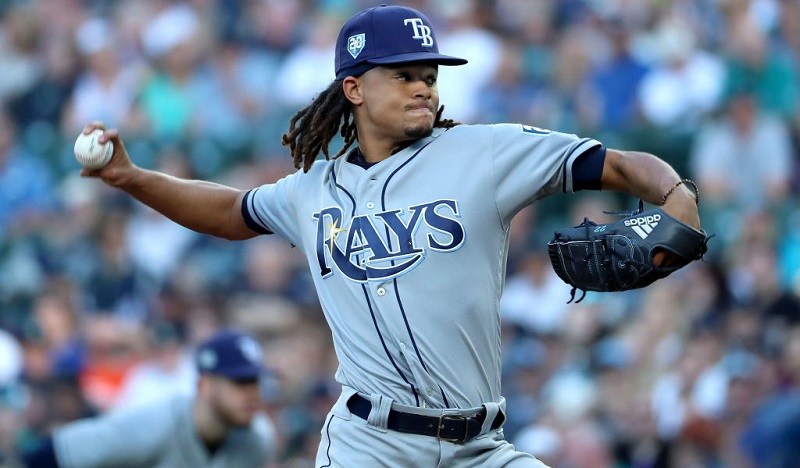 2018 stats: 90 IP, 99 SO, 3-4, 4.30 ERA
It's tempting to look at Chris Archer's stats and see a pitcher who's lost his way. After three straight years (2013-15) with an ERA of 3.33 or lower, the right-hander's pitched the past three years to an ERA over 4.00.
However, he pitches for a Tampa club that features bad team defense and even worse infield defense. Using advanced stats, Archer's current year is comparable to his 2014 campaign (10-9, 3.33 ERA). Regardless, he's a No. 3 starter at best.
On the other hand, Archer is a two-time All-Star who's dominated AL lineups and is signed for about $30 million (total) through 2021. So Tampa would ask for plenty in return.
2. Danny Duffy, Royals
2018 stats: 120.2 IP, 107 SO, 6-8, 4.40 ERA
Royals lefty Danny Duffy is another starter whose numbers won't impress, but his 11 starts since late May explain his interest as a trade target. Over that run, Duffy went 5-2 with a 2.58 ERA.
The Yankees could always use another left-hander at the Stadium, and the $50 million owed him through 2021 seems more than reasonable. With Kansas City needing to retool, it makes perfect sense to move him. It's a question of whether the Yankees will pay the price.
3. Noah Syndergaard, Mets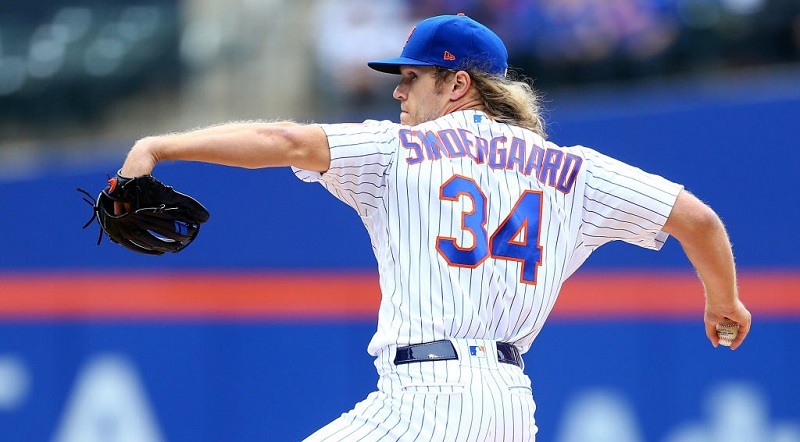 2018 stats: 74.2 IP, 83 SO, 6-1, 2.89 ERA
This trade target would go in the "Yankees' wildest dreams" department. Syndergaard, the hard-throwing 25-year-old Mets righty, has battled injury over the past two seasons but remains a force on the mound.
He won't be a free agent until 2022, so that means it would take a fat package to get the Mets to move Syndergaard. However, the Yankees have the prospects and enough major league talent to make it happen.
This one would be a blockbuster, and would just about make the Yanks World Series favorites if they pulled it off. For that reason, it's a long-shot.
4. J.A. Happ, Blue Jays
2018 stats: 114.0 IP, 130 SO, 10-6, 4.18 ERA
If the Yankees can't get one of the more appealing long-term options, they'll settle for a rental to get them through the rest of 2018. J.A. Happ, who's having another very good year in Toronto, would fit the bill.
Happ's 130 strikeouts in 114 IP jump off the page, and could be enough for the Yankees to bite in the final year of the lefty's contract. Because of the short term and only medium impact Happ could have, the Yankees will try to hold down Toronto's asking price.
Other possibilities
Since there are a few other options out there, we'll briefly mention the problems with each:
Cole Hamels (Texas): While Hamels isn't too expensive and very available, he's having the worst year of his career as he ends a long-term contract.
Blake Snell (Tampa): The Rays' best pitcher — and one of the AL's top left-handers in 2018 — went on the DL with shoulder fatigue in late July. That made the possibility of the Yankees trading for him highly unlikely in 2018.
Michael Fulmer (Detroit): Like Snell, Fulmer is a cost-controlled young pitcher on a perennially losing team. Also like Snell, Fulmer went on the DL (oblique strain) in the final weeks of July. It's hard to see any team putting together a big package for him before September.