NFL: 9 Quarterbacks The Raiders Have Gone Through Since 2002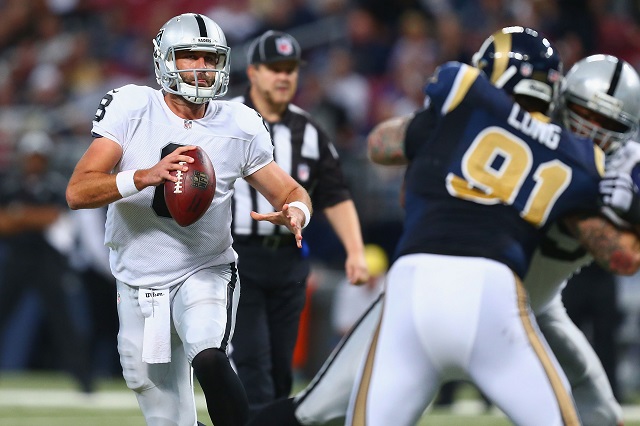 It's been just over a decade since Jon Gruden and the Tampa Bay Buccaneers ran roughshod all over the Oakland Raiders in the Super Bowl. This is important, because that was the last time that the Raiders made it to the playoffs, let alone the second round of the playoffs, let alone the biggest game of the entire season.
There are many reasons for the team's protracted slump, and a few of them are related to Al Davis, but one of the biggest things eluding the San Francisco Bay's only remaining team has been its utter inability to find a quarterback who's stuck.
To put it into some perspective, we decided to run down a tally of every quarterback who's lead the Raiders in passing yardage for at least a season since that fateful evening in February 2002. You will recognize some of these names; you could be forgiven for missing some others. All data are courtesy of Pro-Football-Reference.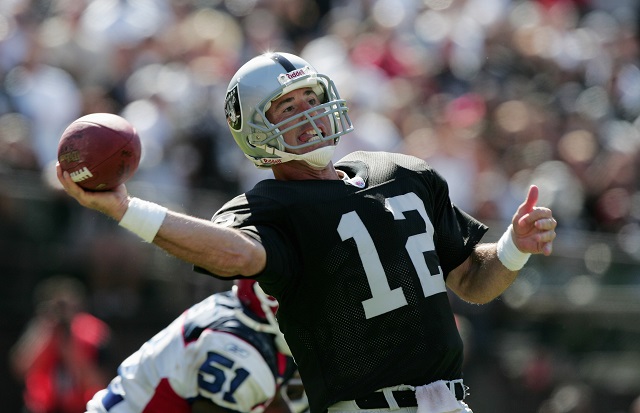 1. Rich Gannon, 2003
Gannon, who was also the Raiders' quarterback during their Super Bowl appearance, managed to keep his job for another season, when he was the head of an offense that managed to be 25th out of 32 when the dust settled. The Raiders moved on to greener pastures shortly thereafter, although Gannon remained on the roster until 2004, retiring at 39.
2. Kerry Collins, 2004 and 2005
From Gannon, the Raiders turned to Kerry Collins, who helmed the team for two seasons, submitting a 9-23 record over that time. At 33, Collins looked to be struggling, but upon departing the Raiders he had a marginally more successful time under center for the Tennessee Titans, including during their 2008 season, when they wound up atop the AFC South with a 13-3 record.
3. Andrew Walter, 2006
Drafted by the Raiders in 2005, Walter would turn out to be one of several busts in the organization's efforts to find new talent through the annual selection process, as he only lasted three seasons in the NFL. Playing each of those in Oakland, Walter would only start in a total of nine games, and the Raiders quickly abandoned their third-round selection for another aging signal caller.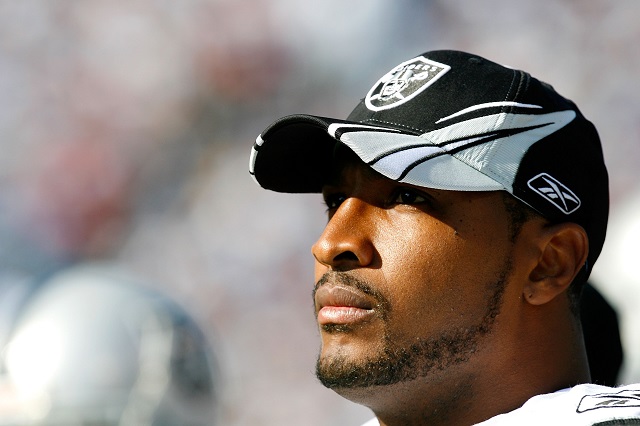 4. Daunte Culpepper, 2007
Daunte Culpepper's legacy as a Viking may elicit some minor controversy — he was a three-time Pro Bowler but unable to really get Minny to amount to anything during his tenure with the team — but there's no such argument to be had about his stint with the Raiders. Throwing for just 1,331 yards, Culpepper managed to outgain nominal starter Josh McCown (now with Tampa Bay) despite starting in three fewer games, and lead the team's only fourth-quarter comeback of the year. That was his only season in Oakland.
5. JaMarcus Russell, 2008 and 2009
Arguably the most infamous name on this list, JaMarcus Russell did not have nearly the success that he was expected to after a promising NCAA career and being the first overall pick in the 2007 NFL Draft. (That might be the understatement of the year.) Nevertheless, Russell managed to hang on as Oakland's leading passer for two straight seasons before dropping out of the league entirely.
6. Jason Campbell, 2010
To his credit, journeyman quarterback Jason Campbell managed to lead the Raiders back to a .500 record for the first time since 2002 when he took over for Russell in 2010. The Raiders went 8-8, missing the playoffs but finishing third in the AFC West, a notable improvement. And then, just a few games into the 2011 season, Campbell broke his collarbone, and the front office decided to search for yet another veteran quarterback to solve the team's problems.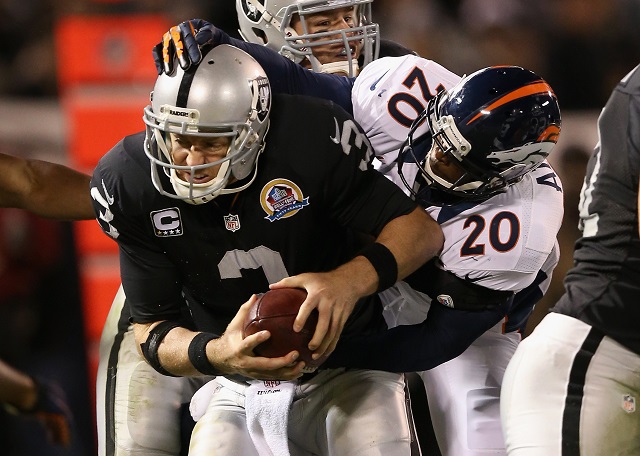 7. Carson Palmer, 2011 and 2012
Enter Carson Palmer. In 2011, Palmer was sitting at home, cooling his heels as an unwilling retiree whose playing rights were owned by the Cincinnati Bengals, who were awful but refused to trade him. If he wasn't going to play for the Bengals, he wasn't going to play at all — or so it seemed. Once the Raiders offered up a pair of picks, one first-rounder and one second that could conditionally become a first, the tune changed, and Palmer suited up for Oakland, more or less looking like he'd still retired from the game. Palmer would eventually be traded to the Arizona Cardinals.
8. Terrelle Pryor, 2013
Consider him Oakland's Tim Tebow — a mobile quarterback who couldn't really throw. Despite being taken in the 2011 supplemental draft, Pyror really only got to shine in 2013, when he threw a lot and ran a lot and watched the Raiders lose a lot, as the team tied its 4-12 record from 2012. The Raiders, such is their wont, subsequently set out to find another solution at QB.
9. Derek Carr, 2014
And here we come to Derek Carr, brother of David Carr, who was also a Raiders quarterback in the days of yore. The Raiders finished 2014 with a  3-13 record, but there's some silver lining for fans: At least a few anonymous NFL executives and front-office types would take Carr over 49ers signal caller Colin Kaepernick. Chin up, Raiders fans. It can't get much worse, can it?