Here Is Who Vegas Thinks Will Win the National League MVP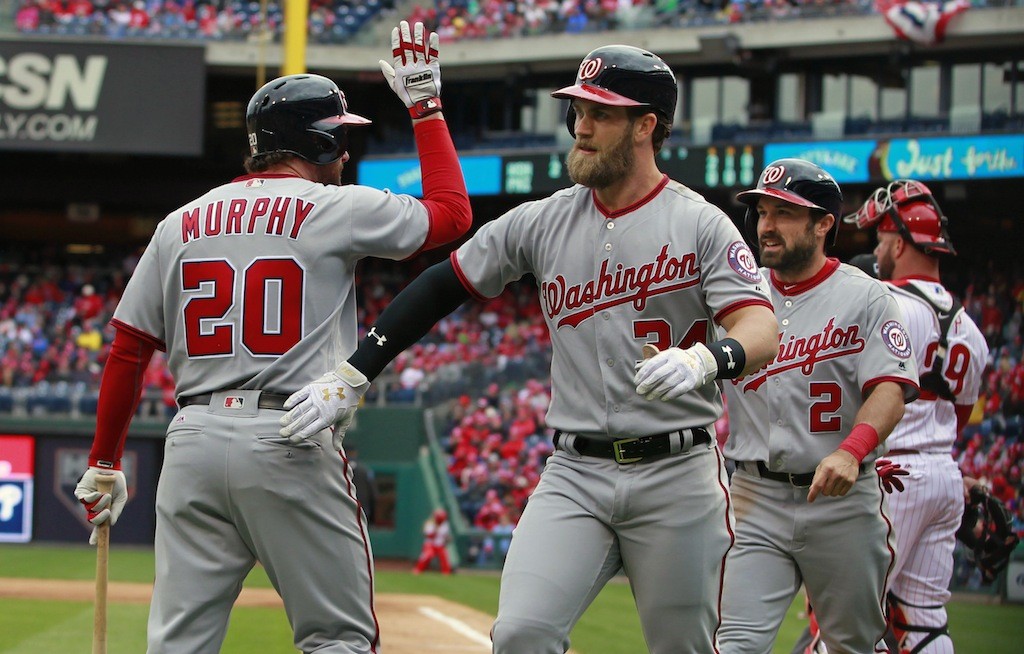 It's that time of the month for Major League Baseball, with Las Vegas releasing its updated odds on the MVP winners in each league. Last season, Kris Bryant rose above the rest in the National League to take home the MVP trophy in just his second big-league season.
Several of the best players in the game are having great seasons in 2017, with many of them leading their teams toward the playoffs. So, who are the clear frontrunners? We took a look at the Vegas odds on the top National League MVP candidates.
[Editor's note: Odds courtesy of Odds Shark as of July 13, 2017.]

8. Cody Bellinger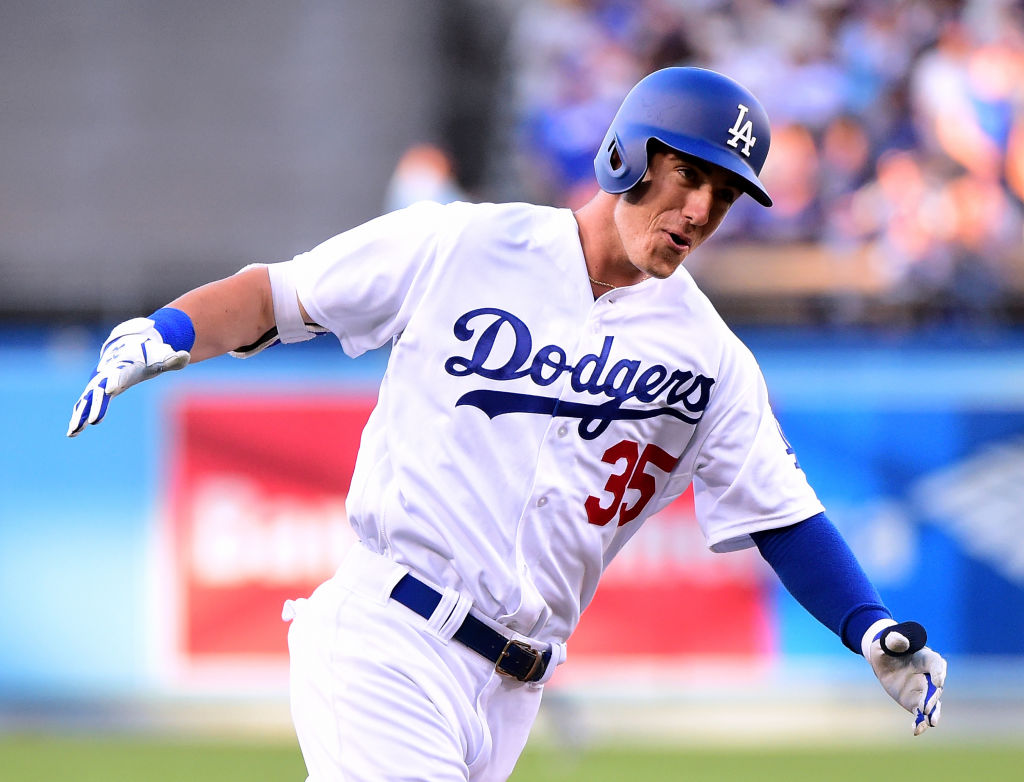 Odds: +1600
Cody Bellinger, the Los Angeles Dodgers rookie who recently turned 22 years old, has been a mad man at the plate this season. Bellinger didn't make his major-league debut until April 25 this season. But he quickly took the world by storm, filling in for Adrian Gonzalez at first base and also getting time at the corner outfield spots.
Bellinger made the All-Star team this year, hitting 25 home runs with a .261/.342/.619 slash line in 292 plate appearances. The fact that the Dodgers have the best record in baseball at the All-Star break certainly helps his cause, too. But it's also true that Bellinger isn't even the best hitter on his own team — spoiler alert —  and that probably shuts down his candidacy in a big way.
7. Charlie Blackmon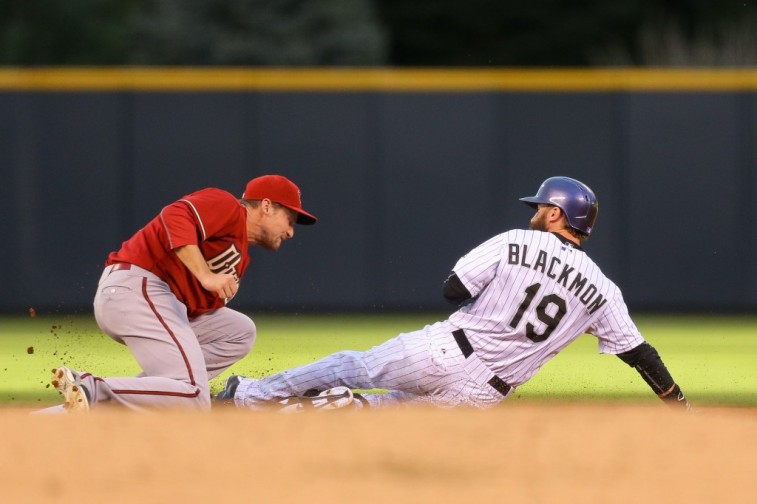 Odds: +1600
As the Colorado Rockies continue to slip out of contention for the NL West crown, it gets harder and harder to make a case for center fielder Charlie Blackmon as a legitimate MVP candidate. But Blackmon is having an excellent season, hitting .319/.372/.583 with 20 home runs and a league-leading 10 triples in the first half of the season. The 30-year-old has 2.3 WAR and is leading the charge for a Rockies team that is currently fighting with Arizona for positioning in the NL wild-card.
But for a frame of reference, Blackmon finished just 26th in the NL MVP voting in 2016 despite posting 4.5 WAR and a similar .933 OPS with 29 homers. Both he and the team are certainly better this year, so his MVP ranking will rise. But it's hard to expect him to walk away with the trophy right now, based on what we know.
6. Corey Seager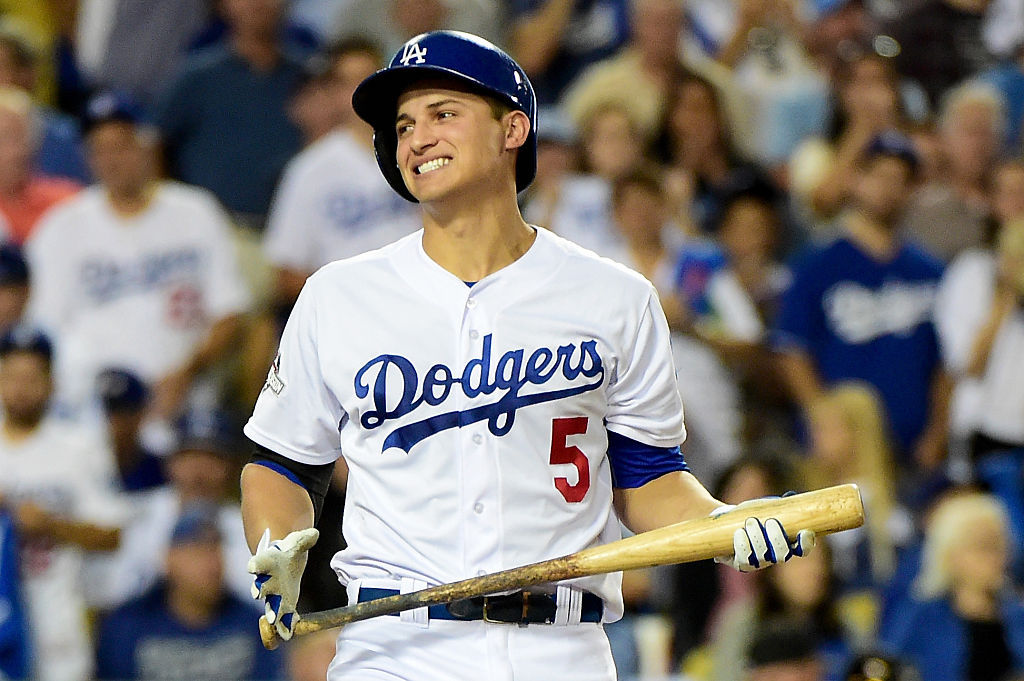 Odds: +900
Perhaps following in Bryant's path from the 2016 season, Los Angeles Dodgers shortstop Corey Seager is looking to follow up his NL Rookie of the Year award with an MVP in his second season. His stats are even better than last year, with Seager posting a line of .298/.395/.502 with 13 home runs and 3.4 WAR at the All-Star break.
But like Bellinger, the 23-year-old has yet another teammate who he must battle for this award. Because of the nature of the voting process, teams with more than one legitimate MVP candidate often find that the players cannibalize votes from each other. That may be what happens with the Dodgers this season.
5. Nolan Arenado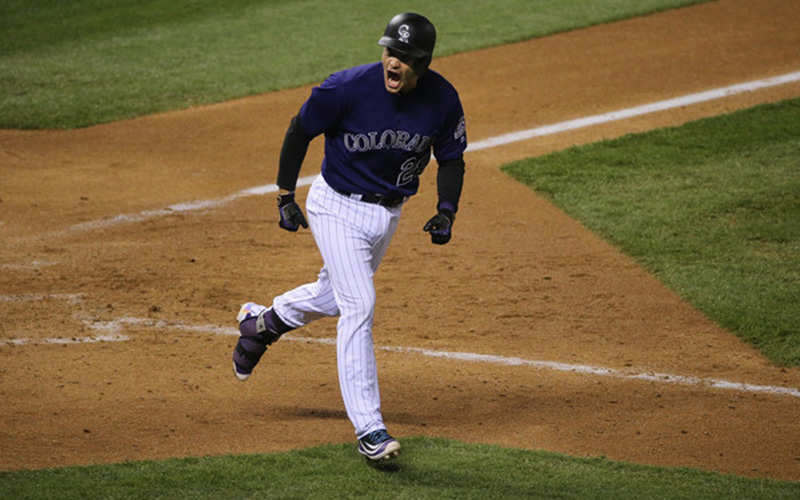 Odds: +900
Another great Colorado Rockies player on this list is third baseman Nolan Arenado. The 26-year-old has quietly led the National League in home runs and RBI each of the last two seasons, hitting over 40 and driving at least 130 in each year. He tends to get overlooked because of his home park in Denver, but that's not entirely fair. Most players tend to hit better at home, and it's not like Arenado is a slouch on the road. He has a .849 OPS on the road this season.
Arenado has been quite good overall this year, too. He has a .905 OPS with 17 homers and a league-leading 70 RBI. He has won the Gold Glove at third base in each of his last four seasons, and there's probably no reason for him not to win it again this year. But again, it would probably take a big performance and a second-half run in the division for Arenado to become anything more than a dark horse candidate.
4. Justin Turner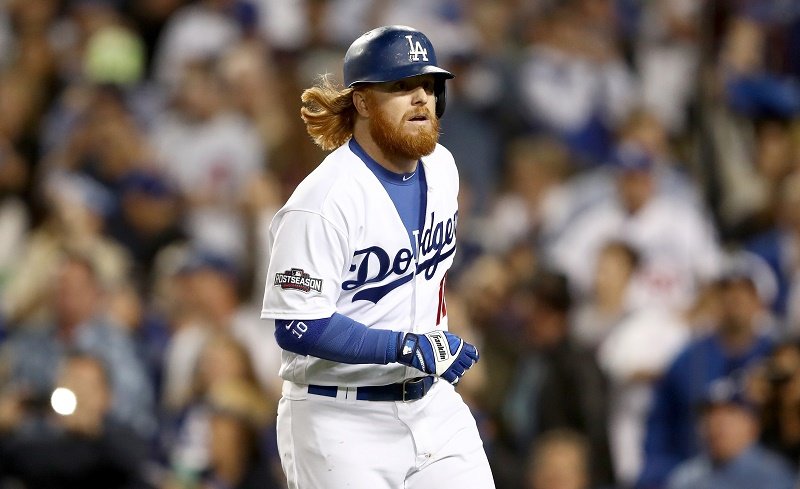 Odds: +900
With Justin Turner, the third baseman for the Los Angeles Dodgers, you can sense somewhat of a theme with the NL MVP candidates. We're seeing a lot of Dodgers and Rockies ranked thus far. But Turner is probably the best candidate of all, having hit .377/.473/.583 in the first half. Voters may notice his 10 home runs and 37 RBI, due to an injury that cost him about three weeks of time.
But over the course of the last month, Turner has nine of those 10 home runs and 20 of his 37 RBI. That goes along with an absurd 1.227 OPS. If the 32-year-old can stay healthy and continue hitting at this rate there's little doubt who will walk away with the MVP award in the National League.
3. Joey Votto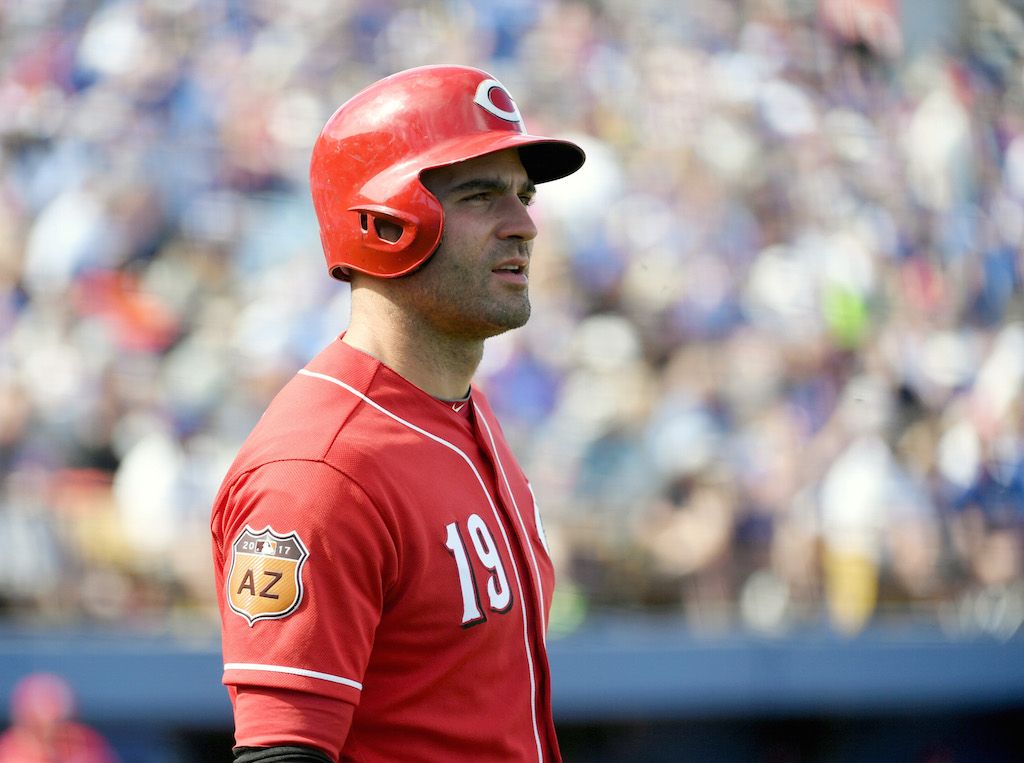 Odds: +700
One player on this list who stands out from the rest is Cincinnati Reds first baseman Joey Votto. The 33-year-old would be an MVP candidate every single year if he played for a good team, but the fact is that he doesn't. The Reds are a last-place team in the midst of a rebuild, essentially wasting the greatest years of Votto's career. This season, he leads the National League with 26 home runs at the All-Star break.
Votto may, in fact, be experiencing the very best year of his long, eventual Hall of Fame career in 2017. Good enough that some voters will almost certainly overlook the Reds' place in the standings. Votto is on pace to blow past his career-high of 37 homers and has a 1.058 OPS — the best of his career and the best among all NL hitters with enough plate appearances to qualify.
2. Bryce Harper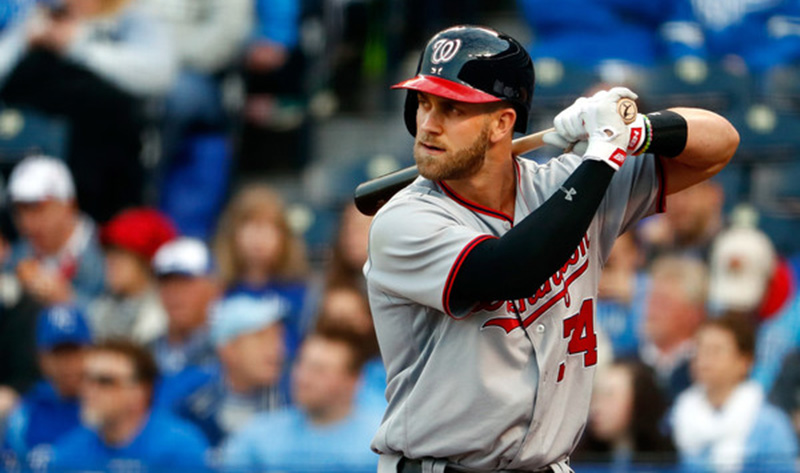 Odds: +450
The preponderance of great seasons from so many hitters in 2017 causes us to take Washington Nationals outfielder Bryce Harper for granted. The 2015 NL MVP has bounced back from a down year — by his own standards, at least — to post a .325/.431/.590 slash line with 20 home runs and 65 RBI at the All-Star break this season. Also an outstanding fielder, Harper has accumulated 3.5 WAR a little over halfway through the year as well.
The fact that the Nationals have separated themselves from the pack in the NL East helps Harper's cause, too. Washington leads the Atlanta Braves by 9.5 games and should coast to the end of the regular season. Continued excellence by Harper, as well as some helpful name recognition, should help him in the standings.
1. Paul Goldschmidt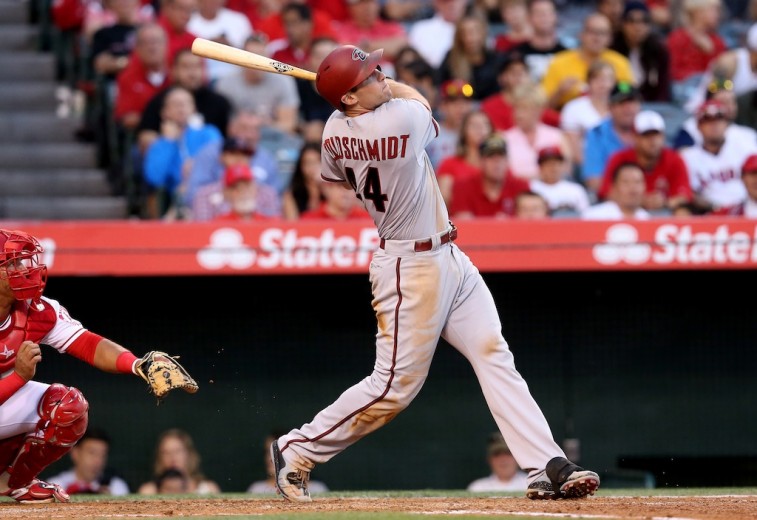 Odds: +175
Quite possibly the most underrated hitter in the game is Arizona Diamondbacks first baseman Paul Goldschmidt. The 29-year-old has made the All-Star team five consecutive seasons. He's also finished No. 2 in the NL MVP voting twice in his career, back in 2013 and 2015. Overall, he has a .932 OPS in 867 career games for the D-backs.
This season has been even better for Goldschmidt, who leads one of the most surprising contenders in all of baseball. He has a career-best 1.005 OPS with a full slash line of .312/.428/.577, touting 20 home runs and 67 RBI at the All-Star break. A strong second half and a run at the Dodgers at the top of the NL West might seal the deal for Goldie, who is currently the favorite to win it according to the betting lines.
Statistics courtesy of ESPN, OddsShark, and Baseball-Reference.