Here's Every Injured Player on the Thunder So Far This Year
"The Oklahoma City Thunder are having a rough year" could be in contention, at least in NBA circles, as the biggest understatement of the year. The team, widely expected to challenge for a Western Conference Finals berth at the least, boasts the reigning MVP, an All-Star point guard, a constant Defensive Player of the Year candidate… and enough injuries to let the league grant them a hardship exception, which is a measure that allows a franchise to temporarily go over the 15-man limit on the roster in case players are dropping left and right (they're using it to sign Ish Smith, a point guard who's bounced around the league a bit and is considered by DeMarcus Cousins to be the fastest player in the entire league). You can have a 55-win team on paper and not even come close if no one can stay healthy. Just ask the Chicago Bulls.
With all the players suffering through various DNP's, injury reports and unconfirmed returns, it can be a little difficult to keep track of which Thunder players are going to be missing significant time. Especially if you're not obsessively keeping touch on some of their bench players — there's a lot of strands to keep together in old Duder's head, as it were. Luckily enough, we are obsessively keeping touch on all the NBA's rosters, and this includes the Thunder. Which means we've got you covered. No Worries.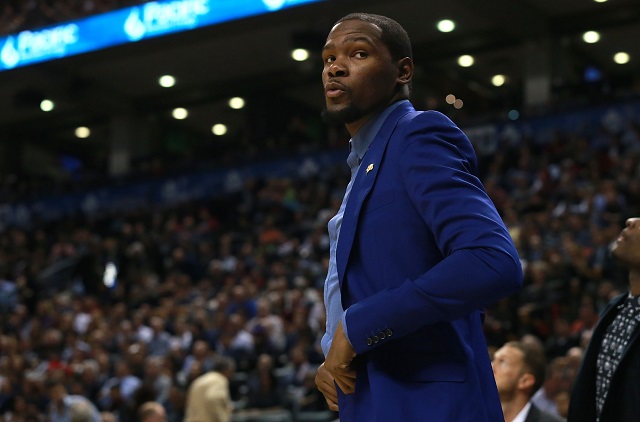 Kevin Durant — foot

Durant, the most recent league MVP, holder of multiple scoring titles, and one of if not the very best people on the entire planet when it comes to putting a basketball through a basketball hoop, was forced to miss the entire season so far after undergoing surgery to repair a Jones fracture in his right foot. The injury, Durant's first extended bout of sitting in his still-short NBA career to this point, involves a break in the small toe, which sounds really unfun for all involved. This was the injury that the Thunder knew about going into the season, when we all assumed that this would be our chance to see how the team would play with Russell Westbrook.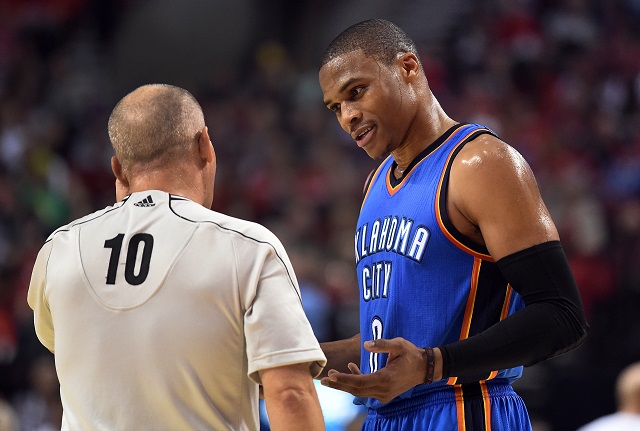 Russell Westbrook — hand
Everyone who was paying attention when Westbrook went down for an extended period of time last season (from December until February) knows that the Kevin/Russell dichotomy is little more than a holdover of manufactured controversy and irritation on behalf of the people who think that a point guard should pass, and not shoot — they also happen to be the same age as the people who think children should be seen and not heard. Coincidence? Anyway, Russ went down with a broken hand, and the chance to see Westbrook without Durant was dashed for awhile.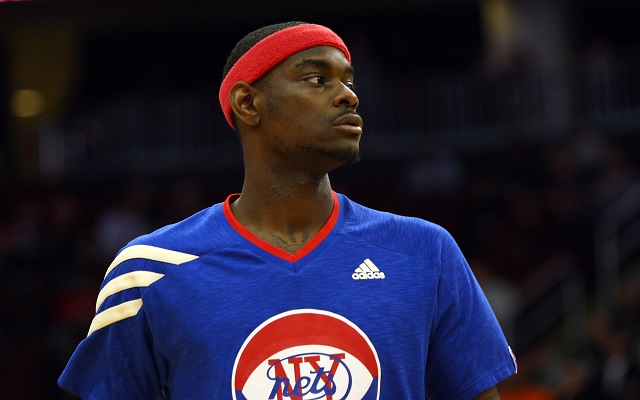 Anthony Morrow — sprained MCL
Morrow, a three-point specialist signed by the Thunder this offseason, has spent time around the league — playing for the Nets, the Pelicans, and the Warriors, among others — but has never been sidelined with a sprained knee until he came to Oklahoma. If Phoenix is noted for their medical staff's extraordinary ability to keep players healthy, then perhaps it's time to start giving the opposite award to OKC?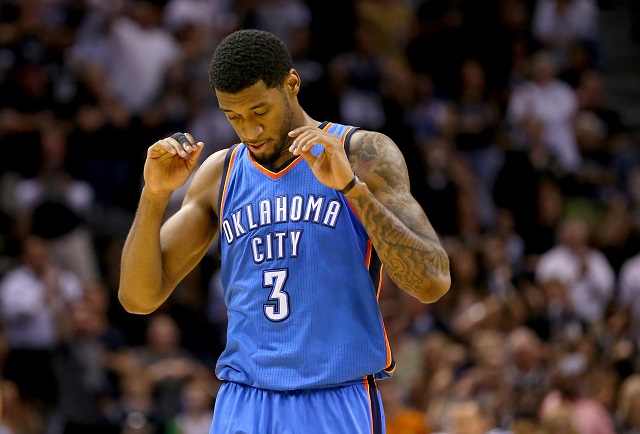 Perry Jones III — knee
The Thunder's most prized draft pick since James Harden posted a monster 32-point, seven-rebound outing in his second game for the team this year, and for a minute it looked as if OKC's season could still be salvaged by the rookie who fell all the way to the 28th pick in the draft back in 2012. Then Jones promptly suffered a right-knee contusion against the Toronto Raptors.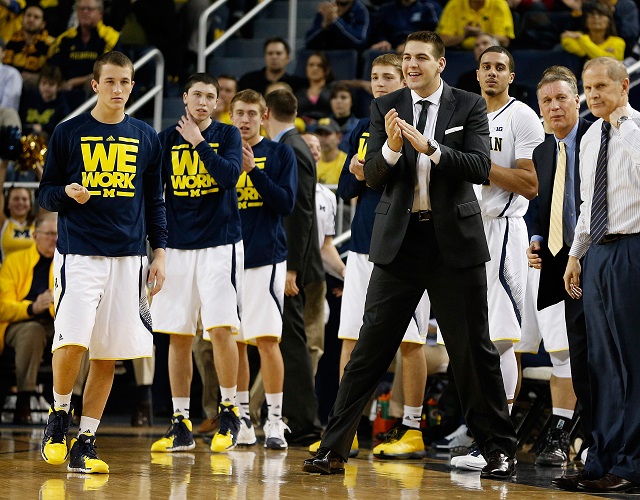 Mitch McGary — foot
Mitch McGary, who is only a member of the Oklahoma City Thunder because of the NCAA's hardline stance on testing positive for marijuana, fractured his foot during the Thunder's opening preseason game against the Denver Nuggets. This was a bummer as he was playing well in that game, and looking like a good piece of the team's bench. Alas, it was not to be.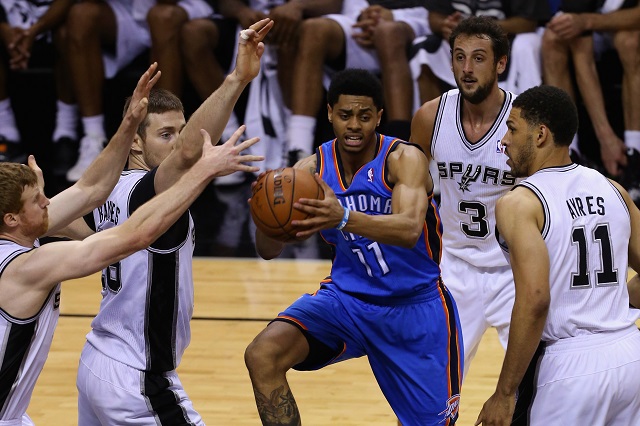 Jeremy Lamb — back
As the prized member of the infamous James Harden trade, Lamb has had a whole bunch of expectations placed on his shoulders (whether or not he's lived up to those is a different conversation entirely). And while that's usually a metaphor, Lamb's back couldn't take the pressure, as he injured it during a practice and hasn't seen the court since.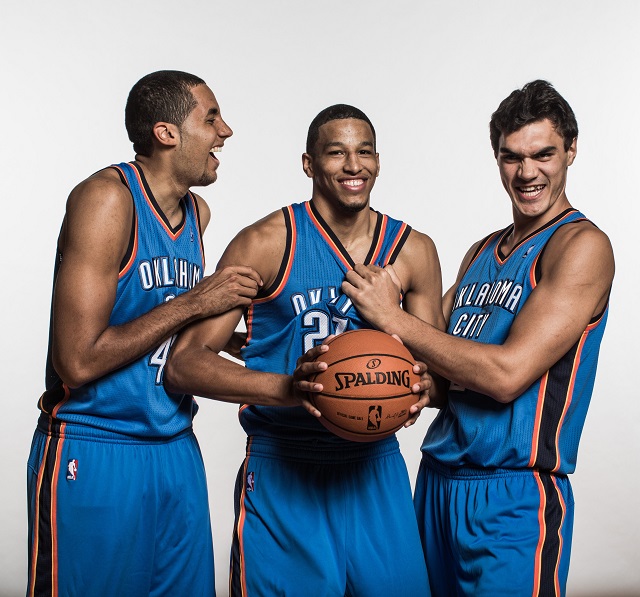 Andre Roberson — foot
Grant Jerrett — ankle
The two Thunder Rookies from last season who weren't Steven Adams (pictured above, right), Grant Jerrett and Andre Roberson (left and center, respectively), are both out with foot injuries: An ankle injury for Jerrett and a foot injury for Roberson. But even if they're not actually allowed to take the court yet, we'll always have this picture, and the distant, fleeting memories of a healthy OKC squad. Get well soon, guys. We want to see good basketball as often as possible, please.