Here's Every Player Arrested Since the 2015 Super Bowl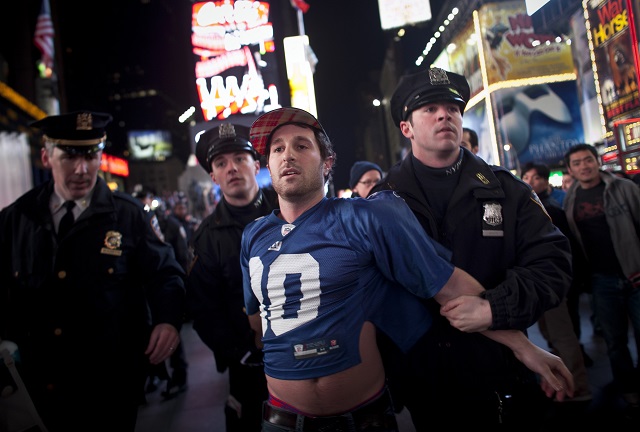 You'd think that after witnessing such an epic Super Bowl between two NFL juggernauts — the New England Patriots and Seattle Seahawks — players around the league would feel the need to work even harder in order to achieve the ultimate goal of winning the Lombardi Trophy.
After all, success in the National Football League doesn't happen overnight. It takes passion, dedication, and total focus. That's the price of being a champion. That's how all players should approach their seasonal break from the NFL. Unfortunately, that's not how things went down for some individuals.
Instead of pushing themselves to be better for upcoming season, a select few players found themselves facing an even more brutal opponent: The law. Since the 2015 Super wrapped on February 1, there have been 23 arrests involving players in the National Football League at the time. Not exactly setting a shining example for a league that prides itself on protecting the shield.
While it should be noted that being arrested doesn't automatically mean a player is guilty of the crime, that doesn't change the fact that a lot of these players clearly put themselves in compromising positions — something that doesn't go over well when your career choice constantly puts you in the public eye.
Who are these individuals that found themselves on the wrong side of Johnny Law? Don't worry, we've got you covered. With that, here's a look every NFL Player — compiled from earliest to most recent — who's been arrested since the 2015 Super Bowl.
23. Terrence Cody – February 2, 2015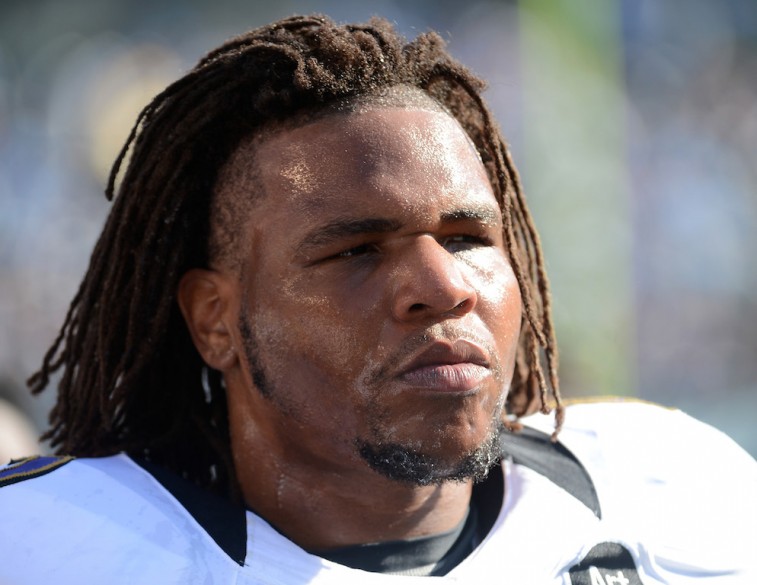 Terrence Cody clearly forgot how much people love their animals in this country, as he was indicted for animal cruelty involving his dog and an alligator. To top it all off, he was also hit with two misdemeanor drug charges. The Baltimore Ravens officially released the defensive tackle shortly after.
22. Joseph Randle – February 3, 2015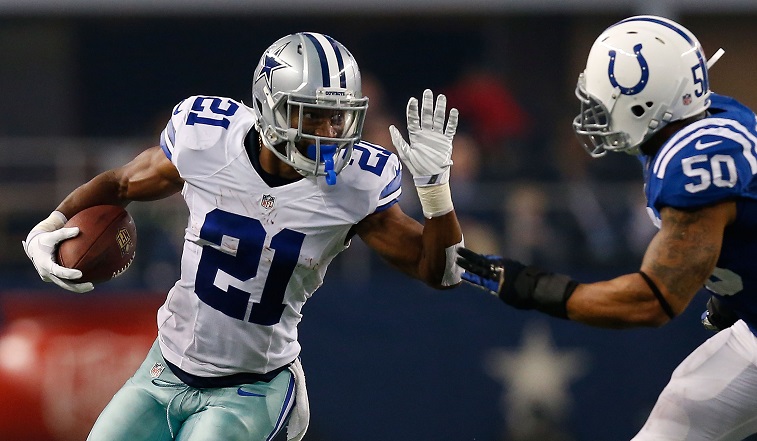 Following a domestic violence call in his hometown of Wichita, Kansas, Dallas Cowboys running back Joseph Randle was arrested on suspicion of marijuana possession. This happened to be Randle's second arrest since October. Fortunately for him, the marijuana charge was dropped.
21. D'Qwell Jackson – February 3, 2015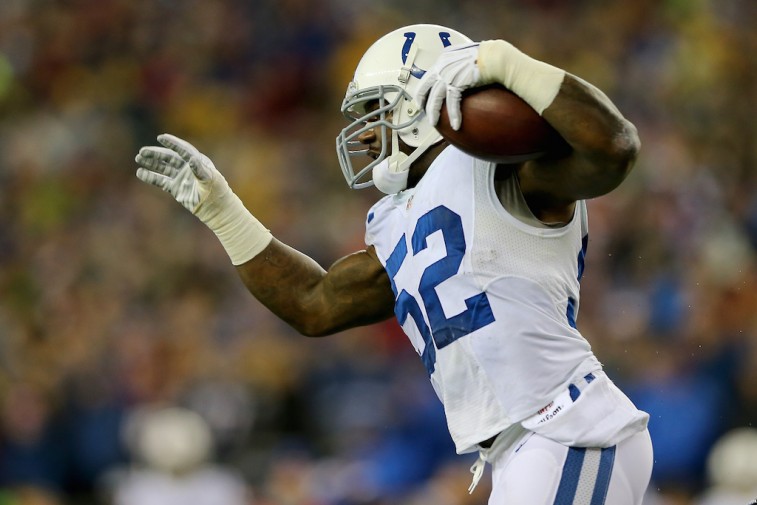 Respect D'Qwell Jackson's parking space or he'll punch you. At least that's what reportedly happened on February 3 in Washington, D.C., when the linebacker was arrested on a misdemeanor assault charge.
20. Letroy Guion – February 3, 2015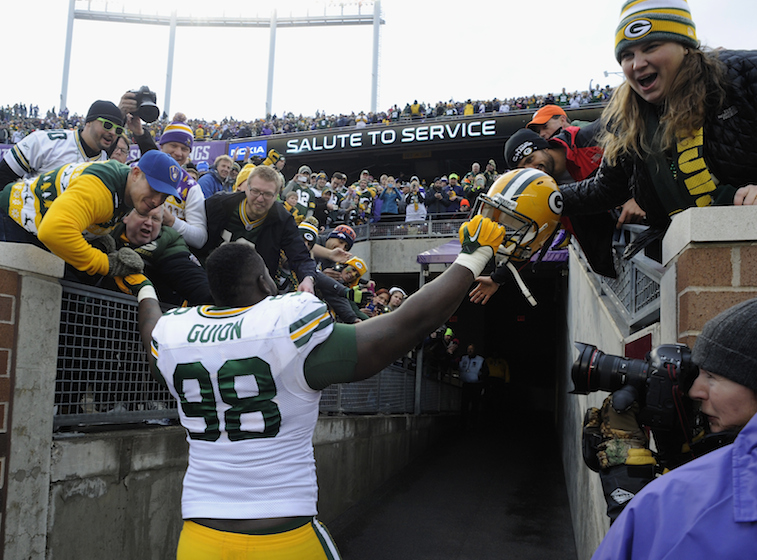 During a traffic stop, Green Bay's Letroy Guion was found with 357 grams of marijuana, a 9mm handgun and more than $190,000 in cash. The defensive tackle was arrested on felony charges of possession of drugs and firearm possession. Lucky for him, he was able to reach a first-time offender deal, where he plead no contest to the drug charge and paid a $5,000 fine.
19. Ahmad Bradshaw – February 5, 2015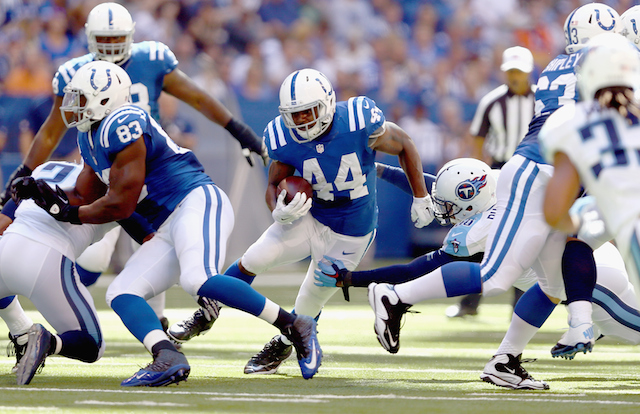 When you drive too closely to the vehicle in front of you, bad things happen. Just ask Ahmad Bradshaw. Not only did the running back get cited for his poor form on Interstate 70 in Western Ohio, but state troopers also cited him for misdemeanor marijuana possession. The Colts back plead not guilty to the charges.
18. Victor Hampton – February 28, 2015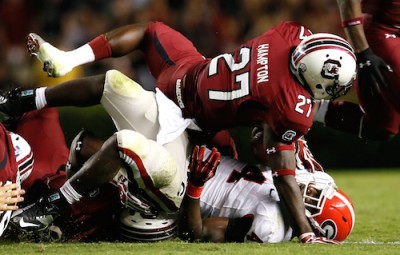 If you're driving 100 miles per hour in a 55 mile per hour zone, you shouldn't be surprised if you're pulled over for speeding. The only thing that could make matters worse, is being impaired in the process. Cue cornerback Victor Hampton (with college team, South Carolina Gamecocks), who thought it would be a good idea to do both on the last day of February. The Ravens released Hampton following his arrest.
17. Jarrett Bush – March 1, 2015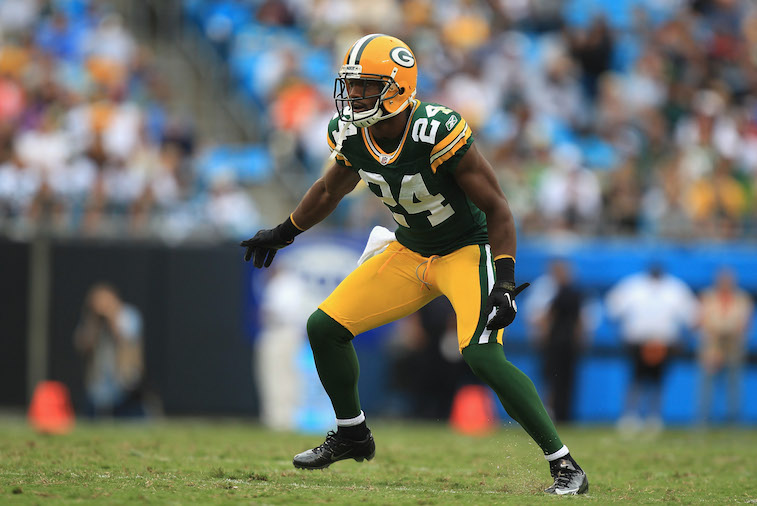 NFL players wasted no time challenging the law in March, as cornerback Jarrett Bush was arrested for misdemeanor public intoxication. However, no charges were filed in the incident.
16. Bruce Miller – March 5, 2015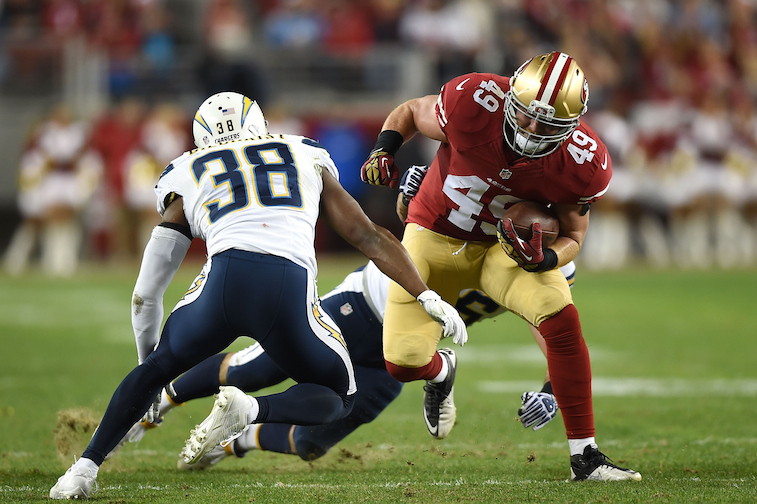 San Francisco 49ers fullback Bruce Miller was arrested in Santa Clara Clara on a misdemeanor domestic battery charge. Yet, the County District Attorney would later reduced the charge to a misdemeanor vandalism. Miller plead no contest to disturbing the peace anyway.
15. Alex Okafor – March 9, 2015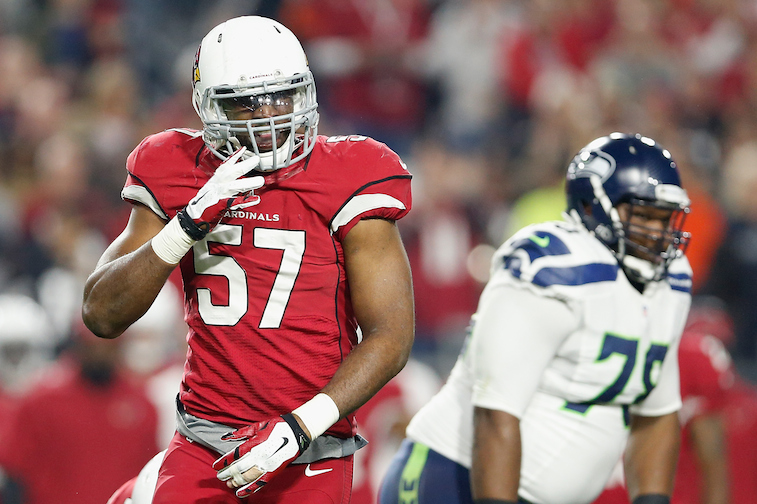 After disturbing the peace in downtown Austin, linebacker Alex Okafor thought it would be a good idea to try and outrun the cops. He was hit with an evading arrest charge.
14. Antwon Blake – March 15, 2015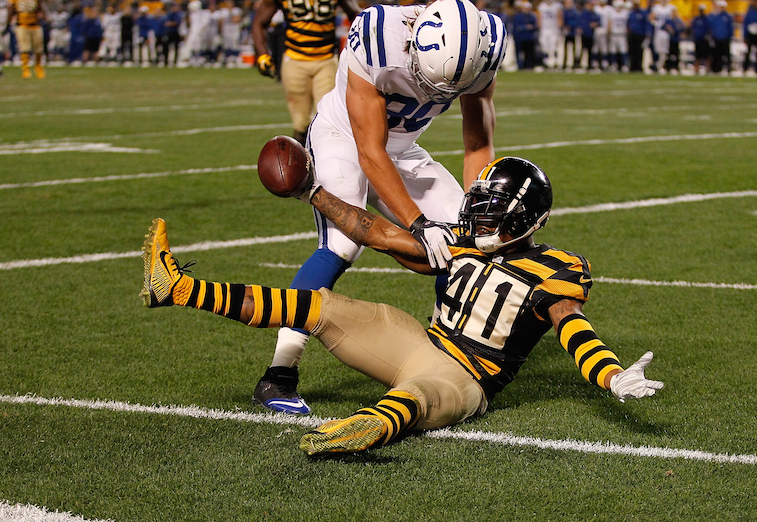 Pittsburgh Steelers cornerback Antwon Blake was publicly drunk in Oceanside. One guess what he was arrested for.
13. Bernard Pierce – March 18, 2015
Another Baltimore Raven, another brush with the law. Running back Bernard Pierce was charged with drunk driving and speeding after being pulled over for going 55 miles per hour in a 30 miles per hour zone in Towson. Baltimore cut Pierce after the event.
12. Brian Dixon – March 29, 2015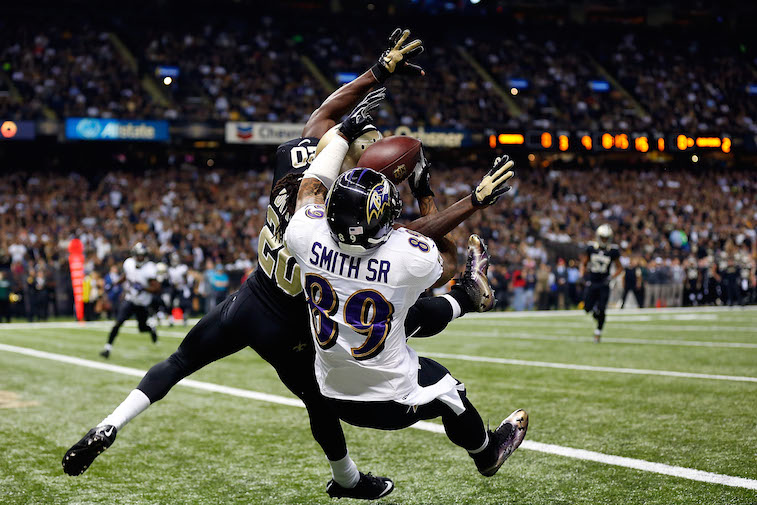 A scooter! We're talking about a scooter!
It may sound silly, but Brian Dixon was arrested in Miami and charged with resisting an officer after being pulled over for traffic violations while on his scooter. If there's anything to take away from this matter, it's to always scoot responsibly.
11. Rodney Austin – April 17, 2015
Rodney Austin (far left, No. 74) messed up big time. On April 17, Austin was charged with four misdemeanor counts — larceny and assault included — resulting from a complaint brought forth by his ex-girlfriend with respect to an incident on April 5. The offensive lineman was accused on shoving a woman — who was holding an infant — to the ground and preventing her from calling 911 by taking her phone. The Detroit Lions sent him packing after the allegations surfaced. Austin has since been found guilt of two counts of assault.
10. Ray McDonald – May 25, 2015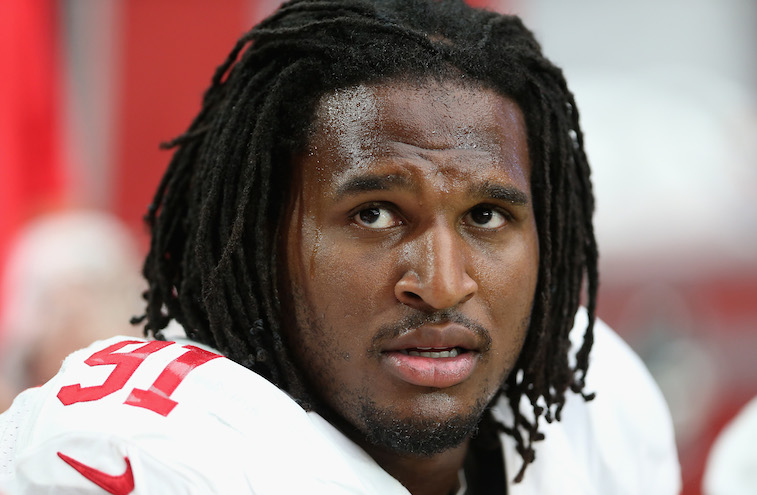 After an incident involving his ex-fiancée — with their infant child present — Ray McDonald (with former team, the San Francisco 49ers) was arrested suspicion of domestic violence and child endangerment. The Chicago Bears would cut the defensive end immediately after. Of course, there's more. McDonald was later hit with charges of  "felony false imprisonment, misdemeanor domestic violence, child endangerment, and violating a court order."
9. Ray McDonald – May 27, 2015
Just two days later, McDonald (with former team, San Francisco 49ers) went over to ex-fiancée's and was subsequently arrested for violating a restraining order.
8. Prince Shembo – May 29, 2015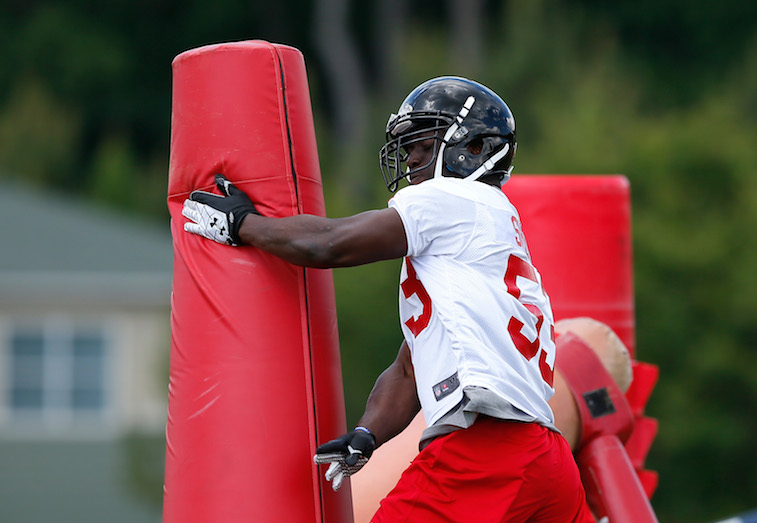 Prince Shembo was arrested and charged with aggravated animal cruelty, resulting from the death of his girlfriend's dog. Given the organization's history with matters such as this — albeit on much larger scale — it's not surprising the Atlanta Falcons chose to cut the linebacker from the team.
7. Brandon Spikes – June 12, 2015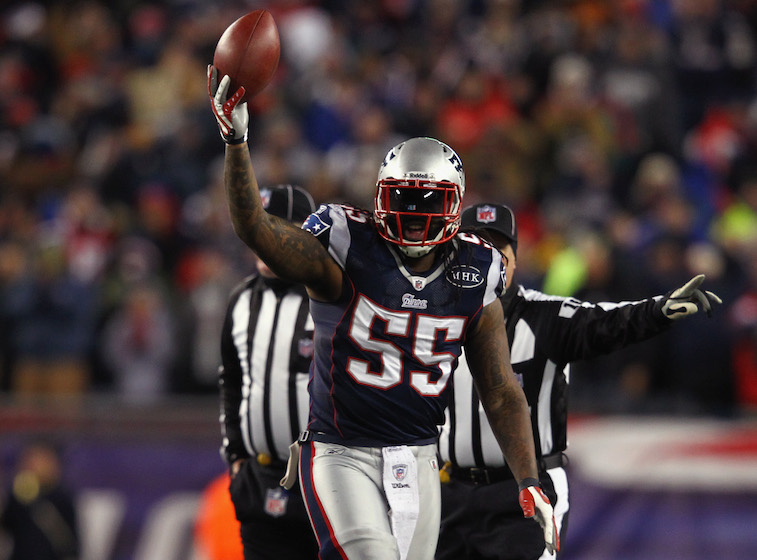 On June 12, linebacker Brandon Spikes was charged for his involvement in a hit-and-run incident that left three people injured in June 7. Among the charges were negligent operation of a motor vehicle, leaving the scene of personal injury, operating an uninsured vehicle, speeding, and a marked-lanes violation. Not only was Spikes cut by the New England Patriots, but he plead guilty and will serve one year probation.
6. Brandon Ivory – July 1, 2015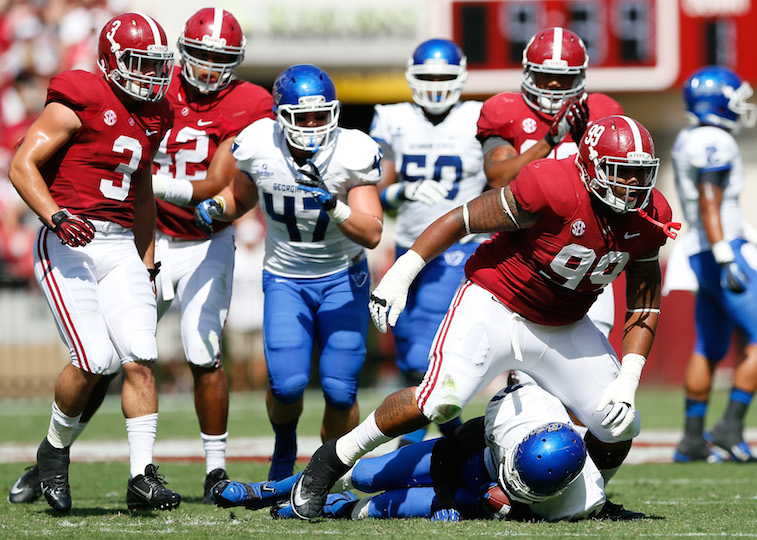 While in Tuscaloosa, Alabama, Brandon Ivory (No. 99 with college team, Alabama Crimson Tide) decided to take things that didn't belong to him and was charged with charged with two counts of burglary. This resulted in his release from the Houston Texans.
5. Andrew Quarless – July 4, 2015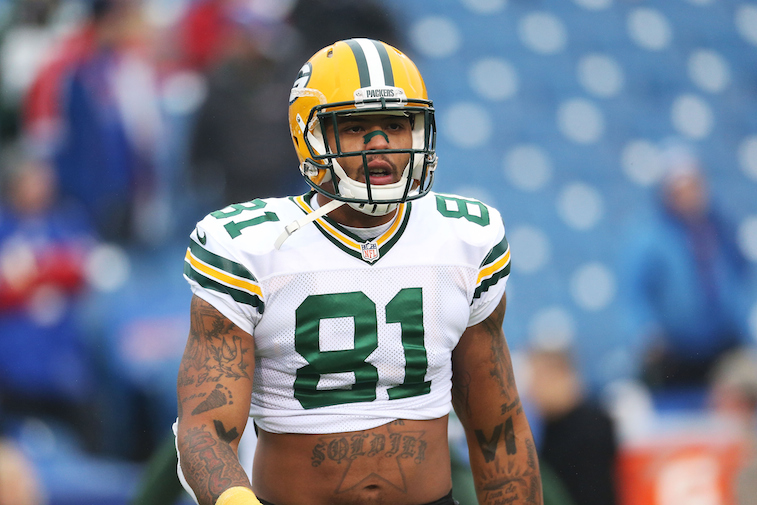 Andrew Quarles chose to celebrate America's Independence Day by allegedly firing two shots into the air during an argument that went down outside of a parking garage in Miami Beach. For his quick trigger, the Green Bay Packers tight end was charged with misdemeanor discharging a firearm.
4. Sheldon Richardson – July 14, 2015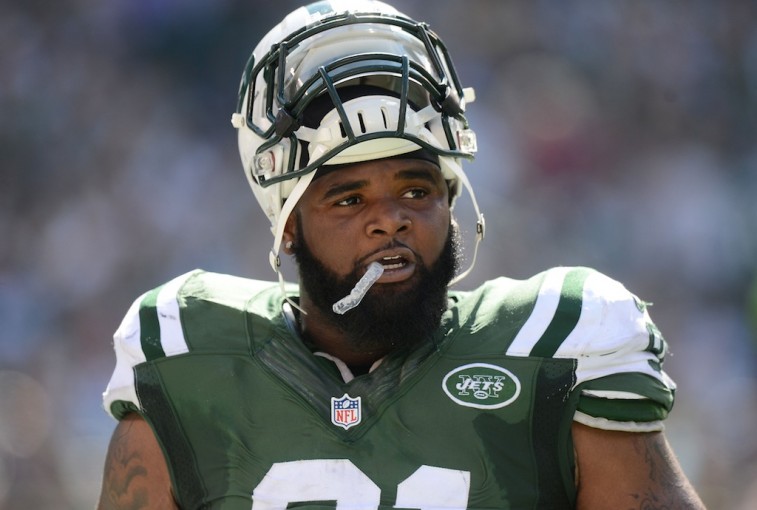 Sheldon Richardson decided to go on a 143-mph joy ride with three passengers in his car, one being a 12-year-old boy. Not exactly the smartest of decisions. For his recklessness, Richardson was charged with resisting arrested a multiple traffic violations. How are the New York Jets going to handle this situation? Will the young defensive lineman ever play football again? This will be an interesting story to follow.
3. Justin Hunter – July 20, 2015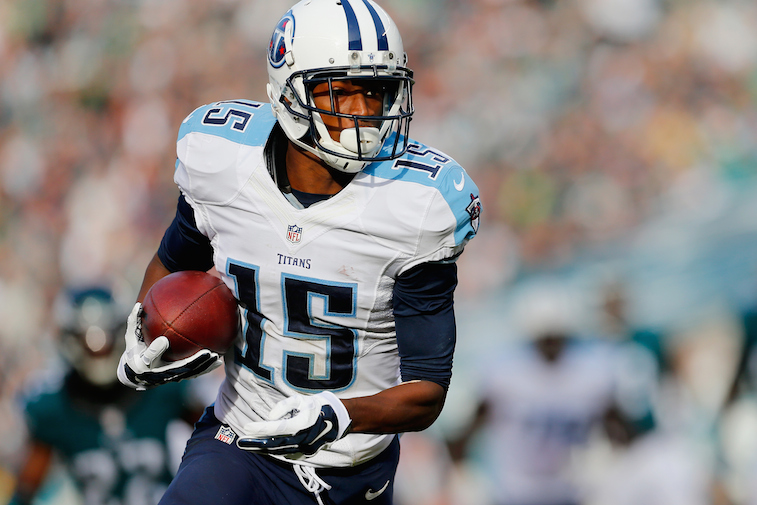 Wide receiver Justin Hunter was involved in a fight that went down on July 3 at the Sandbar in Virginia Beach. For his part in this incident, Hunter turned himself in to police, where he was charged with felony assault.
2. Justin Cox – July 20, 2015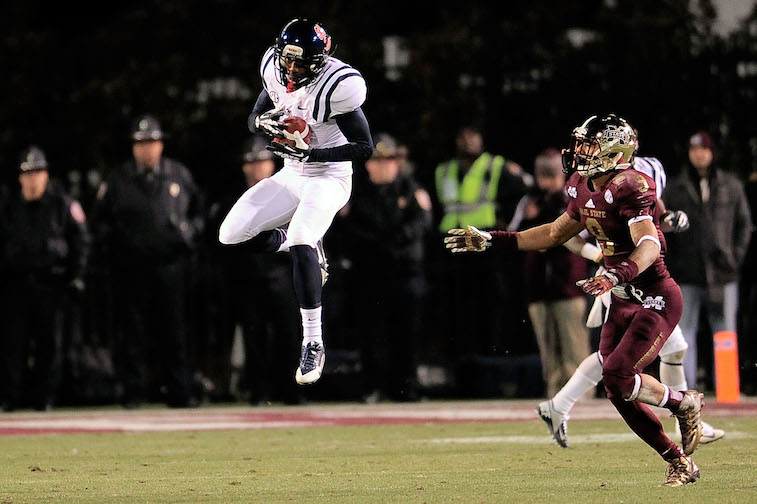 The Kansas City Chiefs decided to cut Justin Cox (No. 9 on right with college team, Mississippi State Bulldogs) after the safety was charged with domestic assault, burglary, and trespassing.
1. Aldon Smith – August 6, 2015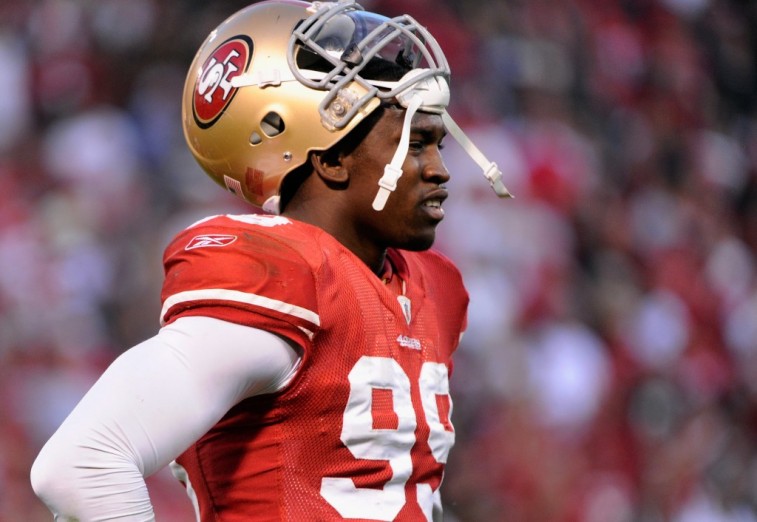 The most recent arrest involving an NFL player just so happens to be the biggest. With the San Francisco 49ers already in the midst of a tumultuous offseason, things got immensely worse as linebacker Aldon Smith was arrested in Santa Clara on charges of hit and run, DUI, and vandalism. After giving the 25-year-old plenty of chances to get his act together, this final incident was the straw that broke the camel's back. The Niners cut their troubled star. Now it's anyone's guess where Smith goes from here. For all we know, his NFL career may officially be over. Such a shame.
All arrest information is courtesy of San Diego Union-Tribune's NFL Arrests Database.