Here's How Chris Paul Turned the Thunder Into Playoff Contenders
Every NBA fan has an opinion on teams tanking for draft picks. Whether they're a fan of trusting the process or hate the idea of ever playing less than 100%, everyone knows not to expect much from teams in "rebuilding mode." The 2019-20 Oklahoma City Thunder were supposed to be a rebuilding team. They traded away some of their biggest names, added Chris Paul (who is getting up there in age), and some of the new players might not be ready to gel. Clearly, the team should plan for the future its their massive store of draft picks.

But if the Thunder aren't supposed to win this season, nobody told them that. As of January 26, the Thunder have won five straight games and maintain a six-game lead over the eighth-place Memphis Grizzlies in the NBA's Western Conference.
Chris Paul's journey back to Oklahoma City
The New Orleans Hornets (now the Pelicans) drafted Paul fourth overall in the 2005 NBA draft. Due to damage from Hurricane Katrina, the team actually played many of their games in Oklahoma City. Paul bounced around the league a bit as he spent time in New Orleans through the team rebrand, Los Angeles, Houston, and now Oklahoma City. But even if he's not on the same team as his rookie season, Oklahoma City holds some familiarity for Paul.
Things didn't go smoothly for Paul when he first found his way onto the Thunder. He felt the Houston Rockets had promised him four years in Texas, and a couple runs at a championship. But tension in Houston and James Harden's desire to reunite with Russell Westbrook led to a blockbuster trade. Paul took up residence in Oklahoma City and prepared to lead a young team to a middling record with an outside shot at the playoffs.
To his credit, Chris Paul accepted his leadership role with open arms. From team-uniting gestures to impressive stat lines, CP3 has shown that he's all-in on taking the 2019-20 Thunder as far as they can go. He's gone on the record about how he wants his career to end, saying he simply wants to retire somewhere he's appreciated.
The young Thunder and future draft picks
Shai Gilgeous-Alexander isn't a household name just yet, but Oklahoma City is going to make him one soon. The young guard still struggles with finding his place on the team, but his stat lines are creeping up (19.8 points per game!). Gilgeous-Alexander came over from the Clippers in 2019 as part of the massive Paul George deal. After the Thunder swapped George for Gilgeous-Alexander and draft capital, they acquired Chris Paul and picks from Houston in exchange for Russell Westbrook.
Gilgeous-Alexander is a highlight of the team's offseason dealing, but he's just the tip of the iceberg. The Thunder are poised to crush the upcoming half-decade of draft classes. According to the NBA Future Picks page, Oklahoma City has the following additional picks through 2025:
2020 first-round pick (via Nuggets): 1-10 protected from 2020-2022
2020 second-round pick (via Bulls): Protected 31-55
2021 first-round pick (via Heat or Rockets)
2022 first-round pick (via Clippers): Unprotected
2023 first-round pick (via Clippers):
2024 first-round pick (via Rockets): 1-4 protected in 2024
2024 first-round pick (via Clippers): Unprotected
2025 first-round pick (via Rockets or Clippers)
Chris Paul has the Thunder contending for the postseason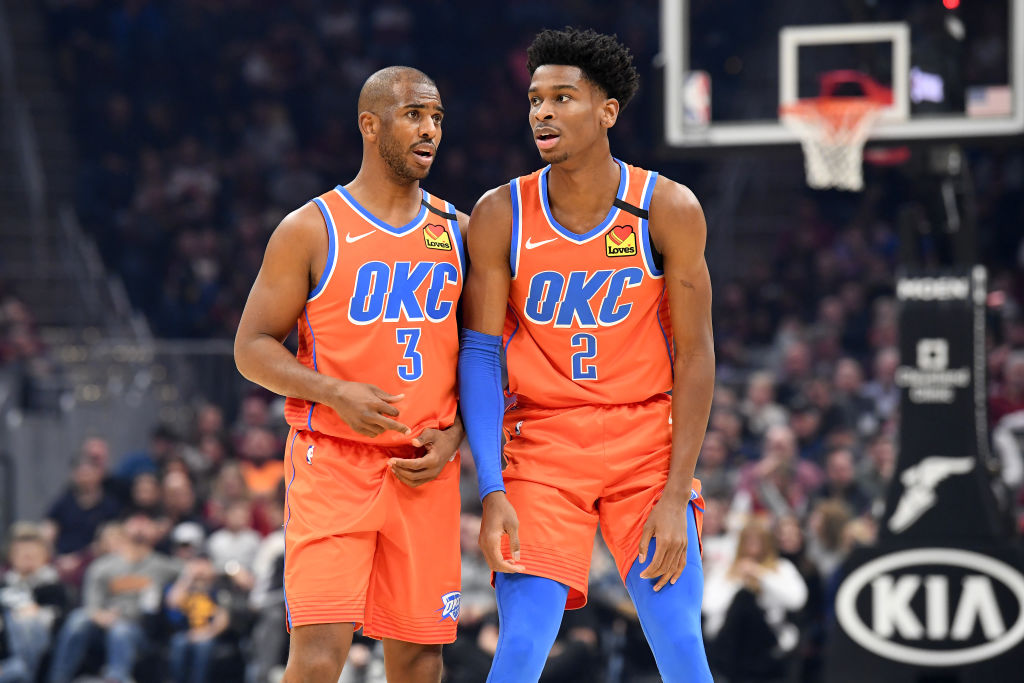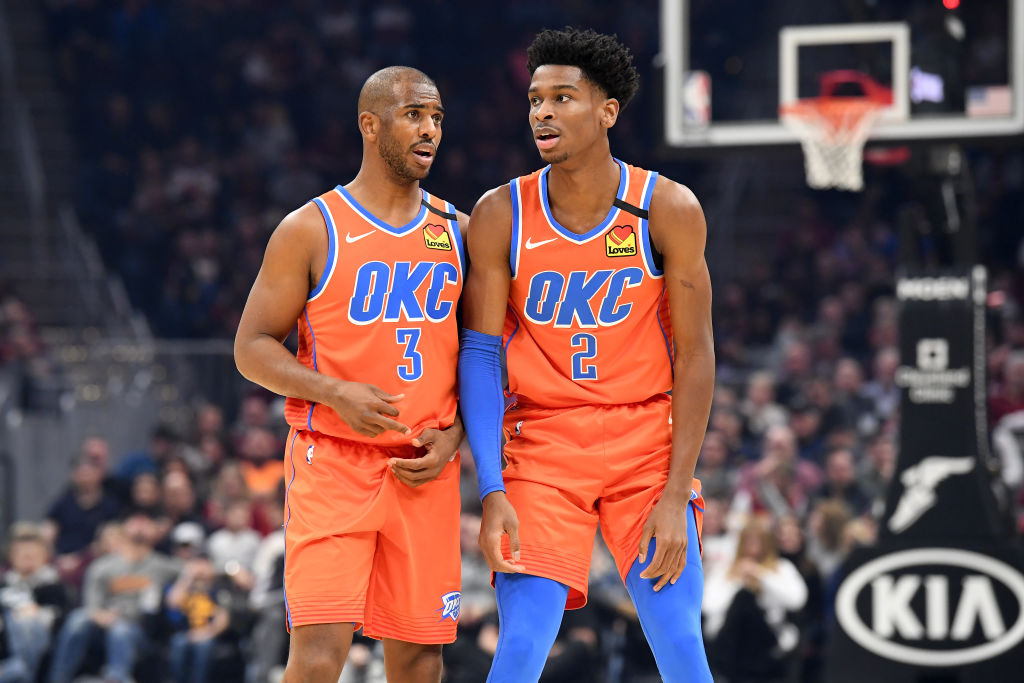 OKC's first round pick in 2020 is protected 1-20, and their 2022 is protected 1-14. They're absolutely poised to go from middle-of-the-pack to top-tier contenders by 2025. None of that is news to NBA critics, but the real surprise is how OKC has refused to tank now.
If the only goal of an NBA team is to win the championship, then 29 teams fail every year. But the young Thunder are demonstrating that they're willing to get into the playoffs and see how things shake out.
The Thunder hold victories this season over the Clippers, Raptors, Spurs, Jazz, and Mavericks, all of whom are playoff contenders. Not only that, OKC is 2-1 against the Rockets this season. They've shown the potential for massive upsets, and who's to say they can't do it in the playoffs?
Perhaps the best part of the Thunder's rise is how Chris Paul has contributed to it. Instead of putting the team on his back, he's standing back and letting Shai Gilgeous-Alexander and the other young players find their way. As Bleacher Reports notes, Paul spends nearly half his time at shooting guard instead of his preferred spot at point guard. Not only that, but Gilgeous-Alexander, Dennis Shroder are scoring more per game than Paul. 

The longtime veteran put his ego aside for the benefit of the franchise, and it's paying off in unexpected ways. What started as a tanking stopover for Chris Paul could be one of the greatest stories in NBA history.