Here's How LeBron James and Dwyane Wade Will Reunite Again — off the Court
Two of the most famous teammates in NBA history were Dwyane Wade and LeBron James. They've been as close as any two teammates, even going on record as stating they'd like to own a team together one day. Few basketball fans can forget when the two teamed up in Miami in 2010, along with Chris Bosh, to dominate the league.

Wade retired this year, and James went to L.A. for a difficult year with the Lakers as they missed the playoffs. But despite one career ending and another suffering a setback, the two have found a way to hang out yet again.

But how exactly will Dwyane Wade and LeBron James reunite again — this time, off the court?

LeBron and Wade's history as teammates
When LeBron joined the Heat in 2010, he greatly angered the fans in Cleveland, and he promised Heat fans several championships in Miami. While he didn't deliver as many as he promised, he and Wade did qualify for the NBA Finals all four seasons they were together, winning two. They lost to the Mavs in 2011 and the Spurs in 2014.

Their time as teammates was relatively short, but LeBron James and Dwyane Wade enjoyed some unforgettable highlights together:
They won back-to-back Finals, in 2012 and 2013, over the Thunder and Spurs, respectively.
James is the franchise's top overall leader in points per game (26.9) while Wade is second at 22.7.
They are both top three in player efficiency rating (PER), LeBron leading at 29.6 with Wade coming in at third with 24.0.
Wade leads the team all-time in win shares with 116.1 while LeBron comes in at second with 65.3.
The two reunited for about half a season in Cleveland in 2017-18. Wade was past his prime at that point, and the Cavs were struggling, so they team dealt him back to Miami. But LeBron and Wade's legacy as all-time great teammates had been sealed at that point.

Any collaboration between these two would be highly anticipated by basketball fans everywhere. So how are the two reuniting?

How are LeBron and Wade teaming up off the court?
While LeBron and Wade's dream to own a team together is very much alive, it will have to wait until LeBron's playing days end. He still has at least three years left in him until his Lakers contract runs up.

The duo has found another way to team up, however.

According to one report, LeBron's son, LeBron, Jr., and Wade's son, Zaire, will play on the same high school team next season. The high school they'll play for is Sierra Canyon School in L.A.
The duo will only team up for one year: LeBron, Jr. (or "Bronny" as he's called) is a rising freshman while Zaire is a senior. But it will set the scene for at least a few games where their dads are reunited courtside.

What other notable players have played at Sierra Canyon?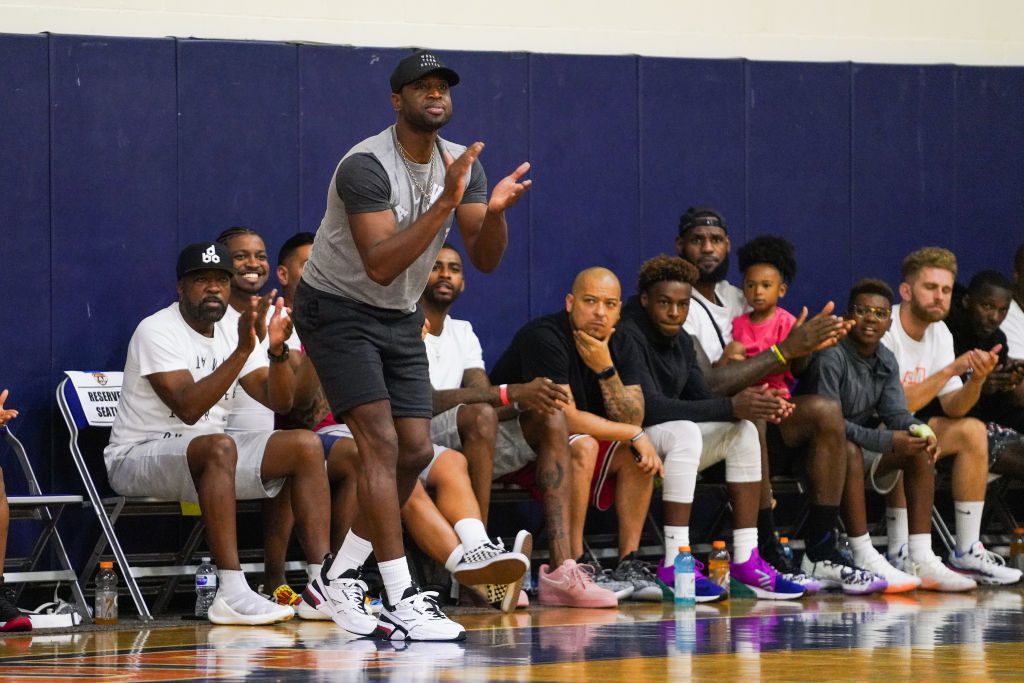 Sierra Canyon is one of the most famous prep programs in the country, with stars such as Drake attending games in the past. Kendall and Kylie Jenner attended the school as well.

When it comes to basketball royalty, LeBron James and Dwyane Wade aren't the only NBA stars to send their sons to Sierra Canyon. The following former NBA players sent their sons to the school as well.
NBA Hall of Famer Scottie Pippen
Former No. 1 overall pick Kenyon Martin
Duane Washington
Tellis Frank
The team also had Marvin Bagley, III, the Duke standout drafted second overall by the Sacramento Kings in 2018.

It's clear that a lot of attention will be on Sierra Canyon this season as fans are clamoring to see how the latest iteration of the LeBron James-Dwyane Wade team-up featuring their sons will turn out.