Here's How Much Tiger Woods and Phil Mickelson Bet on Their Golf Match
Phil Mickelson and Tiger Woods have agreed to compete in a golf match in Las Vegas the day after Thanksgiving. Something like this has never been done before, and there is a hefty amount of money on the line. But to make things a bit more interesting, Mickelson and Woods have a side bet going on — and you won't believe for how much.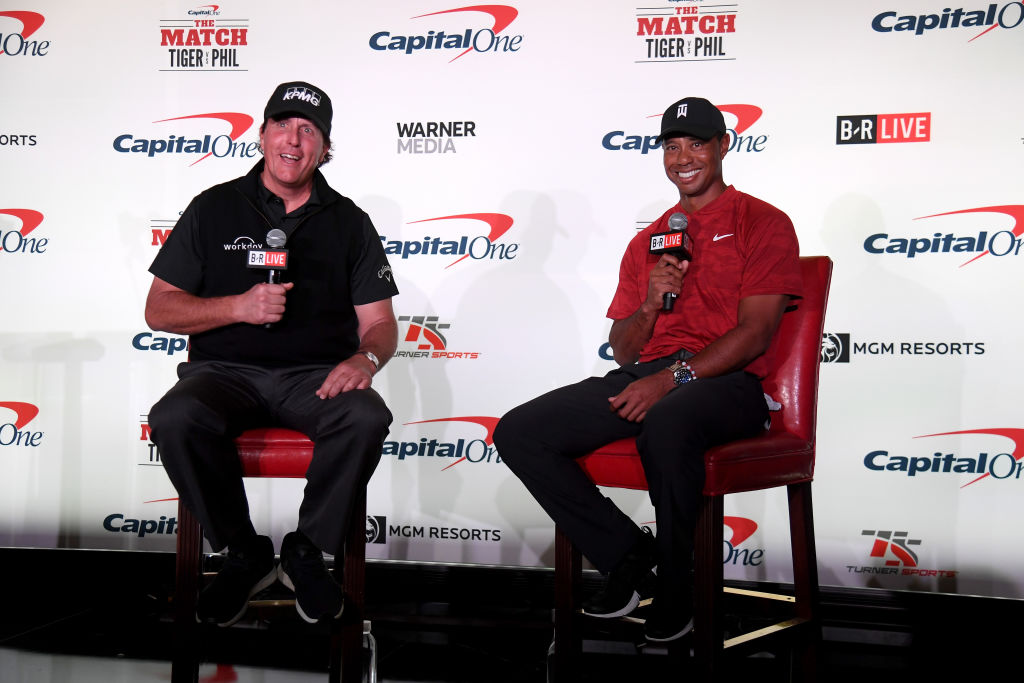 Mickelson and Woods are competing for a $9 million prize
The two agreed to compete at the Shadow Creek course in Las Vegas on November 23. They're widely regarded as some of the best professional golfers of all time, so the match will likely garner millions of viewers. However, the competition has received some criticism. Some suggest Mickelson and Woods should have competed a decade ago when they were in their prime. Others said they don't plan to pay $19.99, the cost to watch the match on pay-per-view, just to see the two play. But there are $9 million dollars at risk, thanks to sponsors who put up the money. And Mickelson and Woods have a side bet going on, too.
Mickelson bet $100,000 he would hit the first birdie
Before the match, Mickelson decided he wanted to make things more interesting. He suggested to Woods that he'd bet $100,000 he'd make the first birdie. Both players have plenty of talent. Earlier this year, Mickelson won the World Golf Championships-Mexico championship. It's an exclusive event that only the best golfers around the world qualify for. Woods won the Tour championship, another intense even featuring 30 of the year's best golfers. Mickelson felt like adding a side bet of their own money would make the entire event a bit more interesting.
Woods decided to double the prize to $200,000
Woods like the idea but thought the wager was too low. He told Mickelson he wanted to double it, and Mickelson agreed. When the men tee off on Friday, they'll have a side bet going for $200,000 to whoever gets the first birdie. For those who aren't too familiar with golf, a birdie is one of the most basic scoring terms used in golf. It occurs when the golfer gets one-under-par for any hole on the course. (A "par" is the predetermined number of strokes that a golfer should need to complete a hole.)
The high prize amount shows these two have a pretty incredible net worth
The fact that Mickelson and Woods can wager such a high amount of money shows the two have had very successful professional careers. According to Forbes, in 2016, Woods had a staggering net worth of around $740 million. And Business Insider reported that at one point, he was raking in about $100 million per year. Woods started his professional golf game at a young age, so he's had plenty of time to make money. Mickelson, on the other hand, was only worth around half of what Woods was worth in 2016: $375 million. That's still a solid amount, though, so it's no wonder the two men don't have a problem betting such a high amount of money.
Check out The Cheat Sheet on Facebook!