Here's How Strong LeBron James Is (By the Numbers)
LeBron James isn't just one of the greatest basketball players ever; he also might be one of the very best athletes ever to participate in pro sports. For years, James has flown up and down the court, making world-class athletes look foolish with his grace, stamina, and strength. But just how strong is he?
LeBron James' physique
James has a stunning physique as a member of the Los Angeles Lakers, but he's had it as long as he's been in the NBA. Quite simply, the style of basketball James plays should not be possible for a man of his size.
Beyond being in ridiculously good shape, James is also huge. He's 6-foot-9 and has weighed over 260 pounds. Business Insider compared James' body to that of world heavyweight boxer Anthony Joshua. But the comparison isn't entirely fair, as James is actually taller and weighs more. 
Joshua is one of the most devastating punchers. In fact, BoxRec ranks him as the world's best active heavyweight. The fact that LeBron can move with such speed and grace despite being bigger than Joshua is truly incredible. It makes us wonder how James would fare if he took up boxing back in his early days.
Mathematical evidence of James' athleticism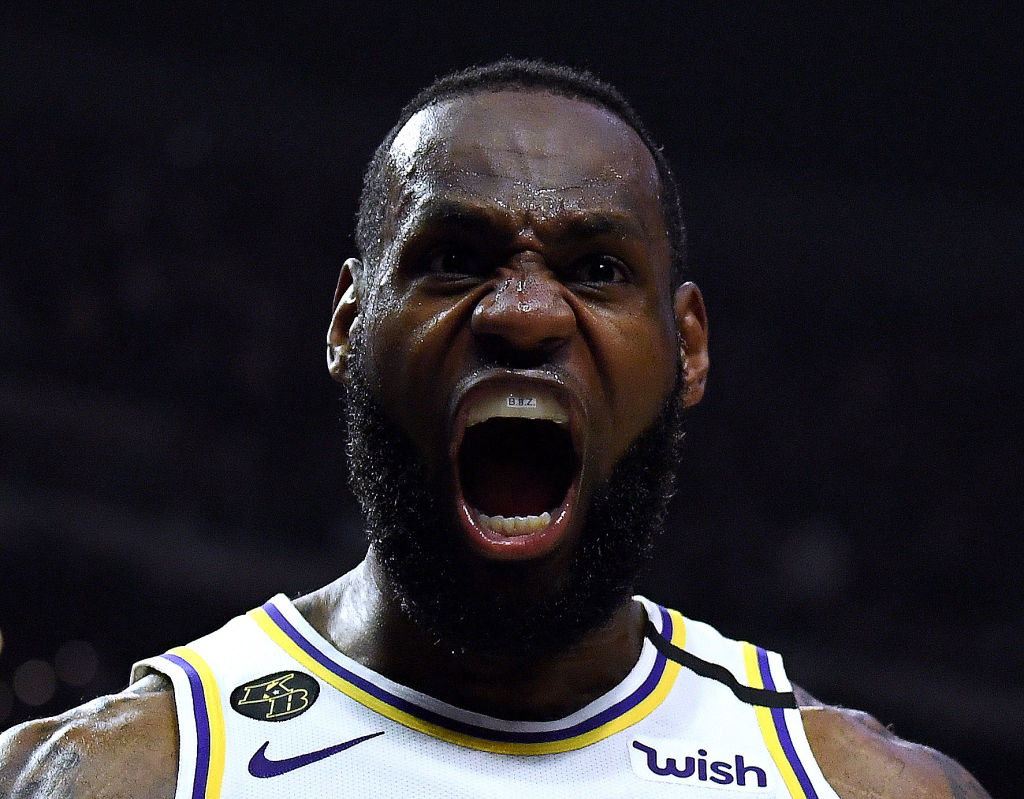 If you don't believe that James is one of the strongest athletes alive — and if you don't, have you watched one of his games lately?), Sport Science provides some data to back up our assertion: 
Nine: The number of strides it takes James to go from one end of the court to the other. (The average NBA player needs 13 to do this.) 
1,124: The number of degrees per second James swings his arms when dunking — roughly the same rate as the blade on a Chinook helicopter. 
57 inches: James generates so much force when dunking that if a person who was normal-sized (5-foot-7, 165 pounds) moved with the same force, they would jump 57 inches off the ground. 
9,300: The watts that James can generate jumping once.
Eight feet: James can reach eight-feet, 10-and-one-quarter inches to be exact. 
25: The number of feet one shot blocked by James traveled off the backboard one time.
How strong is James? 
If you want to know how strong James is, just listen to one of his greatest rivals: former Boston Celtic Paul Pierce. The duo had some intense battles over the years. Pierce wrote a story in The Player's Tribune about the toughest players he guarded in his career. Predictably, James made the cut. The Truth was effusive in his praise: 
"He's just a caliber of physical specimen that this league has never seen before. A lot of the other guys I talk about on this list are tall, wiry, skinny athletic types, but LeBron is just as athletic as they are, but he's also stronger and faster … You can bet that after you guard LeBron, you're going to be sore all over for the next few days."
It should come as no surprise that James played football in high school. There's little doubt he would've been great at the sport if he opted to play it instead of basketball. Blessed with a 4.4-second 40-yard-dash time, James can seemingly do it all.
So the answer to the question of how strong LeBron James is, it's strong enough to do whatever he wants in any competition.