Here's How to Navigate the 2015 Pro Football Hall of Fame Ballot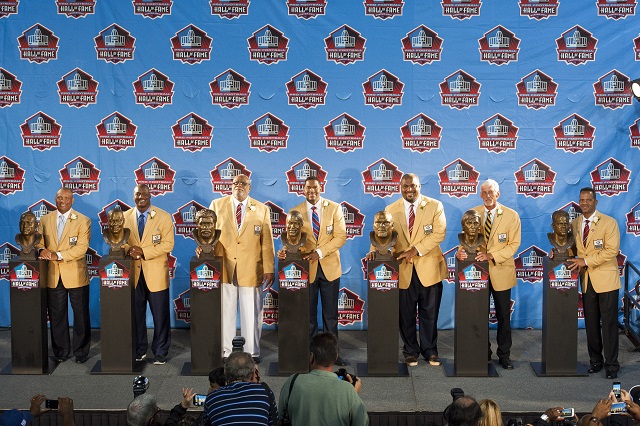 You may have heard that the ballot for the 2015 inductees into the Pro Football Hall of Fame — the list of 99 players and 14 coaches who are eligible for entry — was officially announced Wednesday, and you may have even scratched your head, since that is a considerably greater amount of people than will eventually be voted in. While some of that is the necessity of the voting process, are there really more than 100 people who deserve consideration for induction every year? And, if so, why didn't they bother to toss the punters a bone until last year, when voters finally inducted Ray Guy?
That last question is one that may never be answered, but the process itself is not all that daunting. Essentially, it's a group of just fewer than 50 people associated with covering football: "The Committee consists of one media representative from each pro football city with two from New York, inasmuch as that city has two teams in the National Football League. A 33rd member is a representative of the Pro Football Writers of America and there are 13 at-large delegates," as the HoF's website puts it. They sit around and come up with the list, of which anywhere between four and eight people are selected each year. For players, they have to have been out of the game for five years; for "contributors," which is HoF speak for people who weren't players, there's no such limit.
That's it. That's the entire process. A bunch of people sit around a room, come up with a list, narrow down the list, then narrow down the list again. The first time, they take a cleaver to it, bringing the 113 eligible candidates down to a significantly more manageable 25, which will be revealed in October, per NFL.com, and then, "a roster of 18 final candidates" when they meet for the last time, according to the Hall. The final round of voting will take place the day before Super Bowl Sunday, on January 31.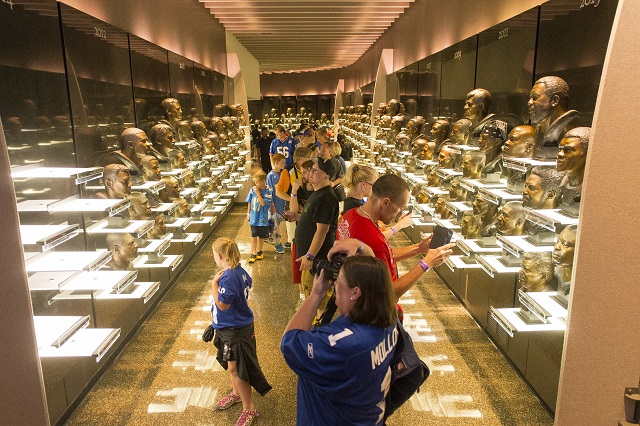 Of the 113 people selected in the first go-around, 15 of them are being acknowledged in their first year of eligibility. You can view the complete list here, on the Hall of Fame's website; and at least two, quarterback Kurt Warner and linebacker Junior Seau, are big names. Of the different positions, offensive linemen have the most players who are getting the nod, with 23, while only Mark Bavaro — who played for the Giants, Eagles, and Browns — is representing the tight end. There are 14 coaches on the docket, including last year's finalist Tony Dungy. Each inductee gets his or her own bust, as shown above.
The Hall of Fame is located in Canton, Ohio, and is ground zero for the NFL's annual Pro Football Hall of Fame Game, held in early August in a stadium nearby. This year it was between the New York Giants and the Buffalo Bills, with the Giants coming out on top, 17-13.