Here's the Proof That the Celtics' Tacko Fall Loves Living it Up in Boston
Many basketball fans got their first look at Tacko Fall when he led the UCF Knights to their first NCAA basketball tournament victory in history. After a convincing win over VCU in the opening round of March Madness 2019, UCF came within a single point of upsetting Duke. The entire NBA passed on Fall at the draft, but the Boston Celtics signed him and gave him a short run in the summer league where he immediately began turning heads. Fall's shortcomings from outside the paint were clear, but he excelled so consistently near the rim that fans knew it was only a matter of time before he made his real NBA debut.

Tacko Fall makes the most out of college
Tacko Fall barely had two years of basketball experience when he committed to attending the University of Central Florida. He chose UCF over nearly forty other schools that wanted him. Fall struggled to develop some aspects of his game as he only took one 3-point shot over his four-year career, and his free throw shooting remained abysmal.

Over 115 college games, Fall went 166-for-384 from the line for a 43.2% free throw percentage. That number would be good for second-worst all-time in the NBA behind only Ben Wallace. However, Fall had much more success from short range as he used his height to secure an unheard-of 73.9% field goal percentage (second all-time in college ball is Michael Bradley with only 67.7%).

Developing in the G League
Tacko Fall's ascendance in college wasn't enough to make him an NBA draft pick, but the Celtics took a chance on him and watched him develop quickly in the G League.

Over a sample size of only thirty free throw attempts, Fall has managed to raise his percentage to an even 50% with the Maine Red Claws in the G League. With professional coaching and time to get used to the NBA, it's possible he could shore up this weakness in his game soon.

Fall currently spends most of his playing time in the G League, but he's building a following in Boston. With 45 games allowed by his contract for the season, it's likely that we'll see him on the Celtics' court more soon. Fall eventually got some NBA playing time in two late December games, going 4-for-4 from the field and picking up four rebounds over barely seven minutes of total game time. Although he isn't part of the regular rotation for Boston, Fall is improving his game and fitting in with the Celtics. Luckily, the city of Boston loves him.

Tacko Fall lives it up in Boston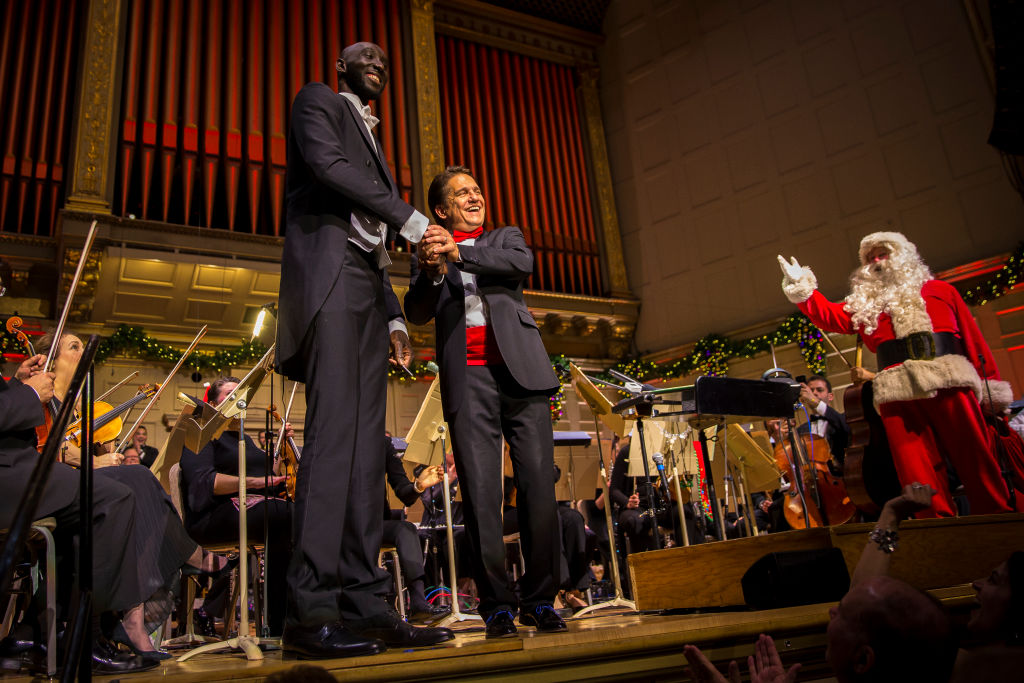 On December 23, 2019, Tacko Fall took the stage to lead the Boston Pops Orchestra in a rendition of "Sleigh Ride." Interestingly, that wasn't the first time a Boston Big Man has taken the stage.

Shaquille O'Neal picked up the conductor's baton during his season in Boston for a similar performance in 2019, which Fall admitted to studying before stepping up. Fall's performance went surprisingly smoothly. Although he clearly lacked experience as a professional conductor, he knew enough about the song to gesture at the appropriate parts and even threw in a spin move to cheers from the crowd.

In his first NBA season, Fall easily cracks the top-10 tallest players list. Big men have historically struggled to play long careers, but Fall didn't show any durability issues in college. Though he doesn't have the bulk of someone like Shaq, the Celtics are showing a dedication to easing him slowly into top-level play. Since Boston obtained Fall without even spending a draft pick, their downside is certainly limited. But if the young player works the kinks out of his game and gains more confidence on the court, then the sky is the limit.

Fall is certainly getting accustomed to Beantown, and it's clear that the fans love him. As he bounces between G League and the NBA, Tacko Fall's popularity may grow even quicker than the man himself did.