Here's Who Vegas Is Picking to Win the 2017 NFL MVP Award
Football is widely considered to be the ultimate team sport. Still, one of the fastest ways a player can earn legendary status in the NFL is by winning a league MVP award.
Most players would tell you that they would take winning a Lombardi Trophy and being rewarded with a Super Bowl ring over any type of individual award. At the same time, it's only human nature to want to be recognized for individual accomplishments along the way. That's where the MVP award comes into play.
With the NFL's regular season rapidly approaching, here's who the oddsmakers in Vegas are picking to win the 2017 NFL MVP award.
11. Cam Newton, QB, Carolina Panthers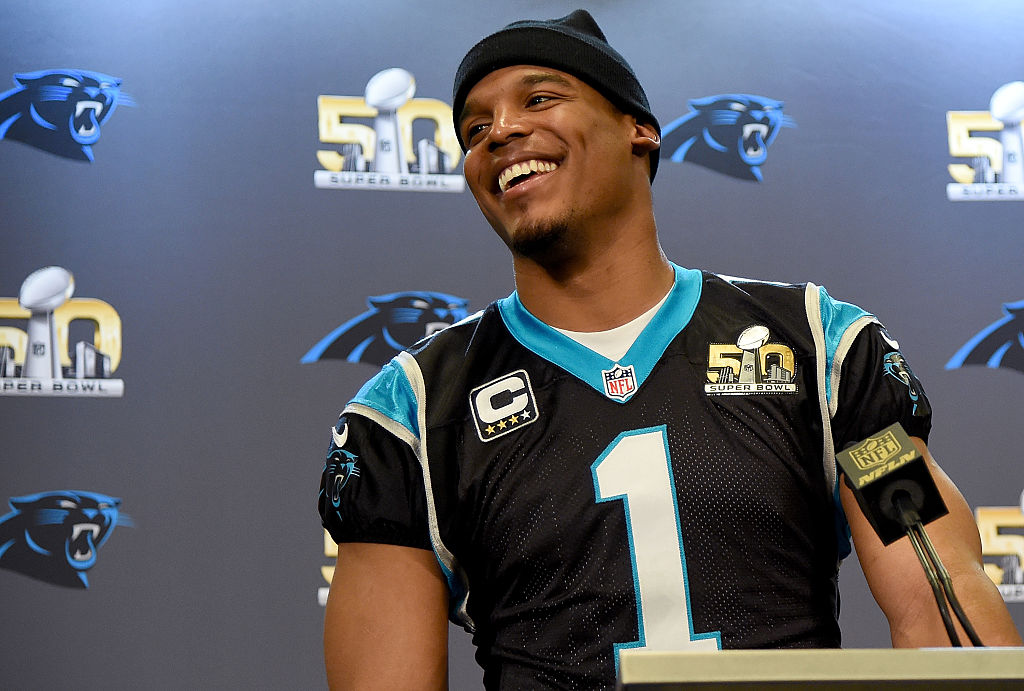 Odds: +2500 (25-1)
Newton proved to be one of the most dynamic players in the league when he took home the 2015 NFL MVP award. That said, Newton has had his fair share of struggles (starting with his performance in Super Bowl 50) since joining the prestigious list of NFL MVP winners.
At the end of the day, Newton needs more support from his teammates to have any chance at contending for the honor in 2017.
9. (tie) David Johnson, RB, Arizona Cardinals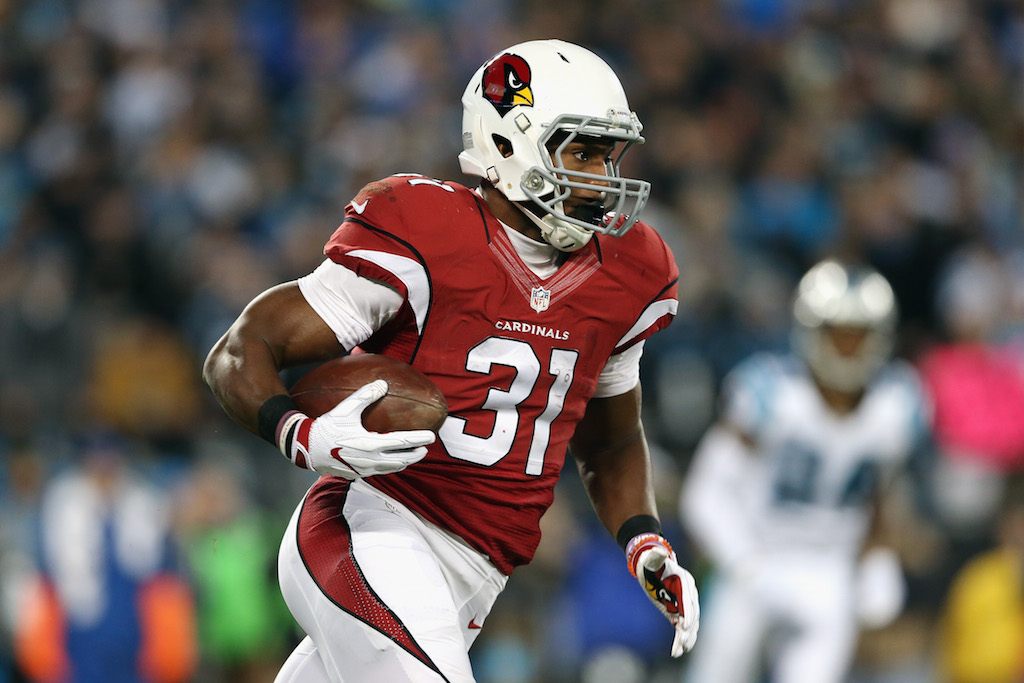 Odds: +2000 (20-1)
Johnson took the NFL by storm in 2016. In his second year in the league, the former Northern Iowa star totaled 2,118 total yards from scrimmage and scored a league-high 20 total touchdowns.
Johnson is arguably the best all-purpose back in the league today. As long as he stays healthy, the 25-year-old could legitimately challenge Chris Johnson's NFL record for most yards from scrimmage in a single season. If that happens (and the Cardinals have a solid season), expect to see Johnson in the running for MVP honors at the end of the season.
9. (tie) Derek Carr, QB, Oakland Raiders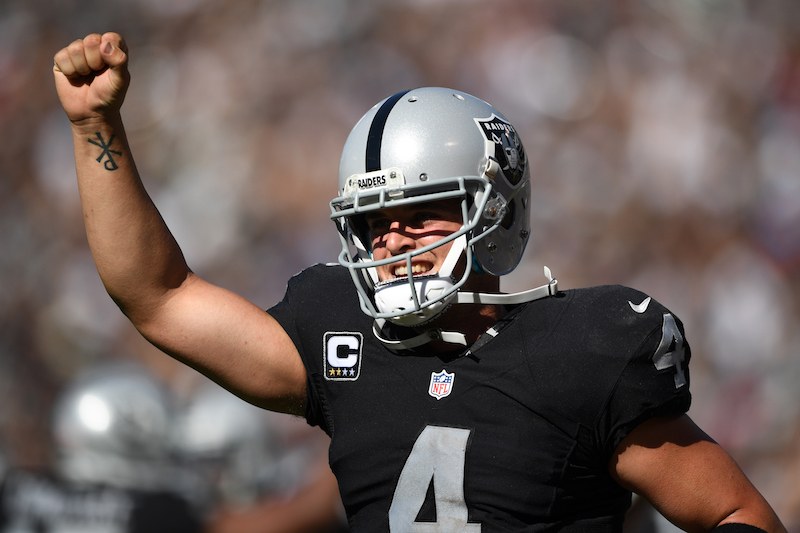 Odds: +2000 (20-1)
If we were in the business of giving betting advice, we would tell our readers to jump all over these odds. From a football standpoint, Carr has everything in place — an elite offensive line; one of the league's best group of pass catchers (wide receivers Amari Cooper, Michael Crabtree, and Cordarrelle Patterson and tight end Jared Cook); and a proven running back (Marshawn Lynch). On top of that, the former Fresno State Bulldog is in a contract year. If the Raiders contend in the AFC as expected, Carr will be one of the frontrunners to take home the 2017 NFL MVP.
8. Le'Veon Bell, RB, Pittsburgh Steelers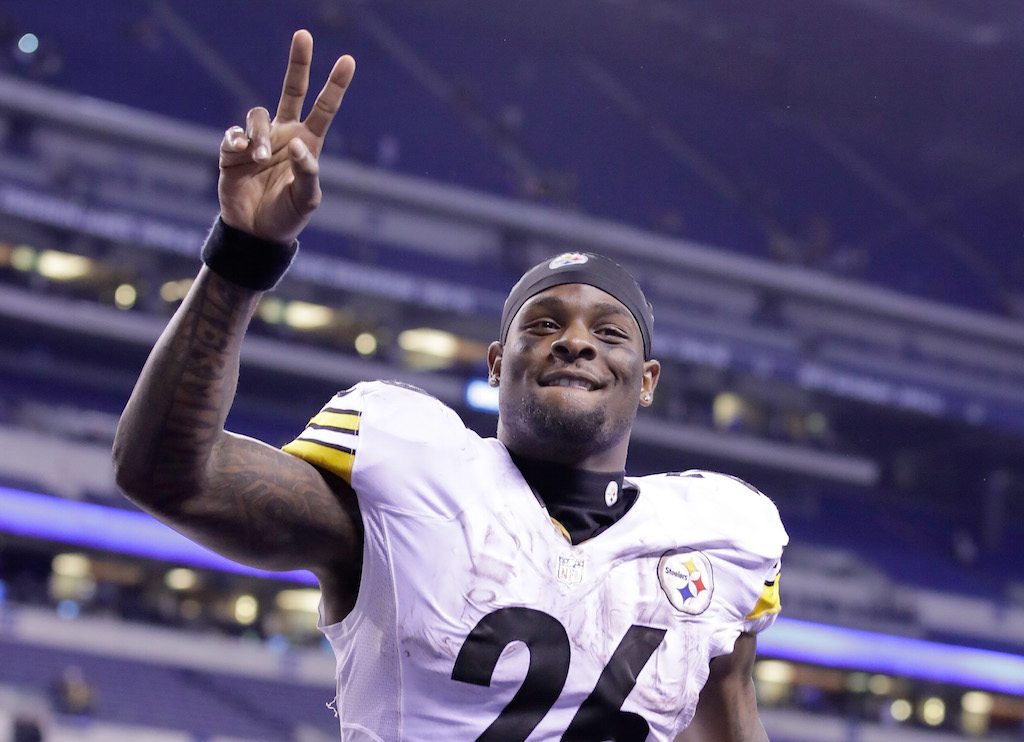 Odds: +1800 (18-1)
When he is healthy and focused, Bell may be the best pure running back in the NFL. The former Michigan State Spartan is a threat both on the ground (he should contend for the 2017 NFL rushing title) and through the air (he caught 75 passes for 616 yards in 12 games last year). Bell is playing this season out on Pittsburgh's franchise tag, so it's safe to say he will be motivated by the idea of landing a massive contract next offseason. If the Steelers have the type of season they are hoping for, Bell will likely emerge as a MVP candidate by the end of the year.
6. (tie) Ezekiel Elliott, RB, Dallas Cowboys
Odds: +1200 (12-1)
Elliott became a bona fide NFL superstar by rushing for a league-high 1,631 yards and 15 touchdowns (he also caught 32 passes for 363 yards and touchdown) during his rookie season in 2016. We have some concerns about his workload from a year ago (354 total touches), but Elliott does still have the benefit of running behind one of the league's premier offensive lines.
If Elliott stays healthy and can improve his numbers from 2016, he has to be considered a serious threat to win 2017 NFL MVP honors.
6. (tie) Matt Ryan, QB, Atlanta Falcons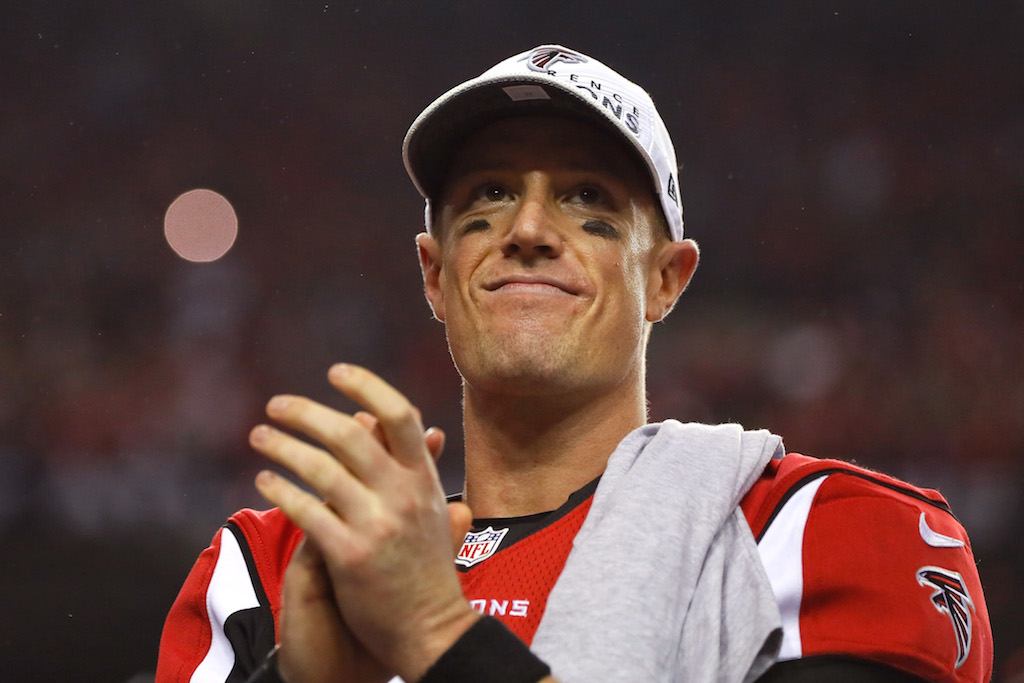 Odds: +1200 (12-1)
Ryan seemingly came out of nowhere to win the 2016 NFL MVP award and guide the Falcons to a near-win in Super Bowl 51. The four-time Pro Bowler turned in the best season of his professional career and finally settled the debate over whether or not he is an elite NFL quarterback.
Atlanta has everything in place (other than offensive coordinator Kyle Shanahan) for Ryan to have a similar type of season (possibly even better) in 2017. If he does, the former Boston College signal caller could become the first back-to-back MVP winner since Peyton Manning in 2008 and 2009.
4. (tie) Ben Roethlisberger, QB, Pittsburgh Steelers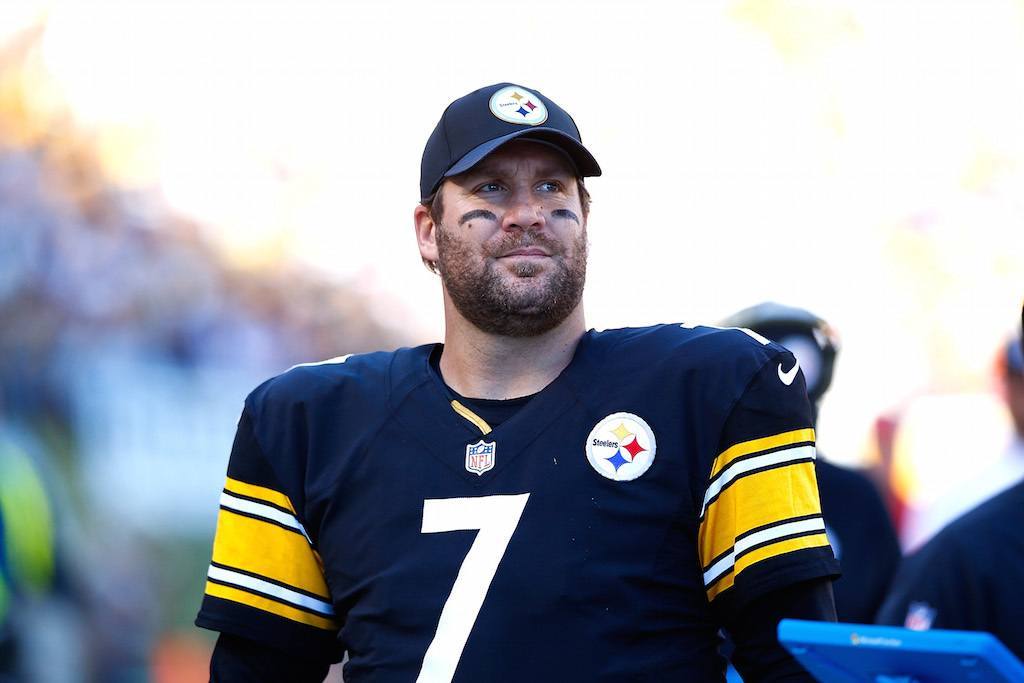 Odds: +1100 (11-1)
When it comes down to it, Roethlisberger will have to stay healthy for an entire season to have a legitimate chance at taking home his first career MVP award. The Steelers have one of the most explosive offenses in the league, so Big Ben should have no problem putting up monster numbers if he plays a full 16-game season. Roethlisberger's MVP candidacy could ultimately come down to whether or not he can guide his team past Tom Brady and the New England Patriots in the AFC Playoffs.
4. (tie) Dak Prescott, QB, Dallas Cowboys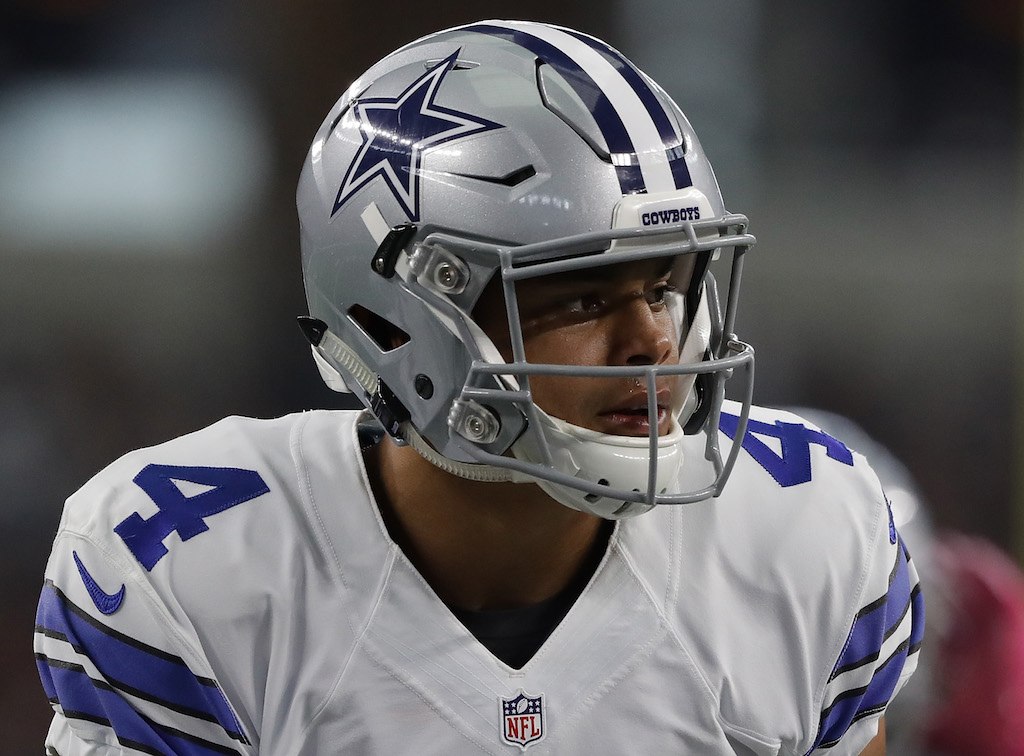 Odds: +1100 (11-1)
If Prescott continues on his current career trajectory, he will likely be remembered as the biggest steal in NFL Draft history. The former fourth-round pick is now the Cowboys' unquestioned starting quarterback, and the pressure is on to build off his immensely success rookie season.
Prescott is in an excellent position to have a highly efficient and productive season while leading America's Team on a deep postseason run. If he proves to be even better than he was as a rookie this fall, the former Mississippi State standout will be in the running for the MVP award at the end of the season.
2. (tie) Russell Wilson, QB, Seattle Seahawks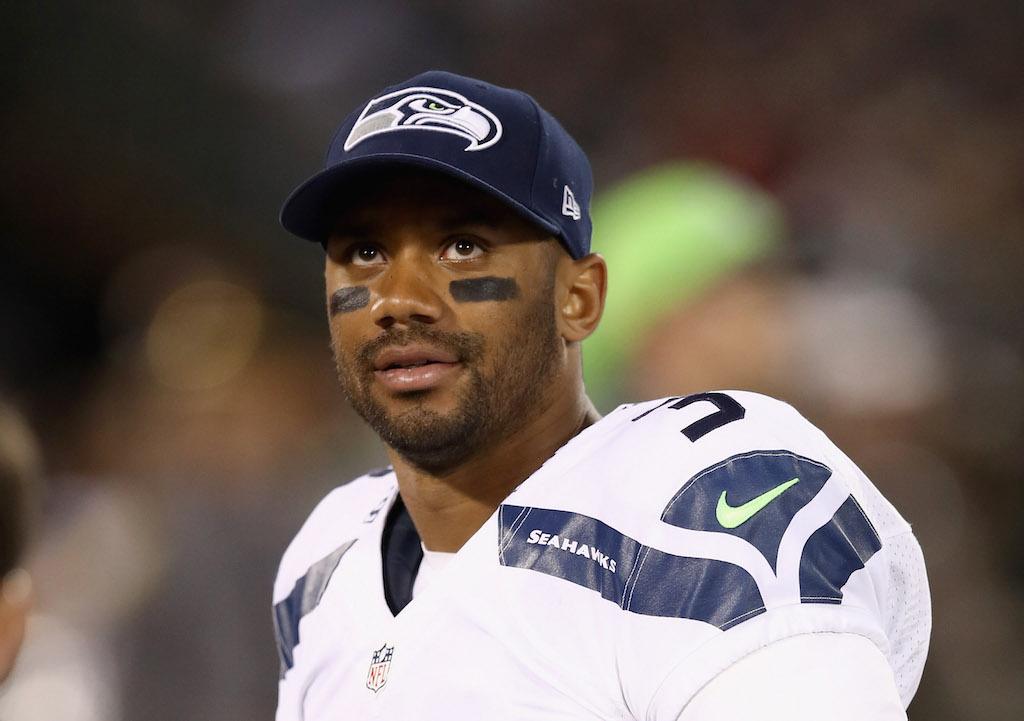 Odds: +1000 (10-1)
To be perfectly honest, we were surprised to see Wilson come in this high on the list. Wilson has the ability to contend for this honor when he is playing his best football, but there is just no denying that the Seahawks are a team that is carried by their defense. If Wilson happens to put together a dominant season from start to finish, though, he will be in the mix for MVP honors next January.
2. (tie) Aaron Rodgers, QB, Green Bay Packers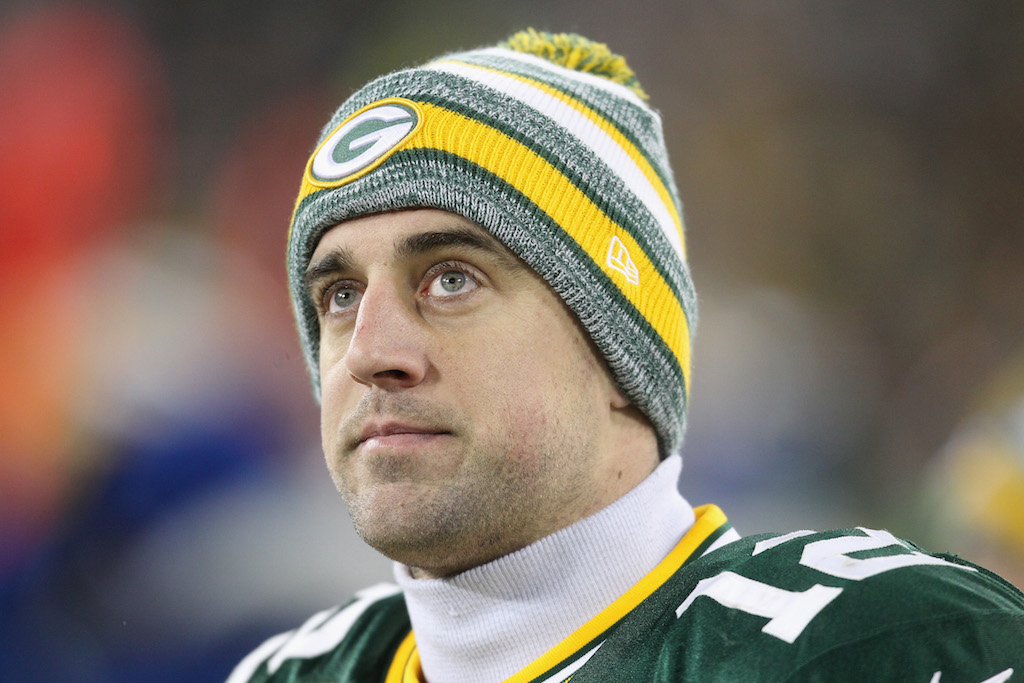 Odds: +1000 (10-1)
If we were picking today, Rodgers would be our pick to take home the 2017 NFL MVP award. The 33-year-old quarterback is arguably the best offensive player in the game today, and the Packers will only go as far as he can carry them. With the weapons he has at his disposal (wide receivers Jordy Nelson, Davante Adams, and Randall Cobb and tight end Martellus Bennett), Rodgers could have a career year in 2017. If he does, don't be surprised to see him take home his third career MVP award.
1. Tom Brady, QB, New England Patriots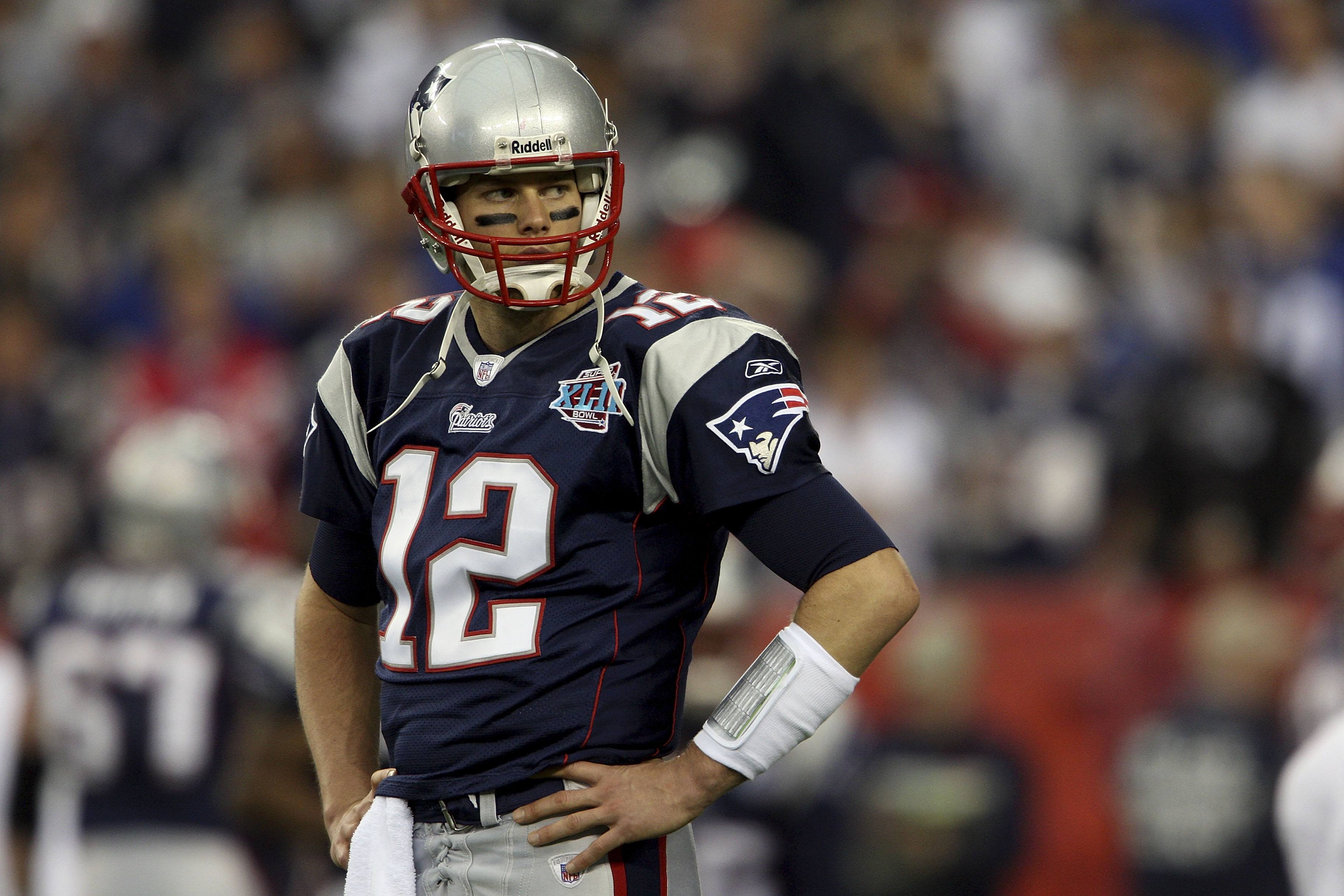 Odds: +400 (4-1)
Brady coming in as the odds-on favorite to win the 2017 NFL MVP award should come as no surprise. The Patriots are heavy favorites to win Super Bowl 52 (and could have a chance at completing the second perfect season in NFL history), and they have built an offense that could be nearly unstoppable this fall.
Brady could easily have one of the best statistical seasons of his career in 2017. If he does and the Pats win Super Bowl 52, he could win the 2017 MVP award in a landslide.
Statistics courtesy of Pro-Football-Reference. Odds courtesy of Bet365, Article based on odds as of June 15, 2017.