Here's What Dana White Predicts Will Happen in the UFC in 2020
Dana White is the president of the UFC, and he's a popular figure for UFC fans. Something that White is notorious for his gambling habit. Aaron Bronsteter, a reporter for TSN, used that habit as a way to get White to make predictions about the future of the UFC.

How Dana White's prediction process works
Bronsteter wrote up an odds sheet of what may happen in the UFC in 2020. Dana White put down his "bet," but he didn't actually bet any money, and then a year later, the two men will sit down to see how accurate the predictions were. It's a simple game, but White's answers may be a sign as to what he thinks will happen in the UFC in 2020.

Floyd Mayweather, boxing and the UFC
White made three notable predictions when it came to boxing. The first was that he seemed absolutely sure that Floyd Mayweather would not fight in the UFC. That makes sense, as boxing fights can happen under many boxing organizations. So, while Mayweather may not compete in the UFC, it's still possible that he fights a UFC fighter in an event that's held by a different organization.

Another prediction that Dana White made was that Zuffa Boxing, which is the UFC's boxing organization, will host an event in 2020.

White's final boxing prediction is that Claressa Shields, an Olympic gold medalist as well as one of the best women's boxers in the world, will fight UFC double-champion Amanda Nunes in 2020. Currently, Nunes is arguably the "Greatest of All Time" when it comes to women in the UFC, so it could be a great fight to make.

Dana White takes the UFC to Africa?
The UFC now has two dominant Nigerian champions as well as many highly-ranked fighters from Africa, but Dana White predicted that the UFC will not host an event in Africa in 2020. White has said in the past that he's been thinking about hosting a UFC event in Africa starring the UFC's best African fighters, but obviously, he doesn't predict that it'll happen this year.

The Diaz brothers won't fight in 2020
Nate Diaz may have been more active recently after fighting Jorge Masvidal for the BMF belt in 2019, but White doesn't think he'll fight at all in 2020. Indeed, he also doesn't believe that Nick Diaz, Nate's older brother, will fight in 2020. That said, that was an easy bet to make since Nick Diaz hasn't fought in a long time.

Speaking of Masvidal, White also predicts that Masvidal will defend his BMF belt in 2020. It's unknown whom Masvidal will fight, but Conor McGregor and Kamaru Usman, the current welterweight champion, are options.

What's next for Jon Jones and Daniel Cormier
Dana White believes that Daniel Cormier will be retired by 2021. However, Bronsteter asked the same question last year, and White also said that Cormier wouldn't fight in 2019. Cormier did fight in 2019, so White may be wrong about that again.

As for Cormier's rival, Jon Jones, White thinks that Jones will move up to heavyweight in 2020. That has been a long-anticipated move, so it may very well happen in 2020.

Canadians in the UFC
Bronsteter is Canadian, so he had to ask some questions about Canadians in the UFC. Dana White doesn't think that a Canadian will fight for a title in 2020. He also doesn't think that Georges St. Pierre will return to the UFC.

That said, White did bet that Brock Lesnar will fight in the UFC in 2020. A fight between Lesnar and Jon Jones has been something that fans have talked about in the past, so that's a good fight to make.

The future of Conor McGregor and Khabib Nurmagomedov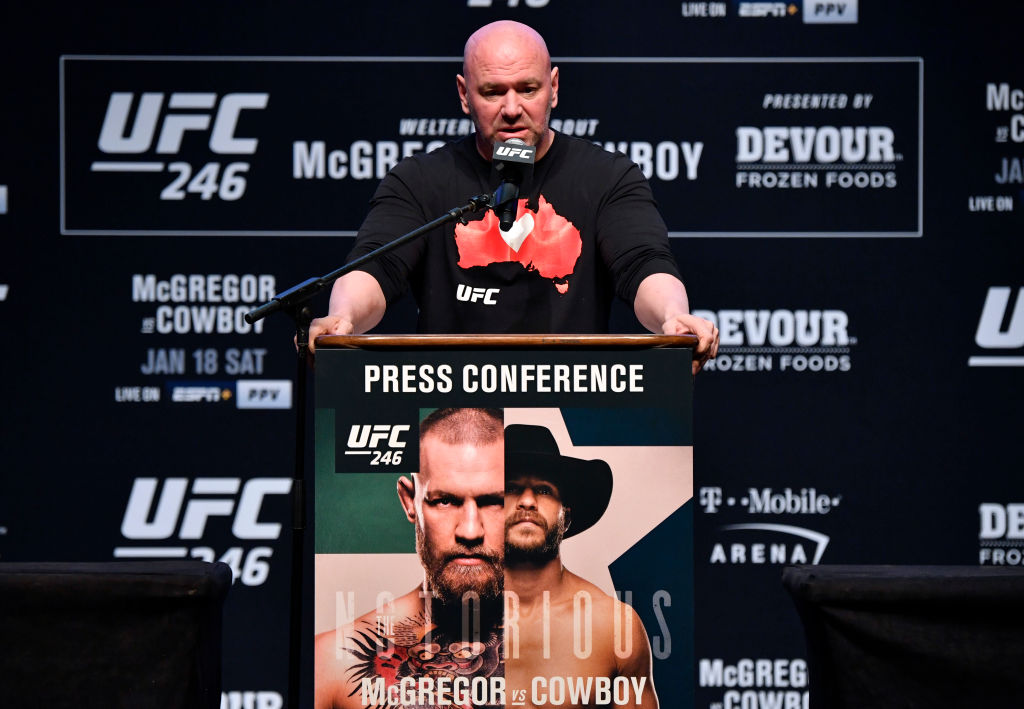 Dana White made some interesting predictions regarding McGregor and Khabib Nurmagomedov. White believes that McGregor will fight, at most, two times in 2020. McGregor has already fought and beaten Donald Cerrone, so that means that White thinks McGregor will fight one more time in 2020.

White also believes McGregor will fight Nurmagomedov, but not Masvidal. He also thinks that the rematch will be for a title. That means that White thinks that Nurmagomedov will beat Tony Ferguson in their fight in April. The rematch doesn't seem likely though, as Nurmagomedov doesn't think that McGregor deserves a rematch. But, the UFC is a multibillion-dollar company, so anything can happen.