Here's What the NBA's Proposed Midseason Tournament Should Look Like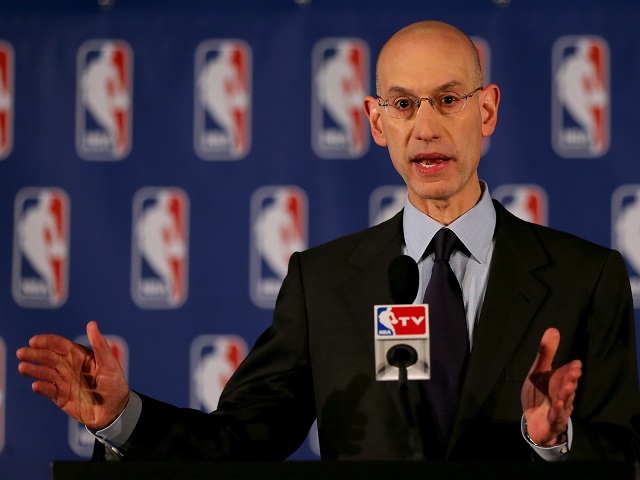 As commissioner Adam Silver continues his march to get out of David Stern's considerable shadow, one comment he made while at the NBA's Summer League, which is held in Las Vegas, has intrigued the hearts and minds of people who are interested in watching more basketball than they are currently able to. Silver floated the idea of a midseason tournament, "similar to soccer," to at least one journalist, although the phrase doesn't mean a whole lot on the face of it. Here's a breakdown of what Silver could be talking about, how it could be implemented, and what the National Basketball Association could do to make it, you know, appealing to people who won't stay up until all hours watching Summer League.
First and foremost, we assume that Silver is comparing this tournament to soccer insofar as soccer has both national championships, which determines the tiers within leagues via promotion and demotion, and national cups, which are open to each tier within a league and are largely single-game knockout affairs — like March Madness or the World Cup. The key difference? Championships don't usually have playoffs, and cups do. How could this translate to the NBA, and would it be fundamentally different from the FIBA World Championships?
In order for it to work, the league would need to include something that wouldn't be seen in the normal playoffs — if the NBA is stealing wholesale from soccer, the tournament would have to feature D-League or international teams. Another option: Grantland's editor-in-chief, Bill Simmons, has long been a proponent of what he calls the Entertaining-as-Hell Tournament, in which each of the lottery teams plays a single elimination tournament for the eighth seed in each conference. Implementing that would be one way to handle a midseason tournament in a way that would ensure people watched.
The soccer connection, by the way, comes from Silver's discussion with at least one NBA general manager, who said that there are very few things for an NBA team to win in the regular season, contrasted with, to use the commissioner's example, England's FA Cup and other tournaments. Following that to its conclusion, it seems the league is interested in creating a separate trophy to the Larry O'Brien, which is awarded to the NBA's playoff champion.
There's at least two big problems with this as it relates to basketball, though: The talent in world basketball is so disproportionately slanted toward the NBA already that the best league teams would be overwhelming favorites, just like the normal playoffs. The other is that the best players in the world would be playing extra games each year (something they try to avoid during the grind of the regular season), because otherwise, who cares?
So if this tournament is going to work, it needs to be properly incentivized. (A guaranteed lottery pick? A playoff spot? Something beyond just a trophy.) It also needs to be different enough from the normal game for people to watch. FIBA has a three-on-three tournament, which is an interesting option, but it still needs at least a nominal amount of star power in order to be featured. Regional affiliation is another avenue. Picture the three best players from each division playing each other in a weekend-long, single-elimination tournament.
That sounds awesome on paper, but the logistics are daunting. Silver cautioned that the league is in the earliest stages of discussion about this idea, and it's possible that it may be scrapped entirely. However, this represents a new potential shift that's certainly more fun than talking about the inevitable addition of advertisements on jerseys.