Here's What Tim Howard Thinks About the Future of U.S. Soccer
He had to bow out sometime, and there's no better way to leave the World Cup than by submitting one of the best positional performances the globe has ever seen. In the United States' 2-1 loss to Belgium, Howard was able to make 16 saves against a staggering 39 shots, a record-breaking number that reinforced what the eye test was telling everyone watching: That this 35-year-old goal keeper was far and away the best player on the field for either team. As for his future with the U.S. men's national team, Howard, who just signed a four-year extension with Everton F.C. in the English Premier League, wouldn't say one way or the other.
"What happens going forward with the international team, I don't know," Howard said. "The emotions are too raw at the moment, so I'll let everything die down. I'll speak to people who are close to me and the manager, and kinda decide what my future looks like. I don't think its very black and white, to be honest." He's happy about where the sport and where the team ended up this year, though.
Contrasting the countrywide fandom that pushes the U.S. team forward every World Cup with the cynicism that he's seen among European soccer supporters, Howard said that he didn't consider the intense attention a distraction. "It's hard to sustain [the attention] every day. Around the world, in Europe and Africa and Asia and South America, soccer is either the number one sport or the only sport. In America, we're competing with football, basketball, baseball, hockey, so — but the support has been immense."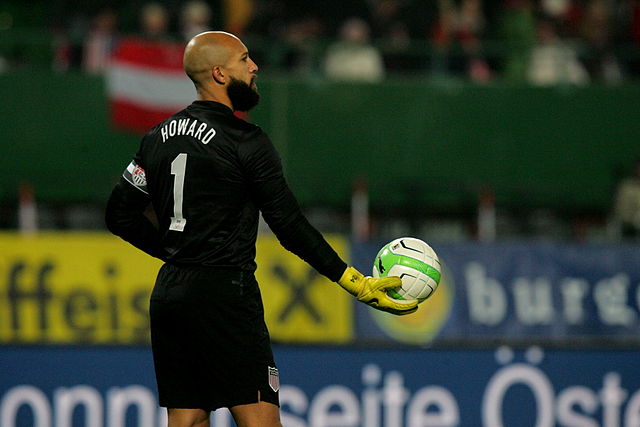 As for his teammates – the team critics said was too young (with seven players under 23) and too inexperienced? Howard said before the start of the tournament that the 2014 squad was better than 2010?s team, and he stuck to that assessment in a post-game conference call.
"I think this was a very young team," Howard said, "and even if guys didn't play serious minutes, they were part of this experience and they'll be so much better for it in the coming years." He specifically referenced Julian Green, who scored the sole U.S. goal in the loss to Belgium.
DeAndre Yedlin, Howard said, "has just been — he just puts a big smile on my face. He comes in the game and faces Eden Hazard and just never looks back. Eden Hazard's the best player in the Premier League, or was one of them last year, and he's a threat to anyone, but DeAndre just put his head down and dared [Hazard] to come at him."