Here's Where NFL Hall of Famer Jason Taylor Will Coach His Sons in 2020
Miami Dolphins legend and Pro Football Hall of Fame linebacker Jason Taylor is taking the next step in his post-football career. Taylor, 45, has officially been named the new defensive coordinator at St. Thomas Aquinas, a prestigious high school football program in Fort Lauderdale, Fla.
The promotion not only keeps Taylor close to home, but it will allow him to coach his two sons as they prepare to follow in their fathers' footsteps. Here's why football fans should pay attention to Jason Taylor's coaching career and his sons' football journeys.
Jason Taylor was one of the NFL's great linebackers
For a time, there weren't many better linebackers in the NFL than Jason Taylor. A third-round pick of the Miami Dolphins in 1997, Taylor ended his career with 139.5 sacks, 36 forced fumbles, 29 fumble recoveries and nine touchdowns in 15 seasons. Taylor was named NFL Defensive Player of the Year in 2006 and won the Walter Payton NFL Man of the Year in 2007.
A six-time Pro Bowler, Taylor also briefly played for Washington and the New York Jets before playing his final season in Miami. Taylor's final game, a 19-17 victory over the Jets, kept his former team out of the playoffs.
Taylor didn't need to wait long to receive his bust in Canton, Ohio. Taylor was inducted into the Pro Football Hall of Fame in 2017, his first year of eligibility. In his Hall of Fame speech, Taylor thanked both his former teammates and some of the great quarterbacks he played across his 15 seasons.
"You know, there's a real bond that can develop in the fire of the fight, an admiration, given begrudgingly, as the highest respect. So, I'd also like to thank those opponents who forced me to raise my game if I ever wanted to literally reach them, guys like Tom Brady and Peyton Manning, two of the most prolific quarterbacks to ever play this game."
St. Thomas Aquinas has a near-perfect record with Jason Taylor on staff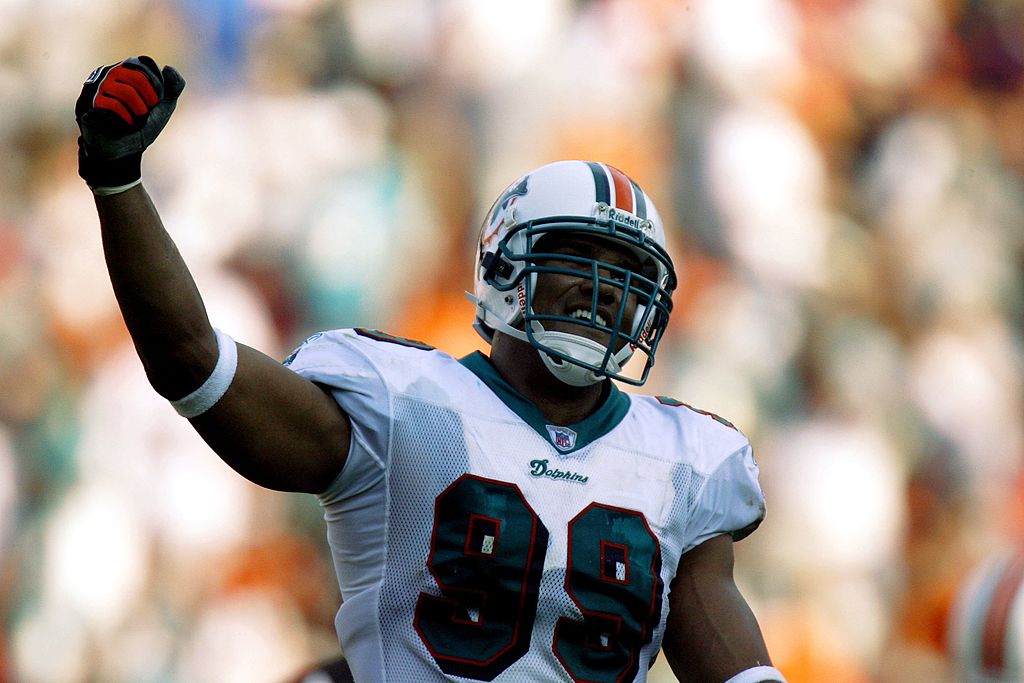 Jason Taylor joined the St. Thomas Aquinas football staff as a defensive line coach before the 2017 season. The Raiders are 40-5 in Taylor's three years and went 15-0 last season. St. Thomas was named GEICO national champions and recorded seven shutouts.
Taylor wasn't the only ex-local standout to receive a promotion. Former FIU quarterback and St. Thomas alum Wesley Caroll was named co-offensive coordinator.
"Coach Taylor and coach Carroll have been a holistic blessing to our football program," coach Roger Harriott said. "They're both dedicated with pride and enthusiasm. We're fortunate to have them on our side, and I'm personally grateful that they've accepted this opportunity to lead with me.
"Along with their football acumen, they both possess a variety of admirable character traits as family-oriented leaders."
Jason Taylor's sons are expected to play Divison I football
Jason Taylor's sons, Isaiah and Mason, are poised to create their own legacies in the near future. Isaiah is a 5-foot-11, 195-pound safety who already holds six offers from FBS programs. Isaiah Taylor will be a senior in 2020 and has received interest from the likes of Kansas, Maryland and Minnesota.
Mason is a rising junior with an offer from FIU. Mason didn't record any stats last season but should take a bigger role in the Raiders' offense next year.
Fourteen active players, including reigning NFL Defensive Rookie of the Year Nick Bosa and his older brother, Joey, played at St. Thomas Aquinas. Cincinnati Bengals defensive tackle Geno Atkins, New England Patriots running back James White and Oakland Raiders defensive back LaMarcus Joyner are among the other players who wore a St. Thomas uniform before entering the NFL.