Here's Who Vegas is Picking to Lead the NFL in Receiving Yards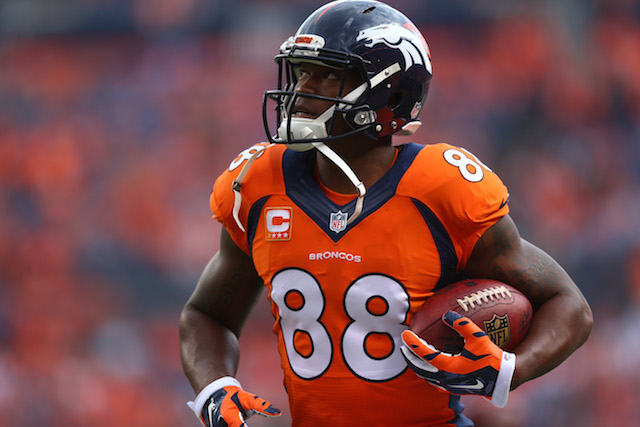 The NFL season is an exciting time. Not only is it a time for friends to gather together, get their grub on, and once again turn Sunday into the best day of the week, it's also a time to finally learn if teams and players will actually live up to expectations. As the preseason rages on, we think we have an idea of how things might play out. The truth is, until the regular season gets underway, no one really has a clue.That doesn't stop folks from making predictions and setting the odds, of course.
Like it or not, some NFL fan have much more on the line than just whether or not their favorite team comes out victorious. For these individuals, there's money at stake. And when it comes to the National Football League, you can pretty much bet on anything. Las Vegas makes sure of this. 0
It's not just about betting on head-to-head matchups, it's also about wagering on players' performances. For example, one of the more popular bets revolves around "which quarterback will lead the NFL in passing yards in the upcoming season?" With the league consistently being described as "pass happy," it's not shocking that folks would lay down money on which gunslinger will have the best year. However, let's not forget, for a QB to have a solid year, they better have high-quality receivers to throw the ball to.
If Sin City is going to put odds on which quarterbacks will throw the most yards during the upcoming season, you know they're going to look at the wide receivers as well. After all, you can't have one without the other. With that in mind, here's a look at who Vegas picking to be the NFL's leader in receiving yards in 2015.
3. Odell Beckham Jr. (Tie)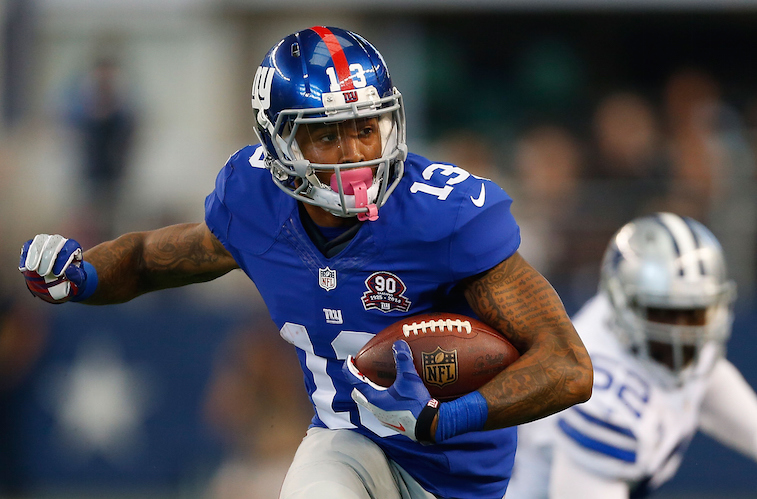 Entering his second season in the NFL, expectations are sky-high for Odell Beckham Jr. After a successful 2014 season that saw the New York Giants wide receiver finish with 91 receptions, 1,305 receiving yards, 12 touchdown — in only 12 games — and make one of the most unforgettable catches in recent memory, Beckham has already reached superstar status among fans of the league. Now it's time to see if he can build of his Pro Bowl appearance and capturing the AP Rookie of the Year award. Vegas certainly likes his odds.
3. Dez Bryant (Tie)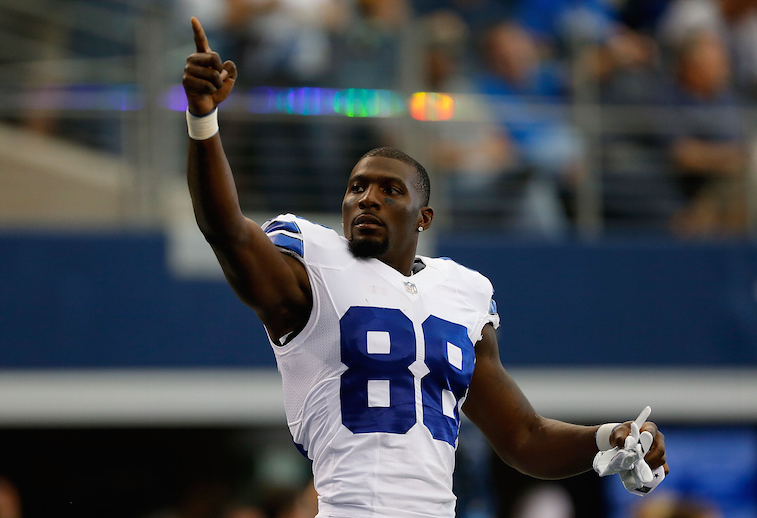 In 2014, for the first time in his career, Dez Bryant was named First-Team All-Pro. It was much deserved. No. 88 was a terror on the field, essentially unguardable. Bryant had 88 receptions, 1,320 receiving yards, and a league-leading 16 touchdown catches. For his efforts, the Dallas Cowboys rewarded their Pro Bowl wideout with a new five-year, $70 million deal, which includes $45 million in guaranteed money. With the money situation completely resolved, all that's left is for Bryant to go and handle his business on the gridiron. As long as he can keep his fighting down, and avoid unnecessary injuries, we think 2015 could be a big year for one of the NFL's top wide receivers. Clearly we're not alone.
3. Calvin Johnson
The 2014 season was a rough one for Calvin Johnson, who spent most of the year battling injuries. Despite those setbacks, he still managed to pick up 71 receptions, 1,077 receiving yards, and eight touchdowns. At his best, there is no wideout more intimidating than No. 81 for the Detroit Lions. After all, they don't call him "Megatron" for nothing. And if his electric performance so far this offseason is any indication of things to come, Vegas is right to expect Johnson to return to form in 2015.
2. Julio Jones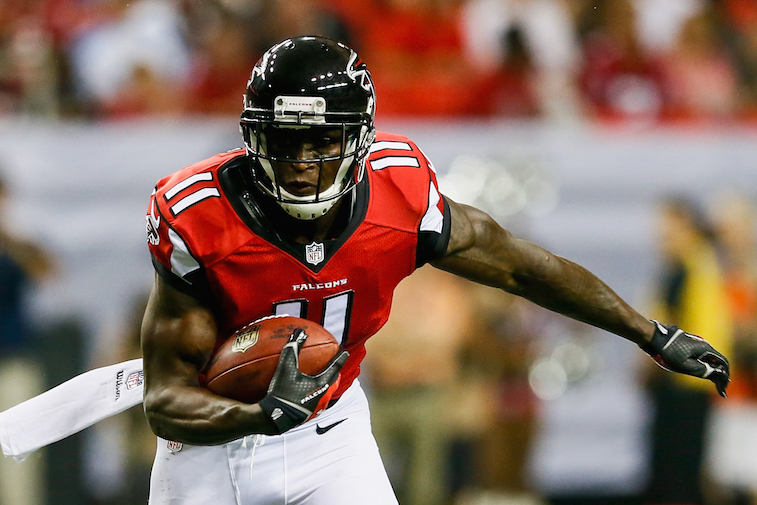 Julio Jones may have only had six touchdown catches in 2014, but his 104 receptions and 1,593 receiving yards were each the third most among NFL receivers. This 2015 season being a contract year for the Atlanta Falcons star, you have to believe Jones is out to prove he deserves to be paid like one of league's elite wideouts. With the Falcons also having a new coaching staff in place, including Kyle Shanahan as the offensive coordinator, we expect Jones to put up monster numbers.
1. Antonio Brown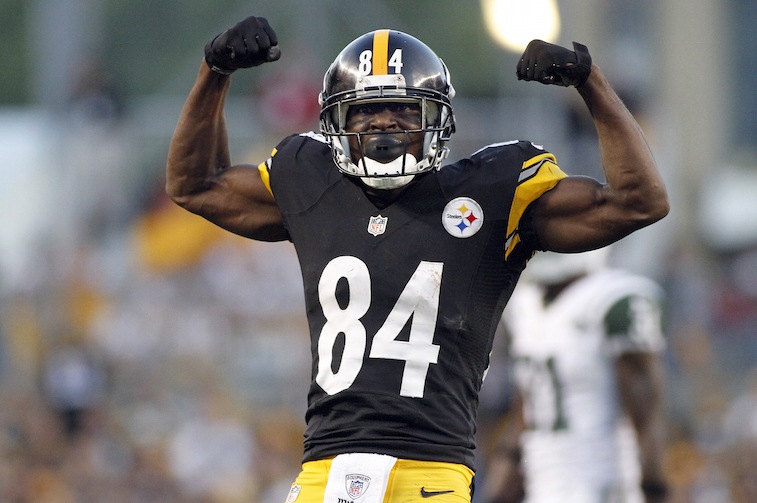 Last season was the year of Antonio Brown. The wide receiver led the NFL in receptions (129) and receiving yards (1,698), while tacking on 13 touchdown catches as well. He may only be 5-foot-10 and weigh 180 pounds, but it's probably best not to underestimate the former Central Michigan standout. In his five seasons in the league, Brown has been named to the Pro Bowl three times and was a First-Team All-Pro in 2014. If we're to believe numbers never lie, then it makes perfect sense that the odds are in the favor of No. 84 on the Pittsburgh Steelers.
Odds courtesy of Sportsbook.ag.
All statistics are courtesy of Pro-Football-Reference.com and ESPN.go.com.