Here's Who Vegas Is Picking to Win the 2016 NBA Championship
As we cruise into the All-Star Break and the trade deadline, everything and nothing has changed for the 2015-2016 NBA season — that is to say, as far as the sports books are concerned, the same teams that looked like winners back when the schedules were first revealed this offseason. To some degree, this makes sense, because the NBA isn't quite as tied to parity as the NFL. Plus, while it's harder to keep great teams together than it has been in the past (hello,luxury tax) the true contenders are usually ready to stick around for a few seasons, barring injury or illness or an unforeseen turn of events.
All that said, let's see who the folks in Sin City are picking to win the 2016 NBA Championship.
5. Los Angeles Clippers
There was a point this offseason when the Los Angeles Clippers appeared to be on the verge of losing their place among the Western Conference elite. In fact, it wasn't too long ago that guard J.J. Redick was asking if he could give the Clippers an F-minus for the team's disastrous summer. However, that all changed with D'Andre Jordan's decision to scorn the Dallas Mavericks and return to Hollywood. Couple that with the team's signing of Paul Pierce — who brings a much-needed winning mentality with him — and it's no wonder the oddsmakers in Vegas feel the Clips will be in the thick of the championship race.
4. Oklahoma City Thunder [tie]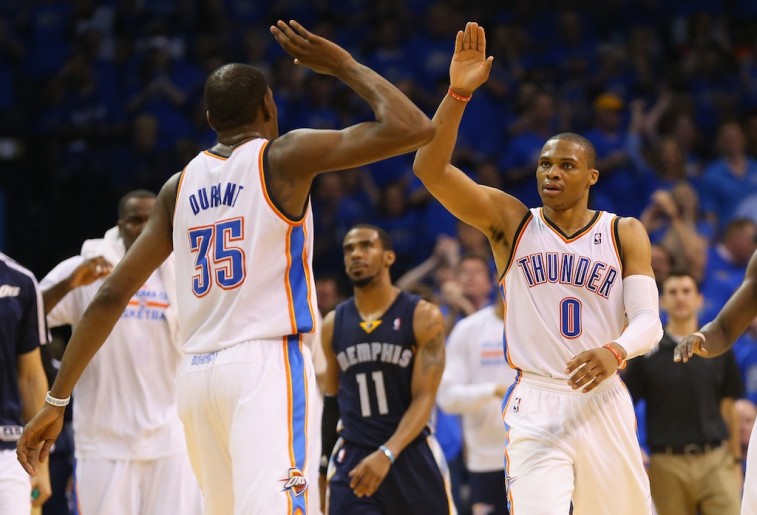 It makes no difference that the 2015-16 season is Billy Donovan's first coaching stint in the NBA. It doesn't matter that the team finished 45-37 last season and missed out on the playoffs. When it comes to the Oklahoma City Thunder, all that matters is health. If Kevin Durant can remain healthy and Russell Westbrook continues to build off of his dynamic MVP-caliber season, there are few teams in the league as dangerous as OKC. At their best, you can never count out the Thunder.
3. San Antonio Spurs
Hold up. Time out. You thought the San Antonio Spurs were getting too old to compete for NBA championships? No, no. They were just waiting for the right time to replenish their crop of talent. This past offseason seemed like as good a time as any. By landing coveted free agent LaMarcus Aldridge and signing power forward David West for pennies, the Spurs showed they mean business. We never doubted Gregg Popovich and company for a second.
2. Cleveland Cavaliers
If LeBron James can lead the junior varsity version of the Cleveland Cavaliers to within two victories of an NBA title, just think what he can do with a full arsenal at his disposal. According to Vegas, he can win the whole thing. Entering the sophomore season of the latest "Big Three" experiment, the Cavs now know each other's tendencies, have built on-court chemistry, a new head coach, and are a whole year wiser. If all their stars can remain on the court, the odds are in King James' favor.
1. Golden State Warriors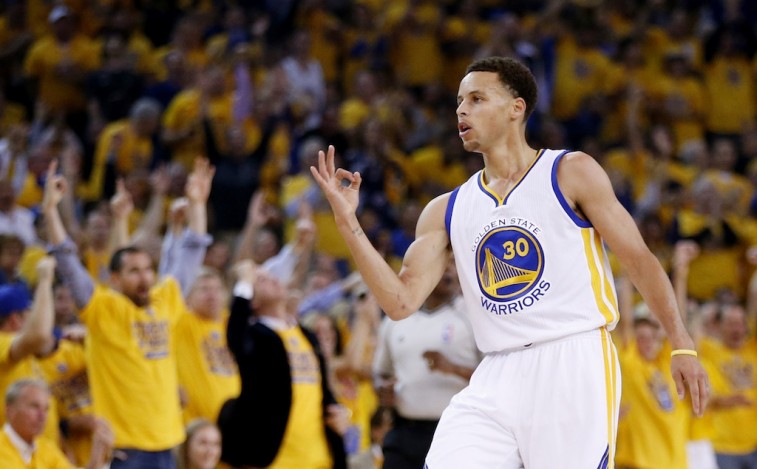 Stephen Curry may find it "funny" that the Golden State Warriors didn't start the season as across-the-board favorites to repeat as champions, but if we were the reigning MVP, we'd be peeved. This Warriors squad didn't just come out of nowhere to take the NBA by storm, they dominated the competition all season long. The Dubs may not have made a big splash during the free-agency period, but when you go 67-15 in the regular season and cap it off with a title, it's more important that you keep your core players in tact. Golden State took care of that by locking up Draymond Green. We expected the Warriors to take these odds personally, using them as bulletin-board material to fuel their fire, and 17 wins in, we're seeing it play out in real time.
Odds are courtesy of Sportsbook.ag.
All statistics are courtesy of Basketball-Reference.com.