Here's Why It's About Time Mark Sanchez Retired
Last week, former NFL QB Mark Sanchez announced his retirement from the NFL. While it's never easy for any player to call it quits, for Sanchez it seems as though he left at exactly the right time. 
Mark Sanchez's career in review
Sanchez was the fifth overall pick in the 2009 NFL Draft, selected by the New York Jets. He played for four other teams over his eight-year career, including the Denver Broncos, Dallas Cowboys, Philadelphia Eagles, and Washington Redskins. 
Sanchez's best run was as a member of the Jets. With Sanchez under center, the team made the playoffs in 2009 and 2010, qualifying for the AFC Championship both years.
During the 2010 season, Sanchez achieved what might be the highlight of his career: he guided the Jets to an 11-5 record as well as a divisional round 28-21 win over the New England Patriots. They would ultimately fall to Pittsburgh Steelers in the AFC championship game. A 2013 preseason injury would keep him out the entire year before he went to the Philadelphia Eagles in 2014. 
Sanchez would spend the rest of his career as either a backup or a spot-starter.
Sanchez's career stats include:
An overall won-loss record of 37-36
86 touchdowns
15,357 passing yards
89 interceptions
A quarterback rating of 73.2
A postseason won-loss record of 4-2
An appearance on the 2009 NFL All-Rookie team
Why it's about time Mark Sanchez retired
By the time he got to Washington last year to replace an injured Alex Smith, it was clear Sanchez had very little left in the tank. He played in two games for Washington in 2018, throwing three interceptions and being sacked seven times. In his first (and only) start of the season and his second appearance, he was yanked in favor of fellow journeyman Josh Johnson due to poor performance.
There wasn't a lot of demand around the league for Sanchez's services this offseason, but that isn't the only reason retirement was a great decision. Sanchez was offered a cushy TV gig as a college football analyst for ESPN. SI would report on Sanchez's ESPN signing:
"The network announced the addition of its newest college football analyst Tuesday after the New York Post reported that Sanchez would be joining the company. Sanchez will work on ABC's studio show—joining Kevin Negandhi and Jonathan Vilma—and appear on other ESPN shows like Get Up!"
Trading the daily grind of practicing and sitting on the bench for a prominent studio role on a major network seems like a solid trade-off. The charismatic and eloquent Sanchez should excel in the role.
Mark Sanchez's most infamous moment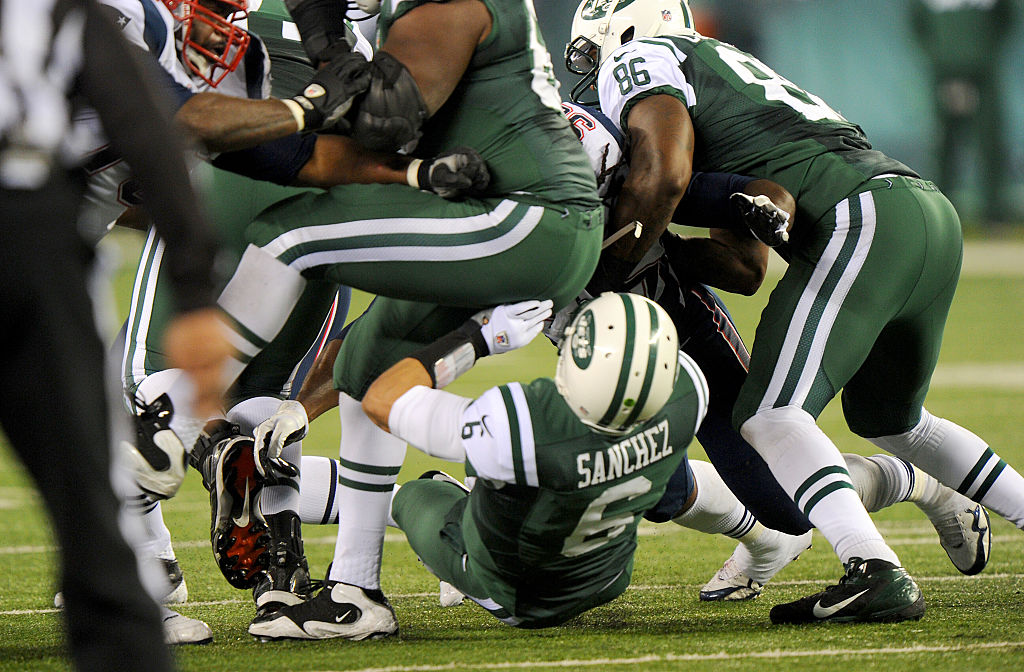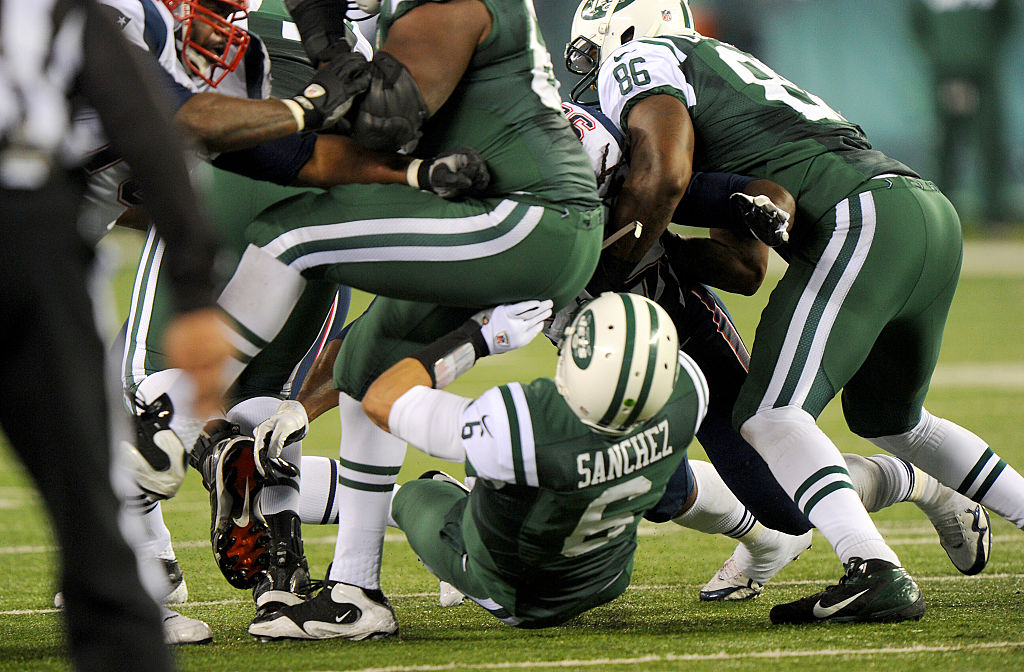 As the sun sets on Sanchez's NFL career, one has to look back at his most infamous – and to most football fans, hilarious – moment. That came during a Thanksgiving evening game in 2012 when his Jets took on the Patriots and Sanchez would commit what would become known as "The Butt Fumble."
As transcribed by The Ringer, Sanchez was asked about it during a press conference as Redskins QB last year. He took it in stride:
"I'm not following," Sanchez said with a smile before getting serious. "Like I said, what are you going to do? It was a crappy play in a game where we're getting our butts kicked. It's some low-hanging fruit so that was an easy reach for you. I'm just kidding! I'm just kidding! Come on, you can give it to me, I can give it right back! Come on, now. Thick skin in here, huh? Listen, who cares? It's one play. You just move on."
Now that Sanchez has moved on from not just the notorious fumble but also his days as an NFL player, one hopes he'll not have to address the play in this new phase of his career.