Here's Why Patrick Mahomes Could Be the Next Peyton Manning
In just two seasons as a starting quarterback, Patrick Mahomes has become one of the best in the NFL. He's on track to become a top quarterback in the coming seasons as players like Tom Brady and Drew Brees face the twilight of their careers. People are also comparing Mahomes to a recently retired quarterback, Peyton Manning, but not in the way you expect.
Patrick Mahomes' rise to MVP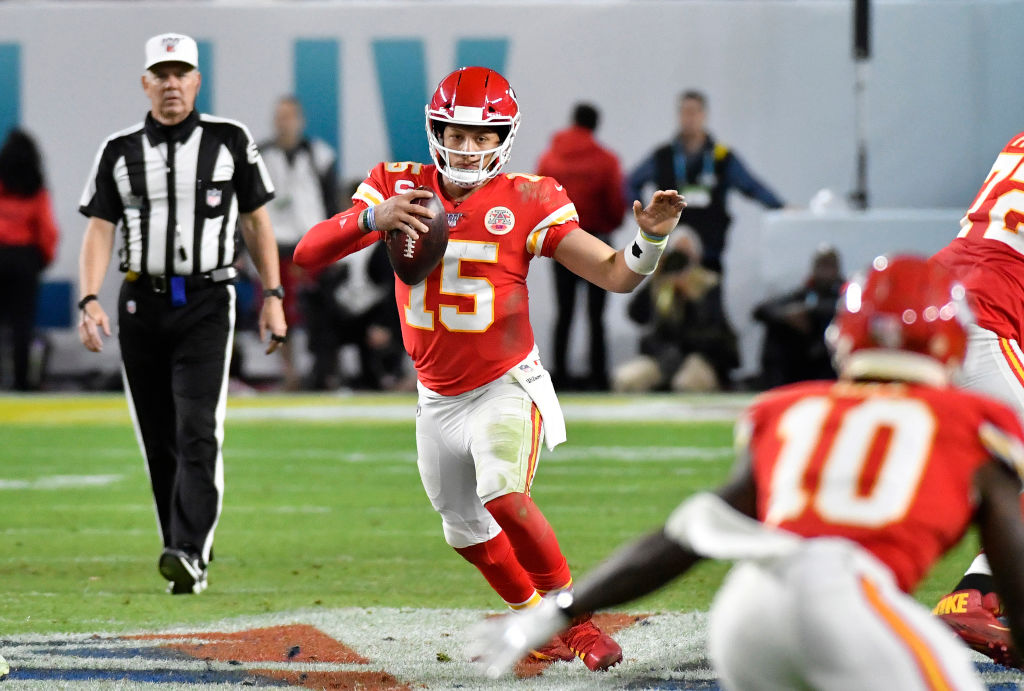 Mahomes sat on the bench for the first 15 games of his rookie year. Then, Chiefs starter Alex Smith left for the Redskins after the 2017 season. Mahomes took over as the starter — and he got off to a fast start.
In 2018, he threw for more than 5,000 yards and 50 touchdowns en route to being the league MVP in his first season as a starter. He regressed a bit in 2019 but still threw for more than 4,000 yards and 26 touchdowns in 14 games, two fewer than 2018.
While he didn't repeat as MVP last season, Mahomes did achieve another honor: leading the Chiefs to their first Super Bowl title in 50 years, and he earned MVP.
Mahomes is going to get paid
Mahomes' impressive first two seasons in the NFL are going to lead to a massive payday for the Texas Tech alum. He's under contract for 2020 with a salary of about $2.7 million. And the team has a 2021 option worth about $25 million. It's only a matter of time before Mahomes gets a new, nine-figure contract.
It's hard to imagine the Chiefs not extending him before he becomes a free agent, but whatever team gives him the contract will likely make him the highest-paid player in the NFL and perhaps in all of American sports.
Russell Wilson's annual salary of $35 million currently makes him the highest-paid in the NFL. Mahomes will blow past that number, potentially getting $40 million per season. The QB would deserve a big contract considering his first two seasons as a starter yielded NFL MVP and Super Bowl MVP awards.
Is Mahomes the next Peyton Manning?
Manning made well over $200 million in his NFL career, and he continues to make more with his many endorsement deals. When it comes to sponsorships, Mahomes is on the path to becoming the next Manning. The Chiefs QB is likable, non-controversial, and clearly a winner — all qualities companies look for when choosing athletes to endorse their products.
There's a reason why Super Bowl winners go to Disney World after winning the big game. Metropolitan State University Marketing Lecturer Darrin Duber-Smith thinks Mahomes may have even more marketing potential than Manning. He says Mahomes "even has more endorsement potential than Manning, who is one of the most likable and also one of the highest-grossing celebrity endorsers ever." 
The NFL is about star power, which is also what companies seek for in spokespeople. Mahomes definitely has the star power needed to represent a product. He already does commercials for companies that include State Farm and Head & Shoulders.
Follow more updates from Sportscasting on our Facebook page.