Here's Why San Diego State is Primed for March Madness Success in 2020
Men's college basketball is reaching the heart of conference play, which can only mean one thing: March Madness is right around the corner. It's about to be the most wonderful time of the year in college basketball, and right now, it's anyone's guess who will emerge from the field of 68. Despite all the old favorites that are sure to be in the mix, there's one potential dark horse who may also come through: the San Diego State Aztecs.


You may read that and scratch your head, as San Diego State doesn't exactly jump to mind when thinking of college hoops hotbeds. But there's plenty of evidence that this may be the Aztecs year for a deep run. Here's why.

San Diego State is the last undefeated team in college basketball
Heading into play on Feb. 8, the Aztecs are the last undefeated team in NCAA men's basketball top division. Overall, the Aztecs are 23-0 with a 10-0 record in the Mountain West Conference.

SDSU is scoring 74.5 points per game and allowing 57.2. The Aztecs are shooting 46% from the field while their opponents shoot only 37%. From the 3-point line, they're shooting 37% while their opponents are only shooting 27%. They're also outrebounding their opponents to the tune of 36.2 to 31.6 rebounds per game. One other key statistic is that they're only averaging around 10 turnovers a game while their opponents are turning the ball over around 14 times.
Those numbers may not seem like massive discrepancies, but they add up over time. And it's worked for SDSU so far. ESPN Bracketology expert Joe Lunardi believes the hype: as of Jan. 24, he projected the Aztecs as the number one seed in the East region, knocking the Duke Blue Devils to number two.

While the team as a unit is playing well, everyone knows that you need stars to win in March. The Aztecs have that covered.

San Diego State has a star player in Malachi Flynn
The Aztecs' best player this season is Malachi Flynn. The 6-foot-2 guard out of Tacoma, Washington, has been the team's top statistical contributor. Here are his stats so far:
16.5 points per game
5.0 assists per game
3.7 rebounds per game
Shooting 44.9% from the field
Shooting 39.1% from the 3-point line
Player Efficiency Rating of 27.6
5.4 win shares
Flynn began his college career playing two seasons at Washington State. In his last season at WSU, his scoring average went from 9.7 to 15.8 points per game. He sat out last year after he transferred to San Diego State. In conference play this season, Flynn has been even better than usual: during Mountain West Conference games, his scoring average skyrockets to 21 points per game. It's clear he doesn't shy away from big games.

The Aztecs have a coach with March Madness experience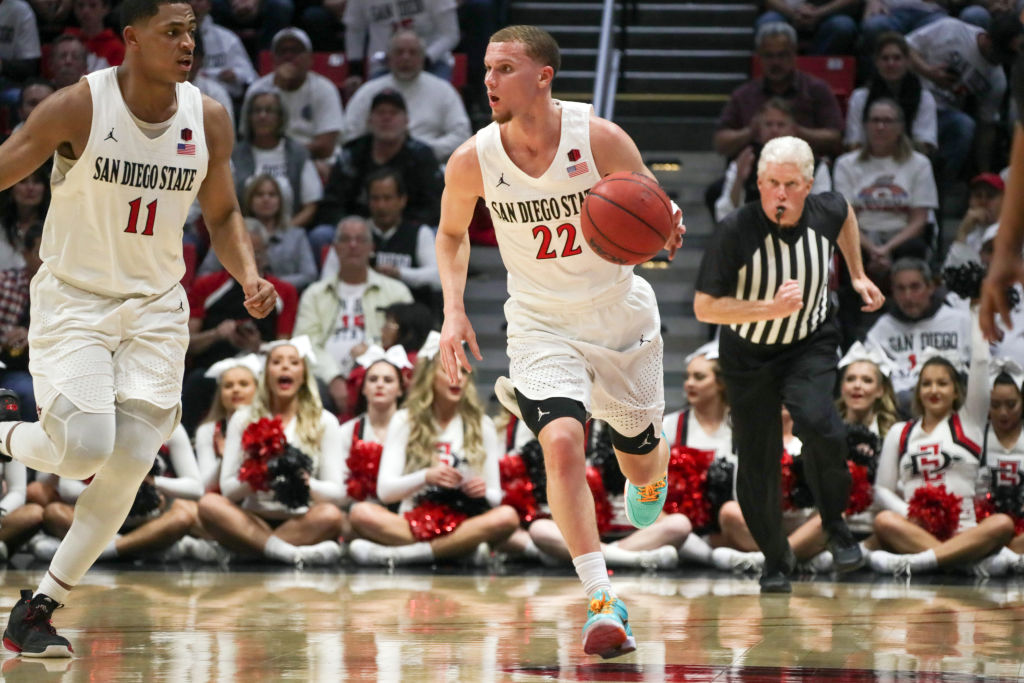 San Diego State's head coach, Brian Dutcher, is no stranger to taking the Aztecs to the March Madness dance. In Dutcher's first season as head coach in 2017-18, he led the Aztecs to a Mountain West Conference championship. That was their last appearance in the tournament.
The Aztecs have been to the tournament 12 times in school history. They've had most of their success in the past decade or so. They had six consecutive NCAA tournament appearances from 2009-2015. That included two regional finals appearances.

This may be the year SDSU breaks through to the next level. They seem to have the team, the coach, and the star in place. Put it all together, and it could be a recipe for March Madness success for the Aztecs.