Here's Why UFC Fighter Edson Barboza Believes Tony Ferguson Will Beat Khabib Nurmagomedov
Khabib Nurmagomedov vs. Tony Ferguson is one of the most anticipated fights in UFC history. Both men have been extremely dominant in the lightweight division, and no one knows how the fight will go. However, one man who's fought both of them — Edson Barboza — believes that Ferguson will have the edge. Here's why.

Khabib Nurmagomedov vs. Tony Ferguson at UFC 249
On April 18, Nurmagomedov and Ferguson will meet inside the octagon in Brooklyn, New York. There are two reasons why the fight is such a highly anticipated fight for UFC fans.

First, this is actually the fifth time that the UFC has tried to get these two men to fight each other. Neither man was scared of the other, but due to injuries, accidents, and personal issues, both men had to pull out of the fight each time. And that happened four times already. That's why most UFC fans aren't holding their breath. While it's likely that Nurmagomedov and Ferguson will actually fight each other at UFC 249, history has shown that this fight is practically cursed.

That said, the other reason why the fight is so exciting is that both men are truly great fighters. Nurmagomedov is undefeated at 28-0, and Ferguson has a record of 25-3. While Ferguson isn't undefeated, he's currently on a 12-fight win streak, and he's beaten many great UFC opponents. Nurmagomedov is also on a 12-fight win streak if you only count his UFC wins. And, like Ferguson, he's also beaten many great fighters.

Why many fans expect Khabib Nurmagomedov to win
Although both men have very impressive records, many people think Nurmagomedov will dominate once again. That is a safe bet, as he is undefeated while Ferguson isn't. Also, Ferguson has struggled with some low-ranked opponents, but Nurmagomedov hasn't had a hard fight in years. Arguably the only difficult fight that Nurmagomedov had was in 2012 against Gleison Tibau.

Nurmagomedov struggled to do what he usually does against Tibau. Despite that, Nurmagomedov's toughness, both physical and mental, allowed him to persevere and come out on top with a decision victory. Since then, no man has really been a match for Nurmagomedov, not even the likes of Conor McGregor.

However, between the two men, both UFC fighters have beaten Edson Barboza, one of the best kickboxers in the UFC. Here's what Barboza had to say about the fight and why he thinks that Ferguson will come out on top.

Why Tony Ferguson will win, according to Edson Barboza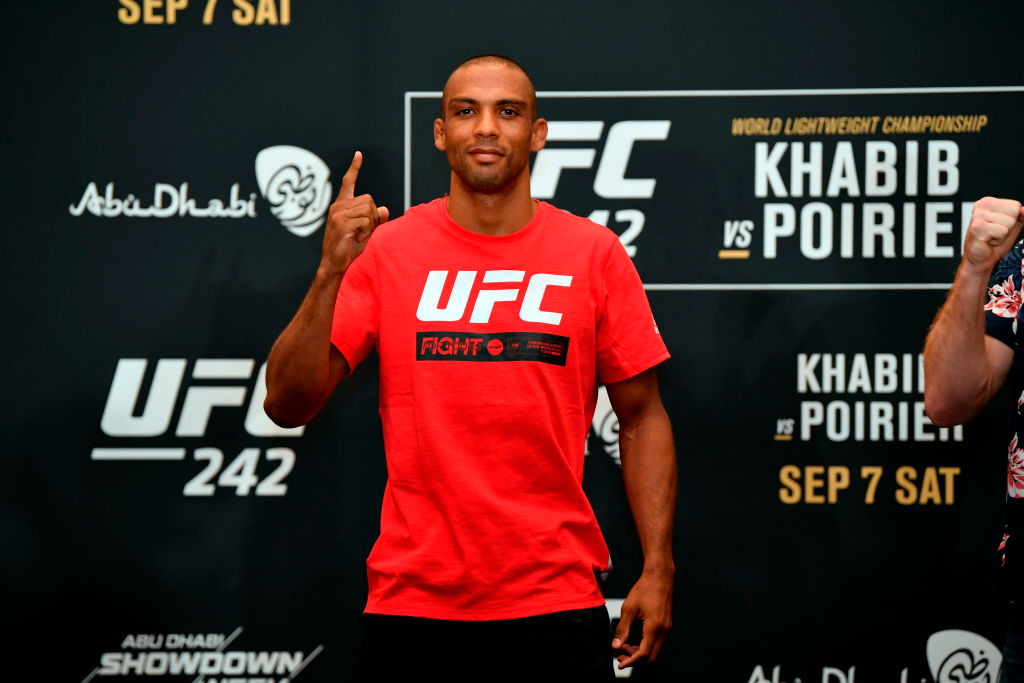 As MMA Junkie reported, Barboza thinks that Nurmagomedov is definitely the better wrestler and is a little bit stronger than Ferguson is. However, Ferguson has an advantage over Nurmagomedov in two key areas. The first is in striking, and the second is in creativity.

Nurmagomedov isn't a great striker, while Ferguson is. Ferguson has beaten some of the UFC's best strikers, including Donald Cerrone. Ferguson usually can out-strike his opponents due to his long arms, his great cardio, and his superb technique. He doesn't have impressive knockout power asMcGregor does, but Ferguson can keep up the pace, and he can keep punching and kicking for the entire fight.

In addition to his great striking abilities, Ferguson is also well-known to be a creative fighter. He's not only creative when it comes to his strikes, but also in every other aspect of the game. Barboza says that Nurmagomedov is a predictable fighter, while Ferguson isn't. As a result, it's entirely possible that Ferguson can come up with something crazy and beat Nurmagomedov.

That said, Barboza believes that it's a tough fight to predict, as both men are great fighters. But, because Ferguson is more creative and is better at striking, Barboza ultimately gave him the edge over Nurmagomedov.