Here's Why We Could Hear Mookie Betts' Name a Ton in 2020
Mookie Betts has been one of the more interesting names being thrown around in trade speculation since the baseball season ended as the Boston Red Sox look to cut cap and get under the luxury tax threshold. Although Betts is a valuable contributor to a roster that just won a World Series in 2018, he is due for a mega-contract that could break MLB records.
Until Betts' contract is resolved (and Boston's cheating scandal punishment finalized), the speculation will only gain more traction. 

Mookie Betts becomes a star
Betts is only 27 years old and already one of the best players in baseball. He began his career in 2014, and he immediately showed promise as a star, although it took a couple of seasons to find his spot. As a rookie, Betts hit five home runs and batted 18 batters in 52 games. His work in the field also led the league that he was a double-threat.

By 2016, Betts was good for 31 home runs and 113 RBIs. He also showed good baserunning skills, stealing 26 bases during his first year as an All-Star. Betts was a jack-of-all-trades on the baseball fields, and on one of the most storied franchises in baseball, his skills did not go unnoticed. He was one of the rising faces in Major League Baseball.

By 2018, Betts was not only playing the best baseball of his career. He was also an MVP playing for a World Series Champion. It was the best season of his career by far, with a .346 batting average getting him to the bases with remarkable accuracy. He slugged at a rate of 64%, and his defense was only getting better.

The Red Sox might have had an off-year in 2019 coming off of that World Series, but with Mookie Betts approaching the end of his contract, he might only get better from here. Because of that, the Red Sox will have to make some important decisions about their star outfielder.

Why would the Red Sox let him go?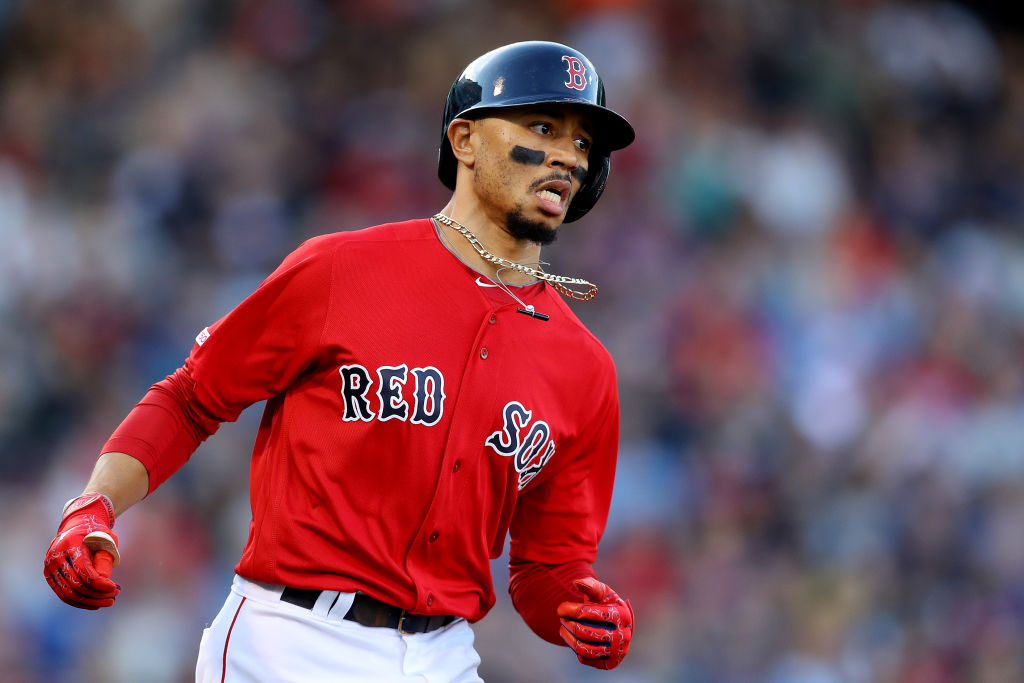 When Mike Trout signed his massive $430 million extension with the Angels, he paved the way for future free agents to make similar money. If everything stays put and Mookie Betts remains with the Red Sox for the rest of his current contract, he could, according to MLB Trade Rumors, be looking at a new deal worth upwards of $400 million in the 2021 offseason.

That could end up being an MLB record, and with the Red Sox looking at a high payroll, adding a contract like that, even for a player of Betts' caliber, could be a risk for their future flexibility to put talent around him and retain their other players. The team might not get another player who is as good as Betts, but they could get a star player worth a fraction of the money.

That is why, as tough as it may be, the Red Sox might not be ridiculous to look in another direction.

Why we might hear a lot about Mookie Betts in 2020
Jeff Passan of ESPN reported that the Red Sox are unlikely to trade for Betts. Even though news about his future in Boston might be slow to come, we could hear Mookie Betts' name quite a bit during the 2020 season. Here's why.

If the Red Sox choose to keep a game-changing player like Betts, then it likely will cost them a fortune. If he re-ups in Boston, then we'll hear plenty about Betts' multi-million dollar contract.

On the other hand, Boston might not be in the position to pay for a new deal, but other franchises might not be in the same boat. Teams like the New York Yankees or Los Angeles Dodgers could swoop up and sign Betts soon after a trade. That said, the Red Sox still have time on their side. If they make up their minds on Betts, they could be posturing for better trade deals throughout the 2020 season.

A third option is that Mookie Betts plays out his contract and hits free agency late in 2020. Whether or not he finishes the season in Boston, he could be a free agent after the season. Then we'll hear his name when he signs what is likely to be a lucrative and long-term contract before 2021.
Whether the Red Sox decide to hang on to Betts and let other players go or move forward with finding him a new home, the team will need to think about their future. Hopefully, whatever decision they make will be the one that returns them to those 2018 heights and not the lows they faced following the historically disastrous Babe Ruth deal.