The High School Football Team Trent Dilfer and Phil Dawson Coach Already Has More Wins Than Their 2005 Browns Team
The Cleveland Browns hoped Super Bowl champion and veteran quarterback Trent Dilfer and kicker Phil Dawson would lead the team to the postseason in 2005.
Oh, Browns. When would you learn?
Well, at least the two can take solace in the fact that the high school football team they're coaching, Lipscomb Academy in Tennessee, is faring better than that 2005 Browns team.
Trent Dilfer's high school football team is off to an impressive 7-1 start
When we last heard Dilfer's name in the news, it was after cameras caught him yelling at one of his players during a 62-7 victory over Thompson's Station-Independence High (Tenn.) on Aug. 30. The retired quarterback subsequently apologized for "unfairly" singling out the player in question, Beau Dawson.
Not that it's an excuse, but Dilfer knew Beau, a senior tight end and defensive end, long before he became his coach. The two-way player's father is Phil, the longtime Browns kicker who also serves as Lipscomb's special teams coordinator.
Things have certainly improved since that viral moment. Lipscomb won seven of its first eight games and outscored opponents 365-98 during that span. After a 29-21 loss on Sept. 23, the Mustangs won their next two games in a commanding 95-20 fashion.
Dilfer and Dawson's team already has more victories than their 2005 Browns team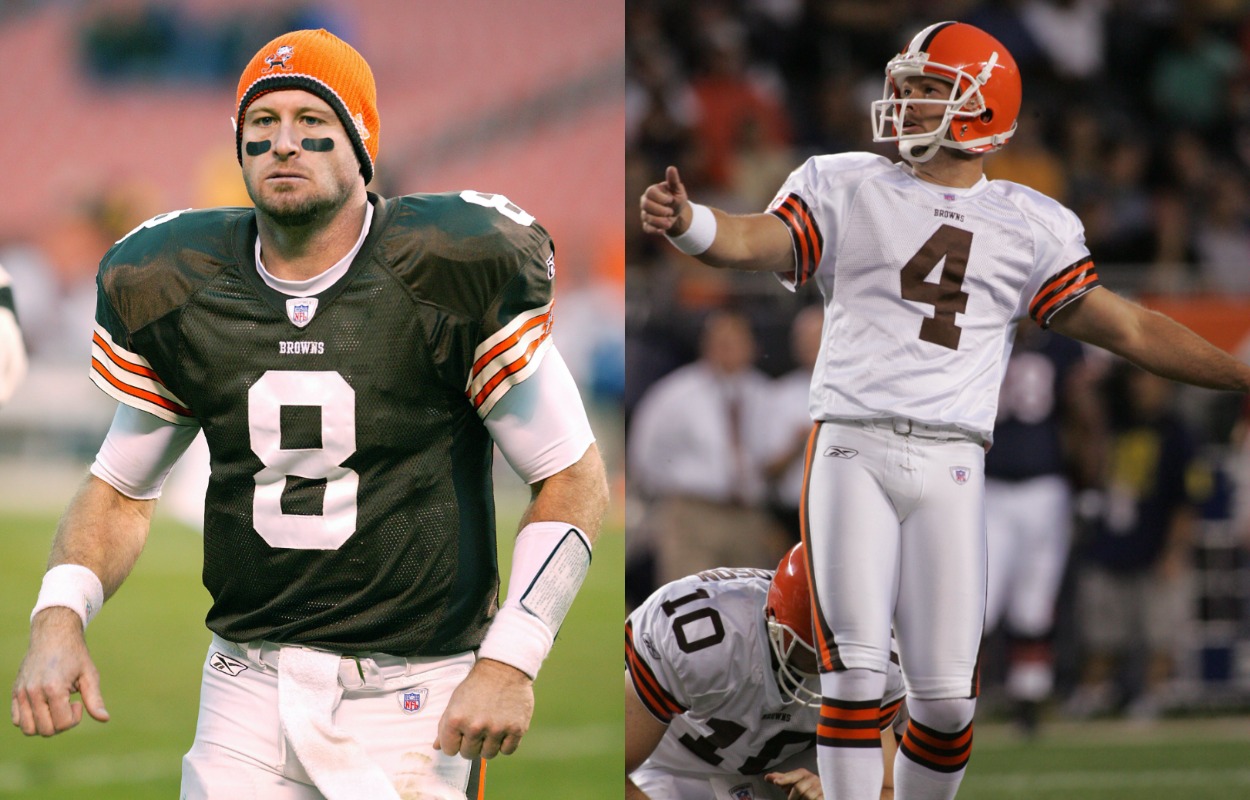 There's never a bad time to pick on the Browns, even as Baker Mayfield has the team coming off an AFC Divisional Round appearance. Cleveland entered Week 6 of the 2021 NFL season with a 3-2 record, so we'll give the current team a break for now.
The 2005 Browns, however, aren't as lucky. At 7-1, Lipscomb already has more wins on Oct. 11, 2021, than the Browns did during the entire 2005 season.
However, don't stop and point and laugh at Dilfer, Dawson, and their teammates just yet. Those 2005 Browns finished the year 6-10, only one of two times between 2003 and 2013 that the team mustered at least six wins in a season. The 2007 Browns, which went 10-6 and narrowly missed the postseason, also managed the feat.
Dilfer completed 59.8% of his passes in 11 starts that year for 2,321 yards, 11 touchdowns, and 12 interceptions. In the process, he became yet another name on the Browns' lengthy list of starting quarterbacks.
Dawson fared much better, making 27 of his 29 field goal attempts (93.1%, which remained his career-best until drilling 93.5% in 2012) and converting all 29 of his extra points tries. Don't forget, though, that the NFL hadn't turned the PAT into a glorified 32-yard field goal attempt yet.
Dilfer isn't the only notable ex-NFLer serving as a high school football coach
Dilfer and Dawson aren't the only notable ex-NFLers working on the high school sidelines this season. In fact, some of the most successful players from their era are spending their Friday nights coaching teenagers and mentoring them through the college recruiting process.
Longtime San Diego/Los Angeles Chargers quarterback Philip Rivers took over the St. Michael Catholic Cardinals (Fairhope, Ala.) following his retirement earlier this year. The Cardinals had a 5-2 record (3-2 in league play) as of publication.
Legendary Dallas Cowboys tight end Jason Witten hasn't fared as well in his rookie season at Liberty Christian (Argyle, Texas). The Warriors lost five of their first six games and were outscored 217-133 during that time.
Although he is not a head coach, Pro Football Hall of Fame pass-rusher Jason Taylor is the defensive coordinator at Florida powerhouse St. Thomas Aquinas. Taylor has been on the Raiders' staff since 2017.
If you're feeling old now, just wait for the day when someone like Ryan Fitzpatrick is coaching your local high school team.
Like Sportscasting on Facebook. Follow us on Twitter @sportscasting19.
RELATED: Arch Manning Could Make More in College Than Uncles Eli and Peyton Manning Made From Their First NFL Contracts