Who Has a Higher Net Worth: Megan Rapinoe or Sue Bird?
Megan Rapinoe and Sue Bird are a powerhouse sports couple. Not only are they proficient in their respective sports, but they're also social activists, looking to help women break down barriers and earn fair and equal pay. Both athletes have reached the pinnacles of their sports, but which star is worth more?
Megan Rapinoe's soccer career
RELATED: Soccer Star Alex Morgan Made Nike Agree to 'Groundbreaking' Maternity Protections
The outspoken Rapinoe has been a member of the United States women's national team (USWNT) since 2006, according to U.S. Soccer. Before that, she played with the junior teams since 2002. A midfielder known for her playmaking skills and ability to find players in front of the goal, Rapinoe has 54 goals and 69 assists in 170 appearances.
With her on the field, the USWNT won both the 2015 and 2019 FIFA Women's World Cup. Rapinoe earned the Golden Ball (best player) and Golden Boot (most goals) awards in the most recent World Cup. Rapinoe is also an Olympic gold medalist as she helped lead the team to victory in London in 2012. She most recently played for the Seattle Reign, a team part of the National Women's Soccer League.
In addition to her stellar play, Rapinoe doesn't hesitate to get involved in activism roles. She joined Colin Kaepernick in kneeling during the national anthem and played a huge role in U.S. women's soccer filing a gender discrimination lawsuit against the U.S. Soccer Federation.
Sue Bird's basketball career
RELATED: Alex Morgan's Intense Pregnancy Workout Shows Why She Was Ready for the Olympics 3 Months After Giving Birth
Bird plays point guard for the WNBA's Seattle Storm. Her career accolades are impressive: four WNBA championships, four Olympic gold medals, and two NCAA championships with UConn. She's an 11 time WNBA All-Star and is the all-time WNBA assist leader.
During the WNBA offseason, Bird spent many years playing ball in Russia and won five Russian national league championships there. Bird also worked in the Denver Nugget's front office and has tried her hand at color commentary, choices she claims will help her when her basketball career comes to an end.
The power couple's net worth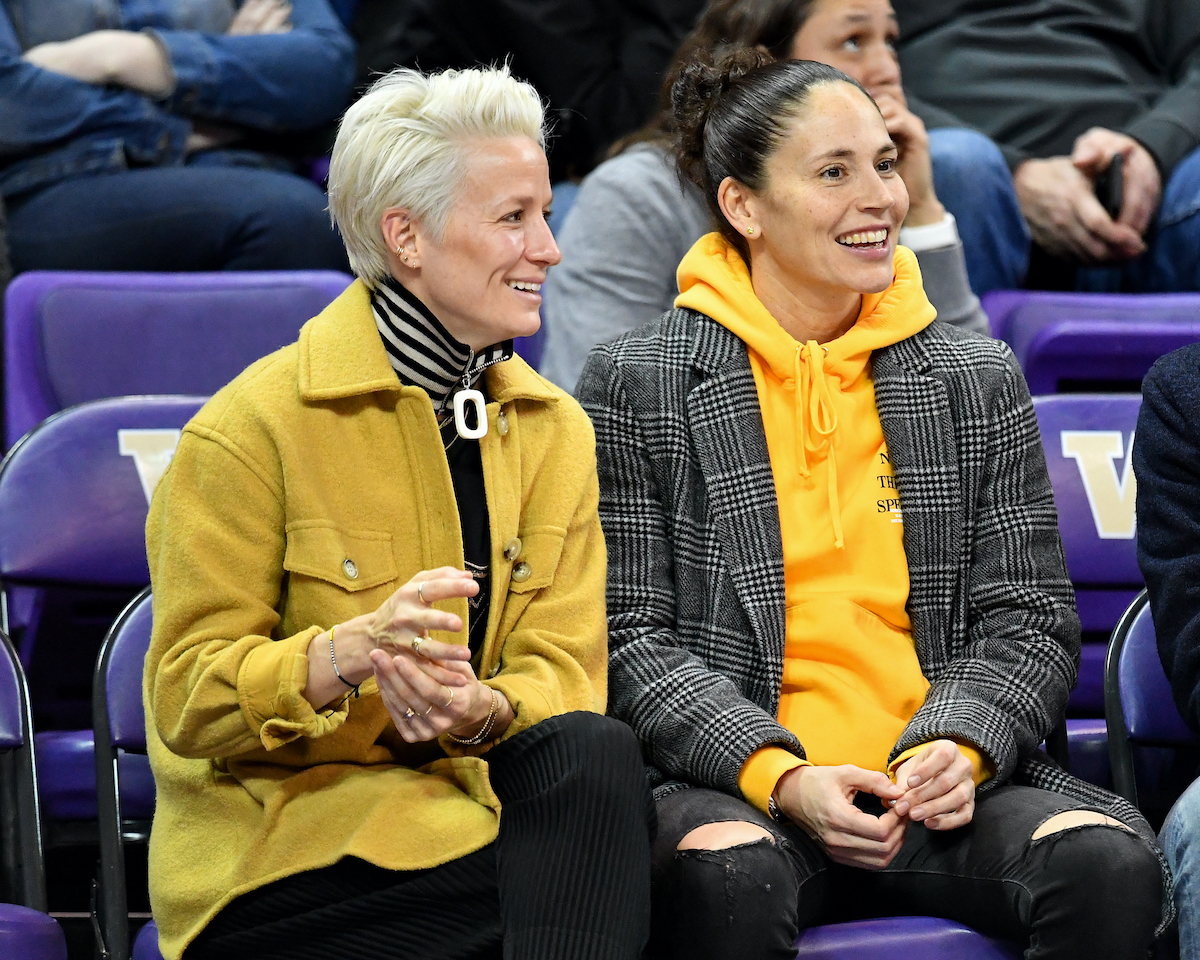 Bird and Rapinoe met at the 2016 Rio Olympics and planned to get together when they got back home to Seattle. The rest is history. Now a sports power couple, O Magazine reports while Bird was in the pool during a vacation with friends to Antigua, Rapinoe got down on one knee and proposed.
She credits much of her success these past few years to Bird, telling GQ, "I really did transform. From a career standpoint, I owe so much to her. In order for me to really get back, I had to be way better than I was before, because [U.S. Soccer officials] were just kind of happy to let this bitch go." 
Between the two, they won't be lacking in cash. Celebrity Net Worth estimates Rapinoe to be worth around $3 million. Most of that is from her soccer salary, plus bonus amounts for reaching the quarterfinals and winning the World Cup.
With the U.S. women in a battle over pay discrimination, her salary has the potential to increase. She also has several endorsement deals since she's such a popular player. Nike, Samsung, and VISA are just some of the companies she works with.
According to Project Hatch, Bird is estimated at $7.5 million. The majority of her earnings came from her basketball salary, both in the U.S. and when she played overseas in Russia. Her front office job for the Denver Nuggets also contributed to her earnings although it's not known how much she made during her tenure. She also has endorsement deals with Nike, State Farm, and American Express.
Combined, the couple's net worth is over $10 million, but it's their abundance of achievements and accolades that turn heads.