Who Were the Highest-Paid College Football Coaches in 2016?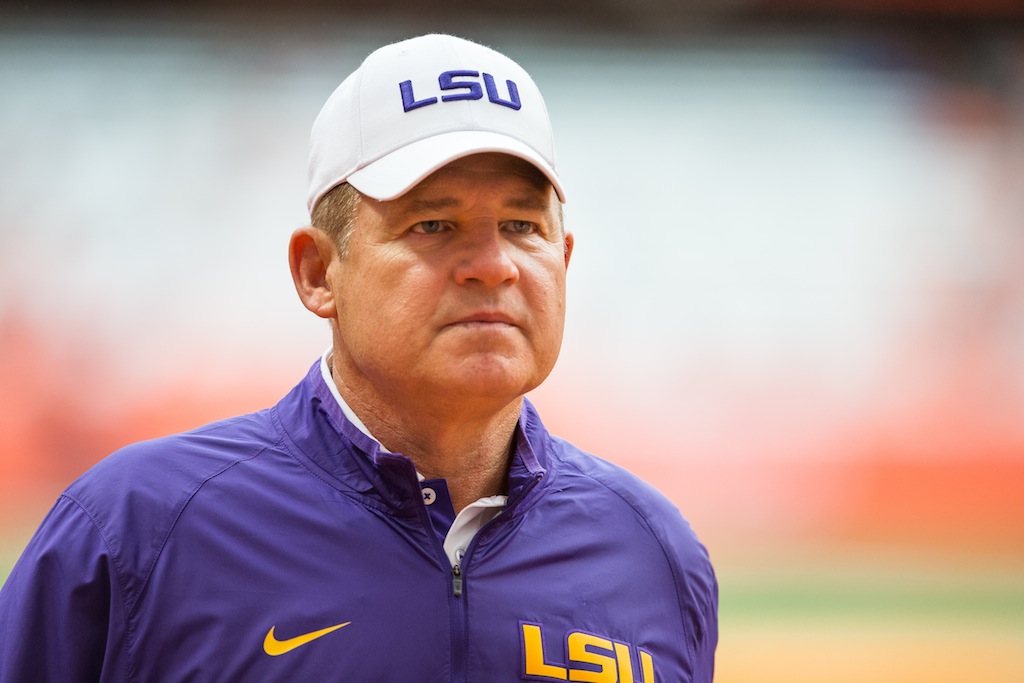 Over the last twenty-five years, big time college football has turned into a billion dollar industry. Television contracts have grown exponentially, bowl game payouts continue to increase, and attendance figures remain massive all over the country. As a direct result, head coaches are now making more money than ever before.
Schools are now finding creative ways — performance incentives, sponsorships, and in some cases, the use of private jets — to compensate coaches. And the results are eye-opening.
USA Today recently released their database of the salaries for every Football Bowl Subdivision head coach in the country (excluding private schools that do not publicly disclose financial information), and there are now 20 coaches (included Les Miles, who was fired by LSU early in the 2016 season) with annual salaries north of $4 million.
With that being said, here is a look at the 10 highest-paid college football coaches in the country.
10. James Franklin, Penn State 
– 

$4.5 million
Penn State hired James Franklin away from Vanderbilt in 2014 after their former head coach, Bill O'Brien, left the college ranks behind to become the head coach of the Houston Texans. Judging by the hefty contract he received, the Penn State administration thinks extremely highly of Franklin's abilities as a football coach.
In his two seasons of guiding the Nittany Lions, Franklin has posted a 25-14 overall record with two bowl game appearances, and recently notched his first signature win over the Ohio State Buckeyes. More importantly though, he has helped revive the program and started convincing big-time recruits that the future is bright in State College, Penn.
9. Hugh Freeze, Ole Miss 
–

 $4.704 million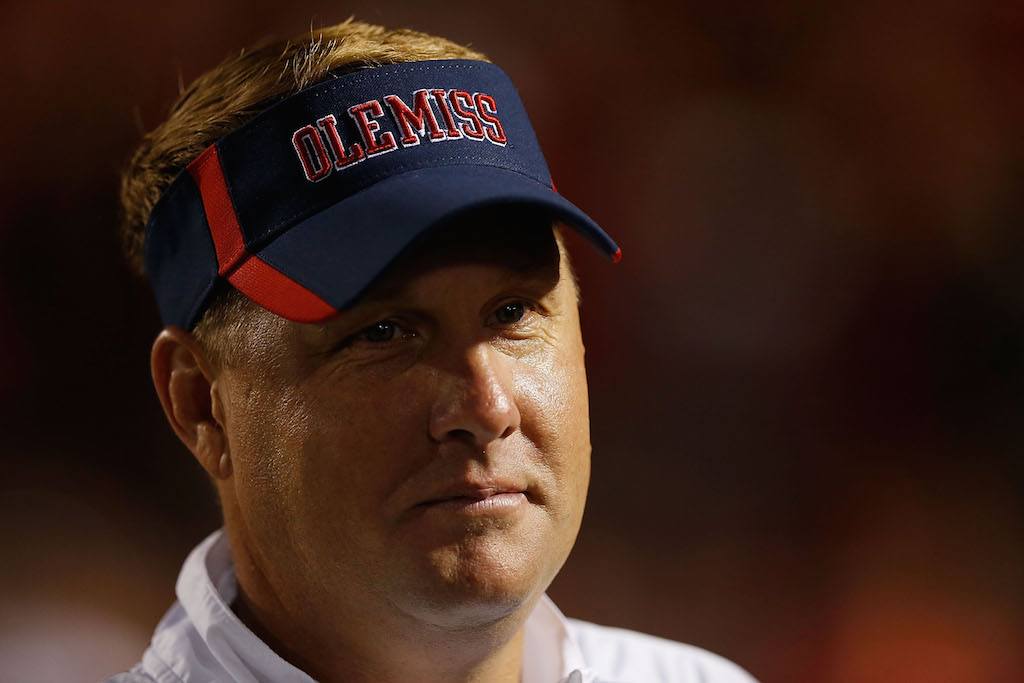 When Hugh Freeze took over at Ole Miss in 2012, he inherited a program that was coming off of a disastrous 2-10 season in 2011. He was able to quickly turn things around in Oxford, Miss., going 7-6 in his first year on the job.
In the three seasons after that, he's led the Rebels to a 30-16 record. He has guided the program to bowl games in every year he has held the job, and he was rewarded with a contract extension this January.
Looking forward, his program is facing potential NCAA sanctions following Laramy Tunsil's draft day meltdown, and the Ole Miss athletic department can't be pleased with the Rebels' 5-7 record in 2016. Knowing this, Freeze may end up facing the chopping block at the end of the season.
8. Gus Malzahn, Auburn – $4.73 million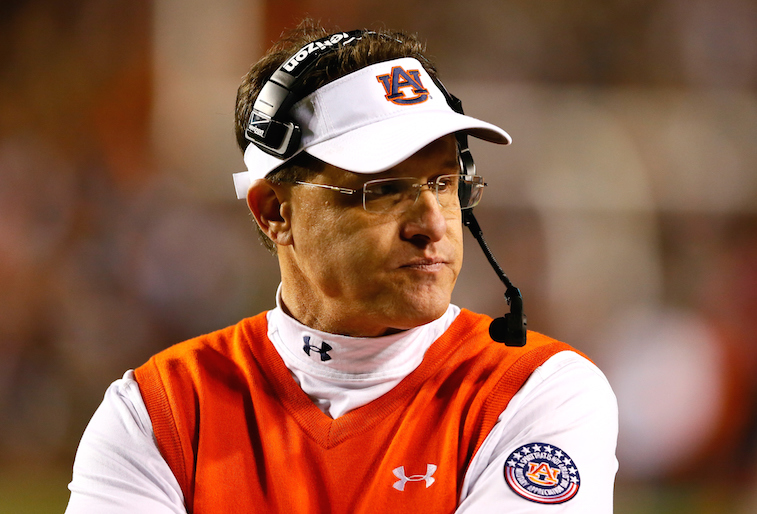 Malzahn is in his fourth season on the job at Auburn. The 50-year-old coach has compiled an overall record of 35-17 with one trip to the now-defunct BCS National Championship Game and two other bowl game appearances during that time. Despite his success — he had Auburn on track to reach a fourth bowl game in his fourth season running the program — Malzahn is currently on the hot seat.
7. Kevin Sumlin, Texas A&M 
–

 $5 million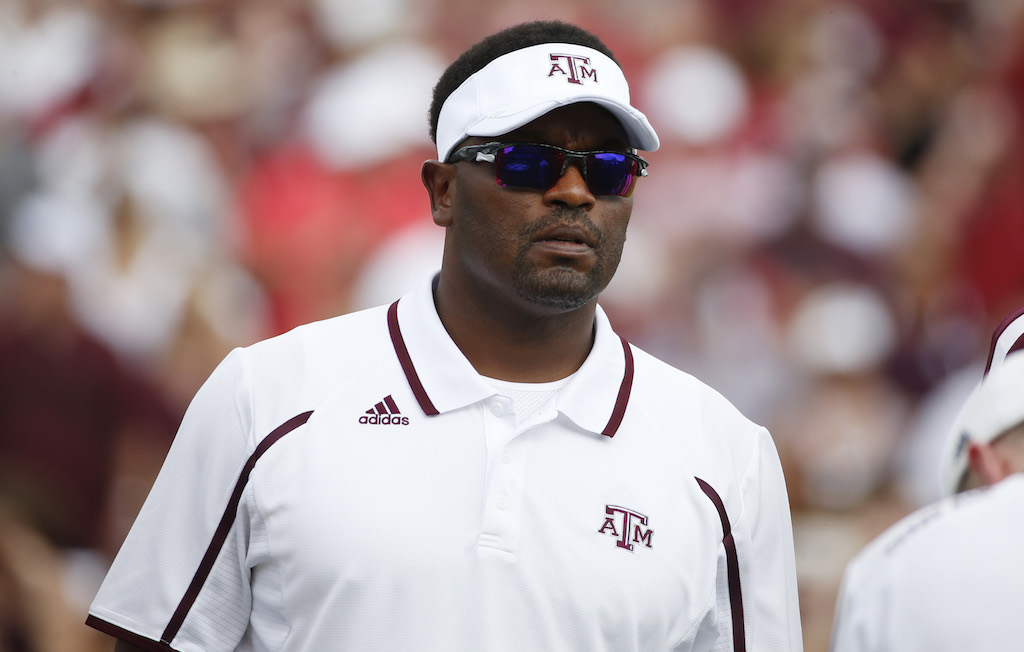 Texas A&M hired Kevin Sumlin away from the University of Houston in 2012, and the 51-year-old coach instantly turned the Aggies into one of the most exciting teams in the country to watch. Under Sumlin, Texas A&M has emerged as an offensive juggernaut and a place where NFL scouts go to find high-quality talent. He has the Aggies off to a fast start this year, and with the toughest portion of their schedule already in the rear-view mirror, Sumlin's team could ultimately end up winning 11 or 12 games in 2016.
6. Charlie Strong, Texas 
–

 $5.2 million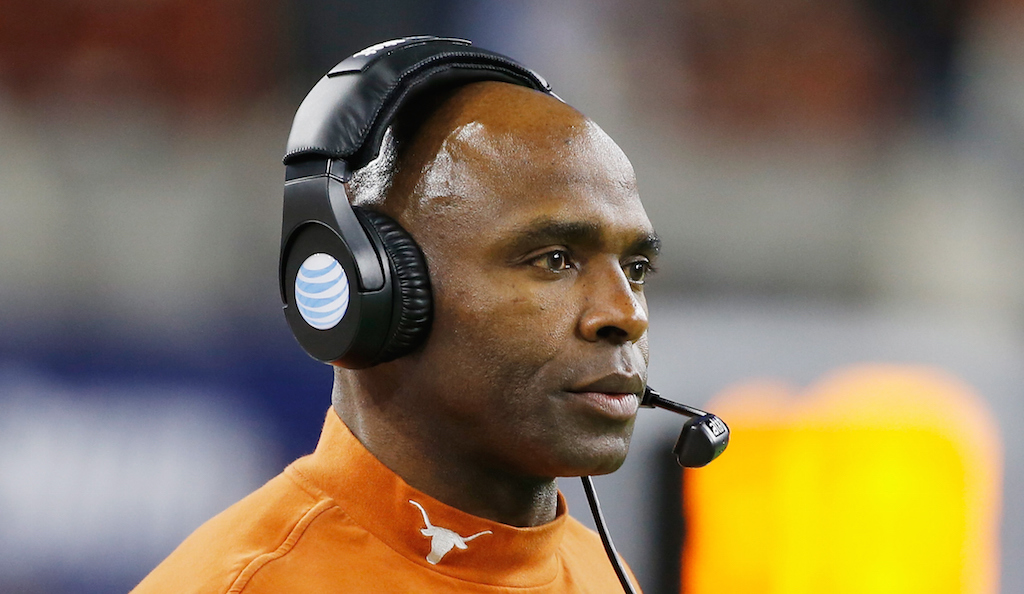 Texas hired Charlie Strong away from Louisville to take over for longtime head coach Mack Brown back in 2014. At the time of his hiring, Strong was one of the fastest rising coaches in the business, but his time in Austin didn't exactly gone as planned.
To be fair, Strong did go in and clean house during his first two seasons on the job. Nevertheless, his two-year record at Texas was 16-21 before he was fired at prior to the end of the season.
5. Jimbo Fisher, Florida State 
– 

$5.25 million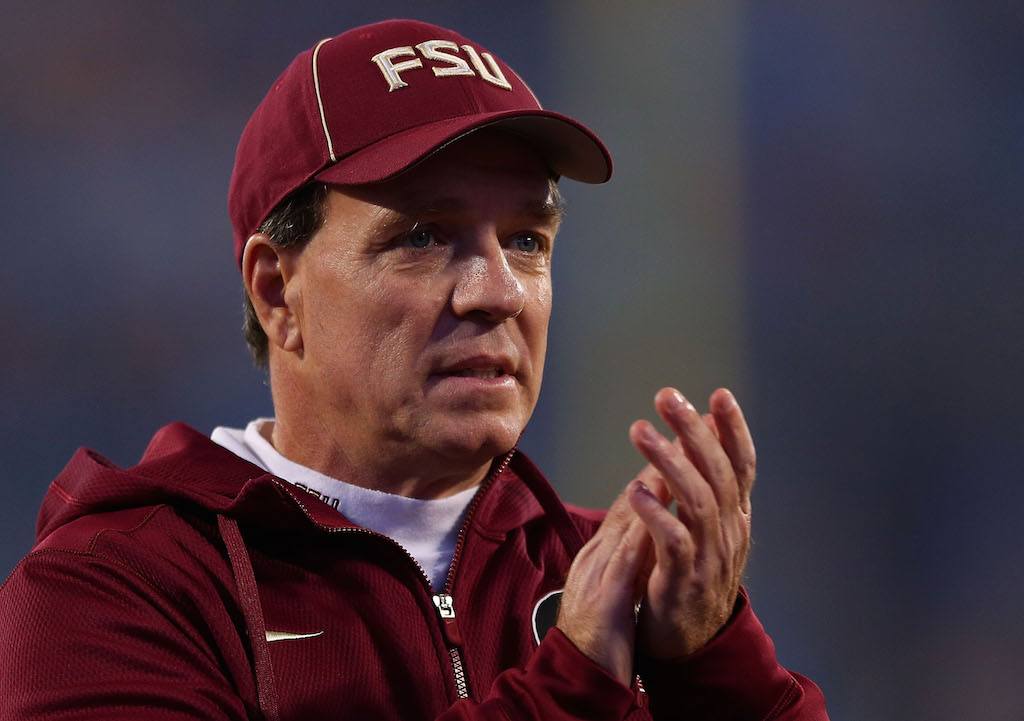 Taking over for a legend is never an easy task, but Jimbo Fisher has made it look extremely simple. Since replacing Bobby Bowden in 2010, Fisher has led the Seminoles to a 77-17 overall record, three ACC titles, one national title, and one appearance in the College Football Playoff.
Knowing this, it should come as no surprise that the 50-year-old coach is among the highest-paid coaches in the country. His recently signed contract extension runs through the 2022 season and could be worth as much as $44 million in total, but that may not be enough to keep him out of the grasps of the LSU Tigers.
4. Bob Stoops, Oklahoma 
–

 $5.55 million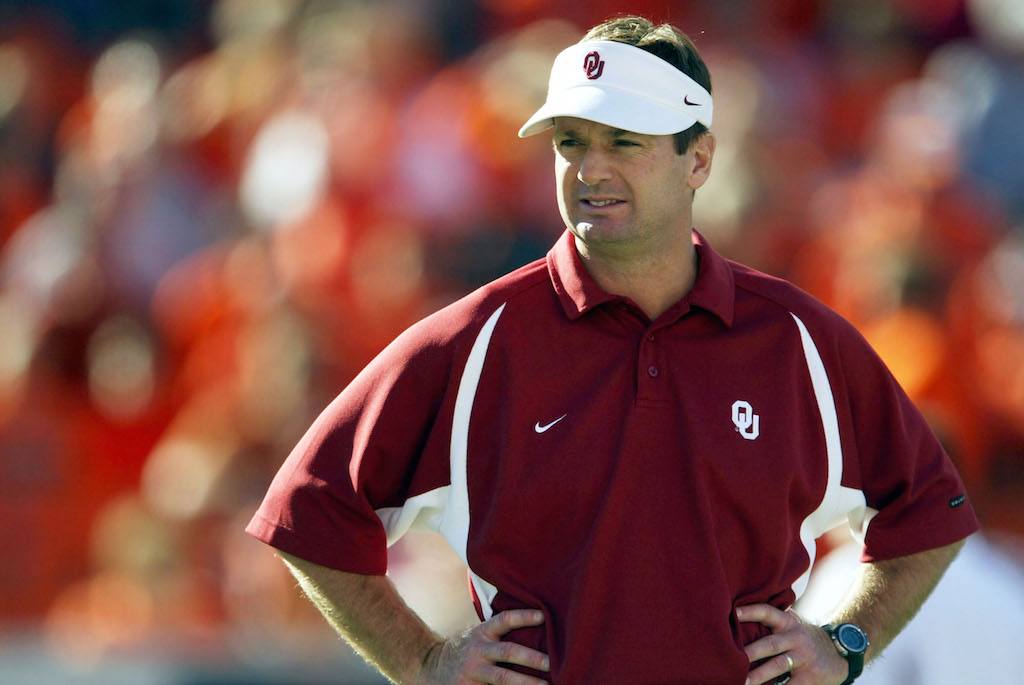 Bob Stoops is the longest tenured head coaches in the Football Bowl Subdivision. In his 18 seasons on the job at Oklahoma, Stoops has put together a Hall of Fame-caliber career.
With a career record of 189-48, Stoops has led the Sooners to nine Big 12 championships and one national championship, won multiple Coach of the Year awards, coached two Heisman Trophy winners, and led his teams to bowl games in every season he has held the position. With a resume like that, it's no wonder that Stoops is one of the most handsomely paid coaches in college football history.
3. Urban Meyer, Ohio State 
– 

$6.095 million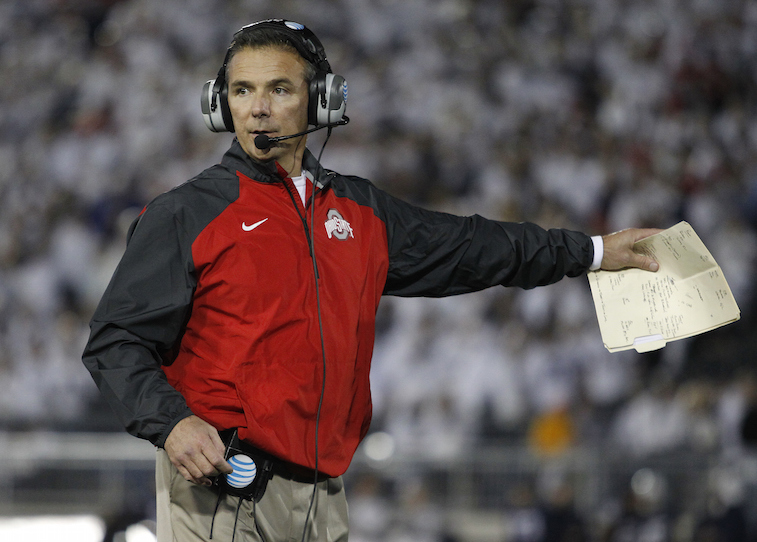 Very few coaches have ever achieved the kind of success Urban Meyer has enjoyed over the course of his career. Every program he has been in charge of has reached new heights under his guidance, and he has proven to be one of the best in the business when it comes to developing NFL-caliber talent.
Since taking over at The Ohio State University in 2012, all Meyer has done is lead the Buckeyes to a 61-5 overall record, one national title, one Big Ten title, and three New Year's Day bowl games. He is one of the highest-paid coaches in college football, and he has been worth every penny to Ohio State.
2. Nick Saban, Alabama 
– 

$6.94 million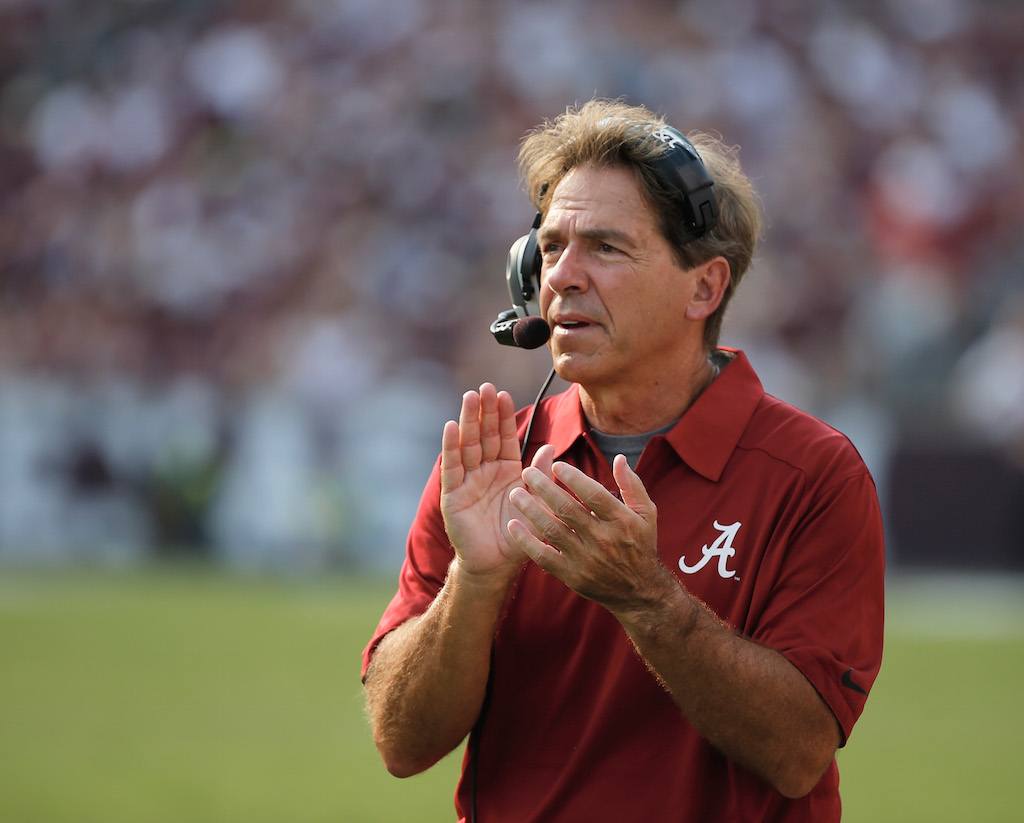 The bottom line here is that Nick Saban is the gold standard in today's college football coaching landscape. Back in 2007, he took over a dormant Alabama program and has since turned the Crimson Tide into a bona fide college football dynasty.
Saban's program is currently on one of the greatest runs in college football history, posting a 118-19 overall record with four national titles, four SEC titles, and two Heisman Trophy winners in nine years. And they looked like the front-runners for the 2016 national championship as well. Needless to say, Alabama has seen and incredible return on their massive investment in Saban.
1. Jim Harbaugh, Michigan 
–

 $9.004 million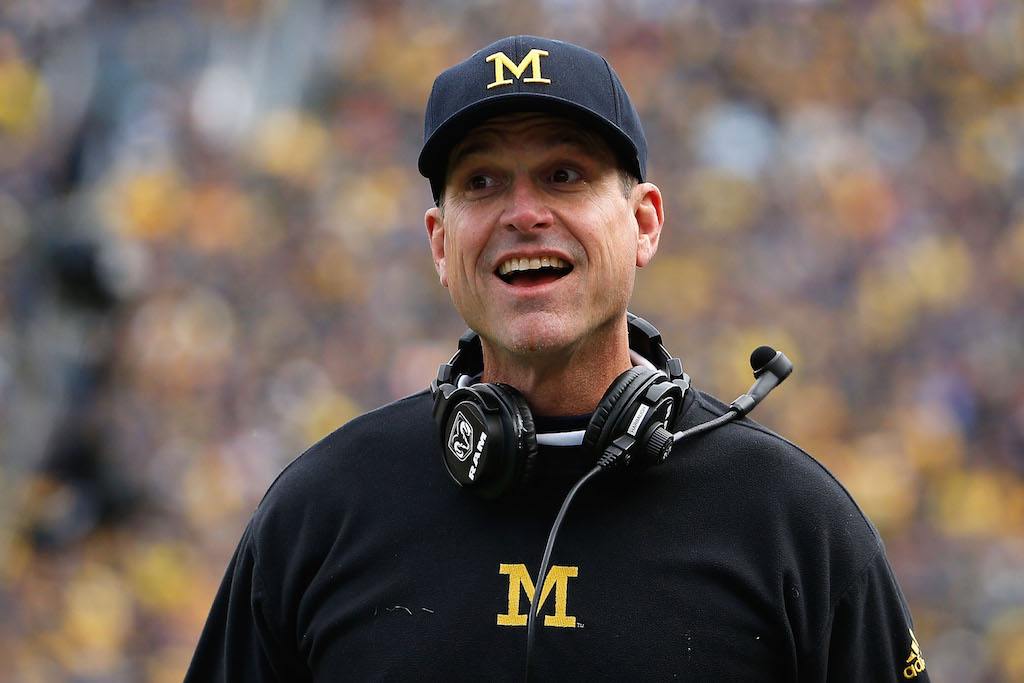 Simply put, Jim Harbaugh is unlike any other coach in college football. He has a huge personality, does things his own way, and demands excellence out of his players and his coaching staff. More notably, though, he is a flat-out winner. In just one year, Harbaugh has taken Michigan from being a mediocre team in the Big Ten to a legitimate national title contender and a force to be reckoned with on the recruiting trail.
For Michigan, landing Harbuagh wasn't cheap — despite the fact that he played quarterback in Ann Arbor from 1983–86. But when it comes down to it, he has already proven to be well worth his enormous contract.
Contract data courtesy of USA Today Sports.