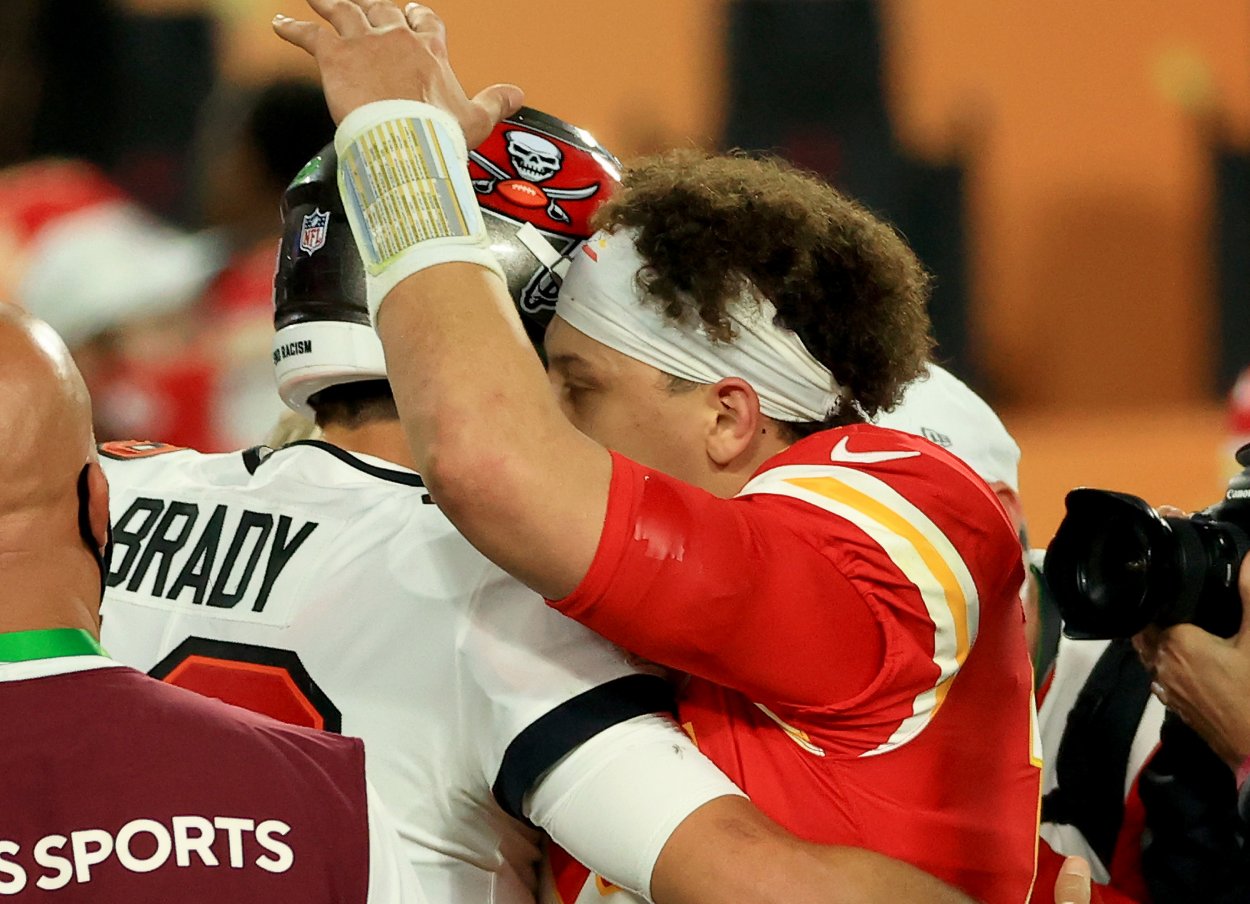 Who Is the Highest-Paid Player in the NFL in 2021?
Kansas City Chiefs quarterback Patrick Mahomes remains among the highest-paid NFL players after signing his massive extension in 2020.
Trust us when we say that this is a great time to be among the highest-paid NFL players. Just ask Kansas City Chiefs quarterback Patrick Mahomes if you're still skeptical.
The NFL's recent TV deals have provided more lucrative contracts for everyone, whether they're starting quarterbacks or special teams aces. But as always, most of the league's highest-paid players are superstars deserving of the honor.
Patrick Mahomes is the NFL's highest-paid player in annual average salary
Ranking professional sports contracts aren't as simple as one might think. Just because someone might have one of the five highest contracts in terms of annual average salary doesn't mean they're earning millions in base salary.
In terms of the average annual salary, Mahomes and his $45 million average salary take the cake for the 2021 season. The Pro Bowl quarterback signed a $503 million contract in the summer of 2020 and should remain among the league's highest-paid players for the years to come.
According to Spotrac, the other players in the top five, at least in terms of average salary, are all quarterbacks. Buffalo Bills star Josh Allen ($43 million) and Dallas Cowboys veteran Dak Prescott ($40 million) joined the club after signing extensions ahead of the 2021 season.
Deshaun Watson, who the Houston Texans still had on their roster as of publication, is right behind them at $39 million. Seattle Seahawks star Russell Wilson rounds out the list at $35 million.
49ers quarterback Jimmy Garoppolo has the highest base salary
We won't blame fans who think Mahomes is the highest-paid player in all areas because of his massive contract. Salaries can get complicated at the professional level.
In terms of base salary, Mahomes isn't atop the pack. Actually, he's only earning $990,000 in 2021, according to Spotrac. He gets his money in other ways, primarily through a restructure which turned his roster bonus into a signing bonus.
San Francisco 49ers quarterback Jimmy Garoppolo will have the highest base salary among NFL players in 2021. He'll earn $24.1 million in his fourth full season with the 49ers, who signed him to a massive extension following the 2017 season.
In terms of average annual salary, his $27.5 million ranks 12th among active players.
Who are the highest-paid non-quarterbacks?
If you scroll through the list of highest-paid NFL players, you'll quickly notice that almost everyone on there is a quarterback. However, a select group of skill players parlayed their success into lucrative contracts and a spot in the club.
Arizona Cardinals receiver DeAndre Hopkins has a $27.3 million annual salary, the 13th-highest number as of Sept. 12, 2021. The three-time first-team All-Pro selection turned 115 catches into 1,407 yards and six touchdowns in 2020, his first season with the Cardinals.
Pittsburgh Steelers pass-rusher T.J. Watt's new contract gives him an annual salary of just over $28 million, the highest total for a defensive player in league history. He recorded 49.5 sacks in his first four seasons.
Another pass-rusher, Los Angeles Chargers standout Joey Bosa, helps round out the top 15. The three-time Pro Bowler has a $27 million average salary and registered 47.5 sacks in his first five seasons.
Cleveland Browns pass-rusher Myles Garrett ($25 million) and Chicago Bears outside linebacker Khalil Mack ($23.5 million) are also in the top 20. This is an extremely good time to be a quarterback or a player whose primary job is getting to the quarterback.
All contract figures courtesy of Spotrac.