NBA
The 3 Highest-Scoring NBA Games in History
Up until Game 7, the 2016 NBA Finals between the Cleveland Cavaliers and the Golden State Warriors featured one lopsided affair after another. While we've been programmed to believe that "defense wins championships," these clubs appeared to go out of their way to disprove this theory; opting instead to take advantage of the surprising number of defensives lapses by the opposition.
As far as postseason play is concerned, this was an odd occurrence. However, when it comes to the regular season, not so much. In a sport where the name of the game is to put the ball in the bucket, there have been many instances throughout NBA where a matchup features two teams that have no trouble scoring, while at the same time have immense difficulty preventing the other from racking up the points.
These high-scoring affairs, while often full of sad defensive play, can be exciting for fans who enjoy offensive dominance. For others — the purists — this is just lazy basketball. Either way, shootouts are part of the game, and nothing's going to change that.
For us, games are usually more exciting when the teams are competing on both ends of the floor. Then again, should a contest feature two teams that each catch fire "NBA Jam" style, we'd be lying if we said this wouldn't entertain us. As it were, these three historically high-scoring affairs would certainly hold our attention.
3. November 2, 1990 
–

 Golden State Warriors vs. Denver Nuggets

Combined points: 320

On November 2, 1990, when the Golden State Warriors traveled to Denver for their opening game of the 1990 NBA season, expectations for this offensively explosive squad, led by Tim Hardaway, Mitch Richmond, and Chris Mullin — better known as "Run TMC" — were high. Of course, as they would soon find out, they weren't the only team in the building that preferred scoring to playing defense.

While Mullin's paced the Warriors game-high 38 points, followed by Hardaway and Richmond with 32 and 29 respectively, Paul Westhead's Nuggets kept things close, courtesy of 37 points from Orlando Woolridge and another 33 points from Walter Davis off the bench.

In the end, however, the visiting team would come out on top, winning the contest by a final score of 162-158. Clearly this matchup was a preview of things to come, as the Warriors — 116.6 (second of 27) — and Nuggets –119.9 (first of 27)  — proved to be the two highest-scoring teams that season.
2. March 6, 1982 
– 

San Antonio Spurs vs. Milwaukee Bucks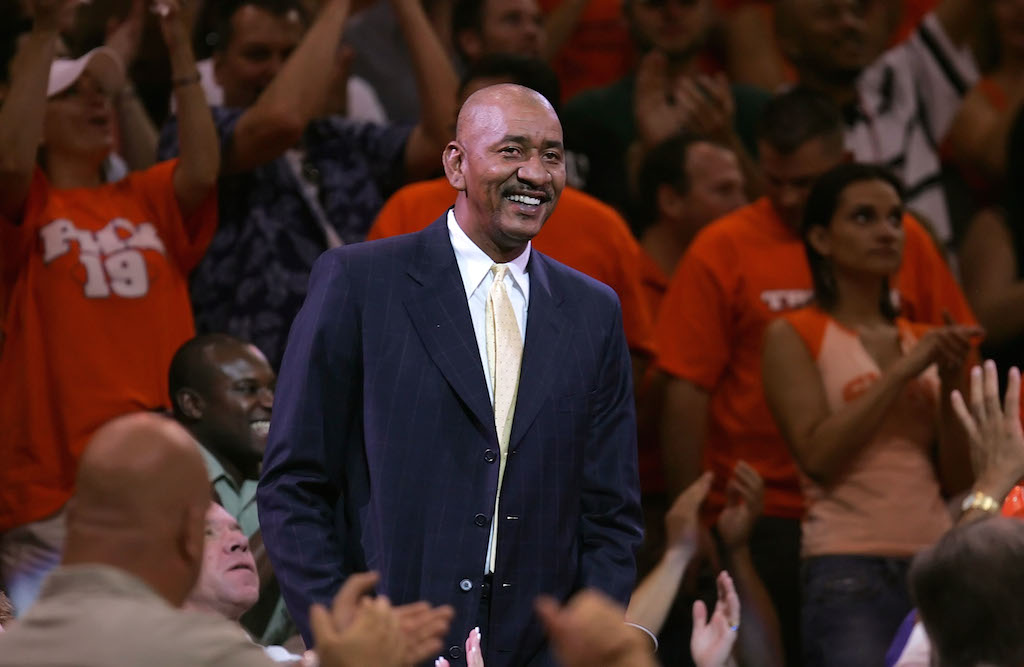 Combined points: 337
On March 6, 1982, the Milwaukee Bucks and the San Antonio Spurs duked it out in a regular-season clash that would need three overtimes to decide a winner. For the visiting Bucks, Brian Winters had the hot hand, connecting on 19 of 25 shots, including two of three from beyond the arc, to finish the game with a team-high 42 points.
Unfortunately for Milwaukee, San Antonio's dynamic duo Mike Mitchell and George Gervin were simply too much to handle. In 58 minutes, Mitchell hit 17 shots, made all 11 of his free throws, pulled down 11 rebounds, and ended the night with 45 points.
As impressive as those figures were, the Iceman actually proved to be a touch more dynamic, knocking down 21 shots, hitting all eight of his free throws, and putting up a game-high 50 points. By the time the final buzzer sounded, San Antonio was the last team standing, notching a crazy 171-166 victory.
1. December 13, 1983 
– 

Detroit Pistons vs. Denver Nuggets

Combined points: 370

Just like the previous game, the December 13, 1983 showdown between the Detroit Pistons and the Denver Nuggets needed three extra frames to crown a victor. Despite having the luxury of playing on their home floor, as well as a 51-point performance from Kiki Vandeweghe, the Nuggets didn't have enough firepower to hold off the surging Pistons.

Behind 35 points from Kelly Tripucka, 41 points from John Long, and a team-high 47 points from Hall of Famer Isiah Thomas, Detroit won the battle of two teams who decided that playing defense was not entirely necessary. With a combined 370 points, courtesy of a 186-184 Pistons win, this showdown is easily the highest-scoring affair in NBA history.

Statistics courtesy of Baskettball-Reference.