History Suggests That Aaron Rodgers' MVP Victory Will Keep Him in Green Bay
To no surprise, Green Bay Packers quarterback Aaron Rodgers won another NFL MVP award. Despite losing in the Divisional Round to the San Francisco 49ers, Rodgers took home the hardware as questions swirl regarding his future.
Will Rodgers be back in Green Bay in 2022? Will Rodgers follow former offensive coordinator Nathaniel Hackett to the Denver Broncos?
At this point, nobody knows. But Rodgers winning the NFL MVP award just might mean a return to Lambeau Field is more likely than not — especially when we look at history.
Aaron Rodgers won another NFL MVP award
The NFL MVP was down to Rodgers and Tom Brady. But Rodgers did well with far fewer weapons than Brady had. When we look at their numbers, it makes sense why both these future Hall of Famers were the finalists for the award.
Aaron Rodgers: 4,115 yards, 37 touchdowns, four interceptions
Tom Brady: 5,316 yards, 43 touchdowns, 12 interceptions
Rodgers threw for fewer yards and touchdowns despite playing one less game than Brady. Rodgers also played in a much different scheme than Brady.
Brady had Chris Godwin, Antonio Brown (for some time), Mike Evans, Rob Gronkowski, and a career-year from Leonard Fournette. Rodgers had Davante Adams, Aaron Jones, AJ Dillon and not much else.
Regardless, both of these players were phenomenal, but Rodgers was simply more valuable to his team. Now, as the Packers enter a crucial offseason, the question remains: What will Rodgers do?
Well, there is some good news for Green Bay, at least looking at history.
NFL history shows that #12 will be back in Green Bay
That's right. An NFL MVP winner has never played for a different team the following year.
That bodes well for the Packers, although this could be the one time the NFL MVP dashes for another jersey. Recently, reports came out that Green Bay was willing to go all-in to keep Rodgers in Wisconsin, and they absolutely should do what they can.
Yes, the Packers have a mess to work out with the salary cap and financial implications, but Rodgers is worth every bit of that stress.
Even at the age of 38, he didn't take a step back. If he leaves, Green Bay will likely miss out on the playoffs next season, and that would very well mean the end of Adams' run with the team as well.
If Rodgers returns, the Packers should be the favorites in the NFC North once again and compete for an NFC title. After all, this might be Rodgers' best shot at getting back to the Super Bowl and it's hard to envision him rocking a different uniform after spending his entire career with the Packers.
Where will Aaron Rodgers play quarterback in 2022?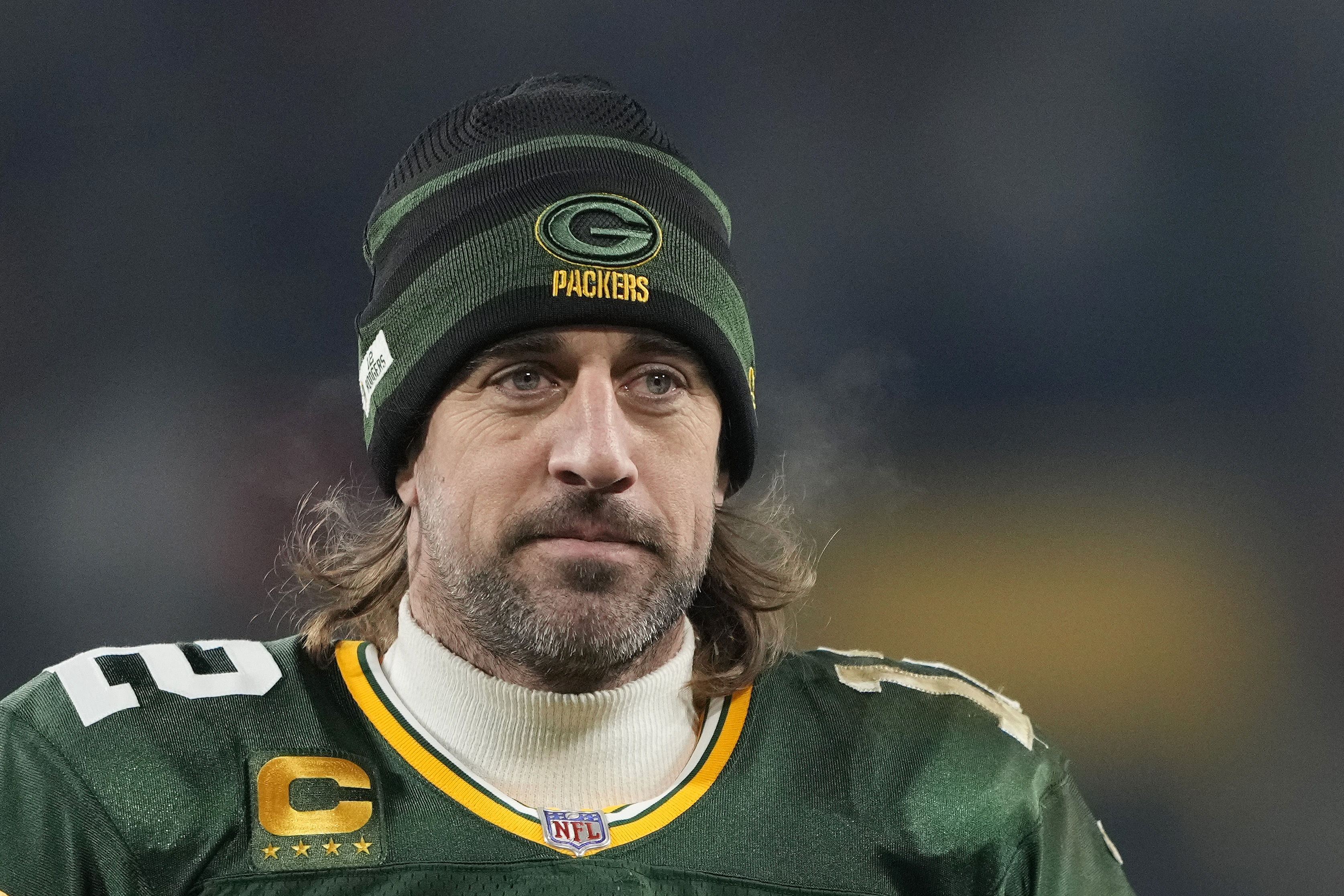 That is the million-dollar question.
When Hackett became the new head coach for the Broncos, Rodgers' moving to Denver made even more sense. After the franchise went all-in to lock up Tim Patrick and Courtland Sutton to give their next QB a flurry of pass-catchers, Rodgers' name came up quite a bit,
Now, the Packers OC became the head coach there, and he and Rodgers have quite the relationship. Brady retired, and the Buccaneers need a signal-caller, especially with their championship window closing quickly.
The Pittsburgh Steelers were another rumor for Rodgers after Ben Roethlisberger retired. And, of course, the Packers are out there waiting and itching to see if he will return.
Rodgers is a wanted man, even more after his MVP victory. While nothing is evident, he did acknowledge that he has had some dialogue with the Packers lately.
"Good conversations" could mean a lot for Rodgers and the Packers. Nonetheless, it seems more and more likely that a return to Green Bay is in the works.
The Packers want him back, and it's tough to think that he packs his bags and starts new somewhere else at this point in his career.
The Rodgers situation will be the most intriguing of the NFL offseason, but history suggests that he is staying put.
Stats Courtesy of Pro Football Reference
RELATED: Aaron Rodgers: The Pros and Cons of the Green Bay Packers Mortgaging Their Future and Going All-in