Holly Holm Defends Her Many Chances to Earn a UFC Title: 'There's a Reason'
Even if the UFC holds events for another 50 years, few moments will compare to Holly Holm's head-kick KO of Ronda Rousey. Many fans believed Rousey would be the GOAT. But the loss to Holm and a followup loss to Amanda Nunes sent Rousey packing for WWE. Since her incredible upset win, Holm has managed only a 3-5 record in the UFC.
Although her losses were against some of the UFC's greatest, (Nunes, Cris Cyborg, Valentina Shevchenko, and Germaine de Randamie) a losing record doesn't seem to justify the three title shots Holm has received since losing the belt. Does she agree? Not so much.
Holly Holm's impact on MMA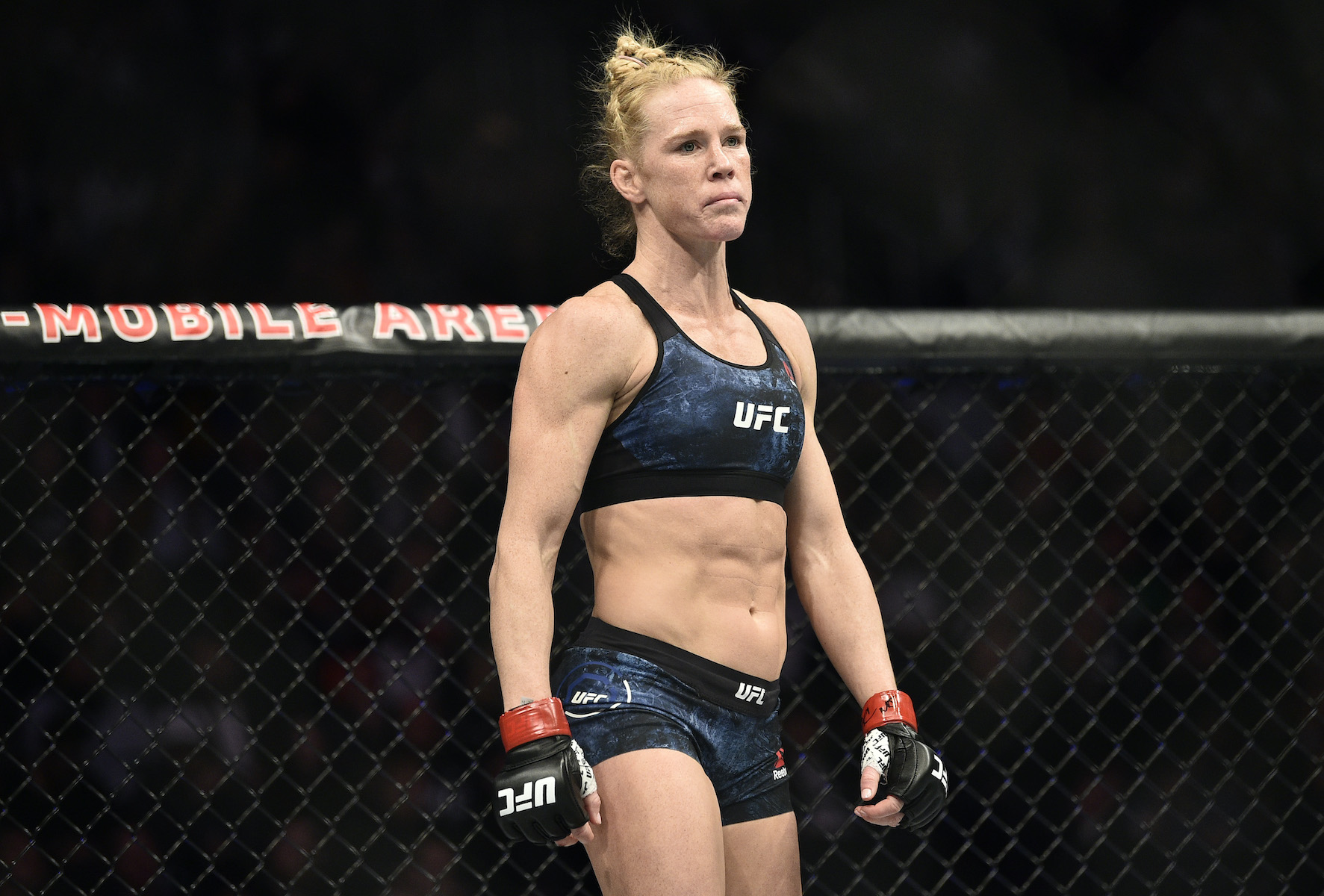 Women's MMA is still a new sport, especially in the UFC. Holm's win over Rousey is an all-time great moment. And Holm continued to be a great force for the sport. She's taken fights that don't suit her, along with short-notice fights against heavily-favored opponents. Holm is loyal to the UFC brand and many of the women's divisions are still filling out.
Without top-level contenders, it makes sense for Holm to step in and create exciting fights in the meantime. It may seem like she's receiving title fights she "doesn't deserve." But much of today's WMMA popularity is built on Holm's career — and she's not exactly pushing more deserving fighters aside.
Despite her up-and-down record, the UFC rankings currently list Holm at No. 2 among Women's Bantamweight fighters and No. 8 among all women. Her losses have been to the pound for pound No. 1, No. 3, and No. 9 fighters (along with Cyborg and Miesha Tate, who no longer compete in the UFC).
If there's an argument that Holm simply doesn't have it anymore, additional evidence is necessary. After retirement rumors swirled in mid-2019, Holm returned to the cage and won a unanimous decision over former title challenger Raquel Pennington. This set her up for another title fight in the near future.
The Ronda Rousey Fight
RELATED: Tito Ortiz Ditched His Meth Addiction to Become a UFC Champion
Prior to facing Holm, Rousey felt the confidence that years of adoration from fans and critics create. "Everybody tries to come at me in different ways," Rousey said, "and I think their approach is going to be the most strategic and well-thought-out, but no amount of strategy can beat me, and I'm going to show them that."
But things turned around quickly in the Octagon as Holm dominated the first round. Moving into the second, commentators wondered if Rousey would go to a decision for the first time in her career. A minute into round two, Holm landed a head kick that won her the belt. She dominated sports headlines for the next week.
The rest of Holly Holm's career
RELATED: Ronda Rousey Absolutely Torched WWE Fans in Brutal New Interview
Since beating Rousey, Holm immediately lost the belt to Tate and managed a total record of three wins, five losses. But no amount of losses diminishes the shock that Holm sent throughout the MMA world when she knocked out Rousey. And some of that shock has certainly played into her title shots.
But that isn't necessarily a bad thing. Holm was the first fighter, man or woman, to win world championships in both boxing and MMA. Her impact will likely be felt for the entire future of women's MMA. She's approaching 40 years old, but the shallow women's divisions she fights in have plenty of space.
Holm's dominance in the boxing ring and strong point-fighting style in the Octagon have kept her largely injury-free throughout her career. Even if she never wins another fight, Holm has contributed a legendary story to MMA history and given boxers the blueprint to succeed.