Home Run Derby 2018: Who Has the Best Chance of Winning?
It's that time of year again for Major League Baseball's Home Run Derby and the 2018 contest will look a bit different from past years.
Here's more on that and what it means for the participants, plus which slugger is expected to be crowned the new champion.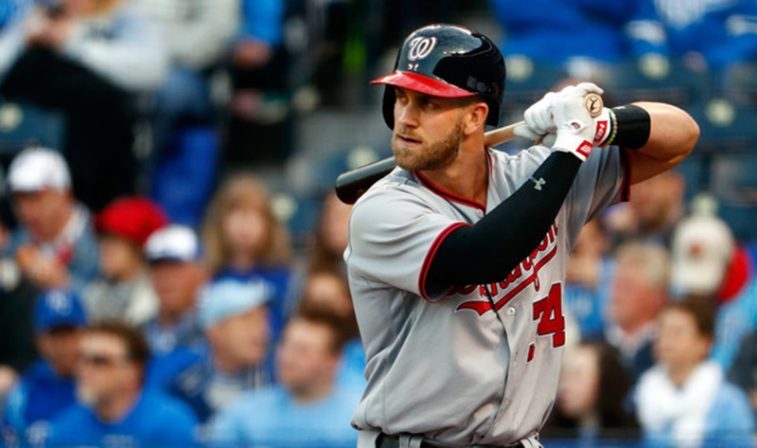 The annual event takes place on Monday night in Nationals Park at 8 p.m. and features eight contenders including one very familiar name for Nats fans.
This year's Home Run Derby will not be divided up by four players from each league. Instead, there will be only one player from the American League, Houston Astros third baseman Alex Bregman. Meanwhile, there will be seven players representing the National League. They are Milwaukee Brewers first baseman Jesus Aguilar, Chicago Cubs outfielder Kyle Schwarber, Los Angeles Dodgers first baseman Max Muncy, Philadelphia Phillies first baseman Rhys Hoskins, Cubs second baseman Javier Baez, Atlanta Braves first baseman Freddie Freeman, and Washington Nationals outfielder Bryce Harper who will certainly have the crowd cheering him on tonight.
Harper isn't the only player familiar with hitting in that park though. Being in the same NL East division Freeman and Hoskins have each swung for the fences several times there as visitors. Freeman has seven home runs in 63 games in the nation's capital and Hoskins has hit four in 38 at-bats there.
Knowing the ballpark may serve as a slight edge for Freeman and Hoskins over the other participants but neither of them are expected to win. Harper is the clear favorite to win it all in front of the home crowd.
The bracket for this event has Aguilar as the No. 1 with 24 home runs so far this year. He'll be going against Hoskins the No. 8 seed who has 14. They each average similar distances with 393 feet vs. 396 and many have predicted that this matchup could be close.
Harper is the No. 2 seed. He is just one home run shy of Aguilar's total this year and is the only player in the contest with previous Derby experience. The outfielder is also the only player in tonight's contest to have a 40-home run season in his career. Harper is up against Freeman at No. 7 who has 16 homers this season. At 28, the Braves first baseman is actually the oldest player in the Derby.
Muncy launched 22 homers and is the No. 3 seed. His opponent is No. 6 seed Baez. Nationals Ballpark isn't the Cubs infielder's favorite place to play since he's never hit a ball out of there, but he'll have a chance to do that tonight.
Finally, Bregman is the No. 4 seed with 20 home runs. He has never played at Nationals Park and is the first Astro to compete in the Derby since Lance Berkman in 2008. His opponent is Schwarber, who racked up 18 home runs so far including one that had 117.1 mph exit velocity, which is the second-hardest-hit homer in the National League this season.
With highs creeping above 90 degrees in D.C. on Monday there should be no shortage of baseballs flying out of the park.