Like Father, Like Son? Houston Rockets Coach Stephen Silas Making a Serious Run at Dad's Record for Futility
It's been an eventful year-plus for Houston Rockets coach Stephen Silas. There just haven't been many good events in that span. Since he was hired on Oct. 31, 2020, Silas has been at the helm for two of the five longest losing streaks in franchise history. That's an impressive body of work for just 89 games in the big chair.
On Nov. 22, the Rockets lost their 15th consecutive game, matching the third-longest skid in team history, taking a 108–90 knockout from the Boston Celtics on the chin. Houston's last win was on Oct. 22. It's also their only win this season. It's put Silas' name near the top of the "which coach will be fired next" lists that were inevitable after the Sacramento Kings escorted Luke Walton from his office on Nov. 21. But on the off-chance Silas survives the season, he'll have a chance to break a record set by his father. Not a good record, but a record just the same.
Stephen Silas has the Houston Rockets streaking again
Last season, the Houston Rockets set a franchise record by losing 20 consecutive games from Feb. 6-March 21. That broke a mark that stood since the club's expansion season in San Diego, when that group of sputtering Rockets ran off 17 straight losses in January and February 1968.
Coach Stephen Silas replaced Mike D'Antoni before the 2020–21 season, inheriting a club that has made eight consecutive playoff appearances and had the best record in the NBA as recently as 2017–18.
Before Silas could finish putting his things in D'Antoni's old desk, someone pulled the chair out from under him. Superstar James Harden demanded a trade, reported out of shape and was gone by mid-January. Houston plummeted from three straight Southwest Division titles to the NBA's worst record at 17–55.
Because Silas' luck has run so well, of course, the Rockets lost the draft lottery to the Detroit Pistons. They selected G League Ignite standout Jalen Green with the second-overall pick. Point guard John Wall is getting the league's second-largest salary to not play in a Rockets uniform.
The young team is turning over the ball 18.2 times per 100 possessions, by far the worst rate in the league. At least the kids are playing at the fastest pace in the NBA, so opponents are getting more opportunities to convert the gifts they receive from Houston ballhandlers.
Stephen Silas is on pace to break his dad's dubious NBA record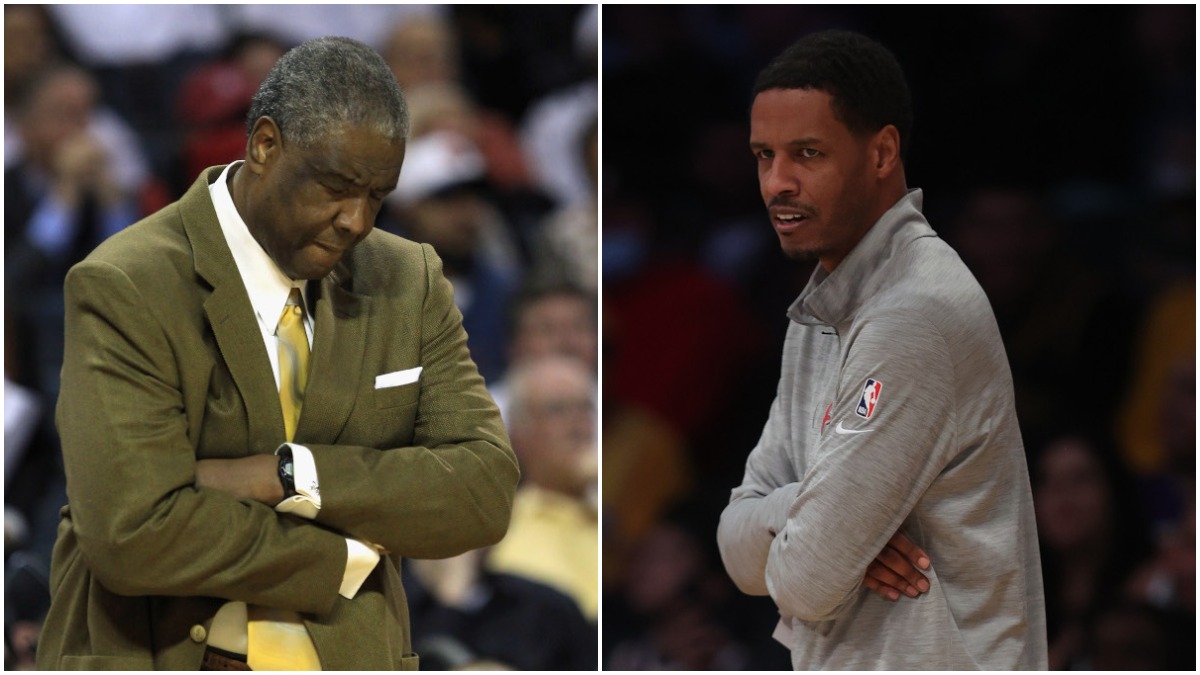 No team in NBA history posted a worse winning percentage than the 2011–12 Charlotte Bobcats. They finished the lockout-shortened season with seven wins in 66 games, a .106 winning percentage that edged the infamous Philadelphia 76ers mark of .110 after their 9–73 debacle in 1972–73.
The coach of that forgettably unforgettable Bobcats squad? None other than Paul Silas, a three-time champion as a player who was, shall we say, less successful as a coach.
His career record in two stints in Charlotte, a year in New Orleans, plus stops with the old San Diego Clippers and the first two seasons(ish) of LeBron James' days with the Cleveland Cavaliers is 387–488. He did get the Hornets version 1.0 to the second round of the playoffs twice, though. So there's that.
Stephen Silas' Houston Rockets are 1–16, a winning percentage of .059. That has the Rockets on pace to finish 5–77. They'd get a slight bump in winning percentage, skyrocketing to .061.
Houston must win eight of its final 65 games to avoid surpassing the 2011–12 Bobcats as the NBA's kings of futility. It's easy to blame the Rockets' woes on youth. They are starting 19-year-old Green and 21-year-old Kevin Porter Jr. (currently out with a thigh injury).
But the other starters aren't kids. Christian Wood and Jae'Sean Tate are each 26, and Daniel Theis is 29. Sixth man Eric Gordon is 33 and in his 14th year. They really shouldn't be this bad.
The worst team in Houston Rockets history was in 1982–83
The Houston Rockets launched a rebuild in 1982. Reigning MVP Moses Malone's contract was expiring. The club opted to re-sign him before trading him to the Philadelphia 76ers and tanking for a spot in the coin flip.
After a 14–68 record, one game worse than the first-year San Diego club managed in 1967–68, Houston won the flip and took Ralph Sampson. A poor finish the following season got them into the coin flip again. This time, they won the toss and got Hakeem Olajuwon. The days of tanking were over. So, too, was the coin flip, replaced by the lottery in 1985.
If the Rockets play the rest of this season at last year's pace (17–55, .236), they'll go 15–50 the rest of the way. Houston would finish 16–66, avoid setting a team record and keep Silas from erasing his father's name in the record books.
We're barely a month into the season, and the Rockets are playing for lottery odds. They'll have to improve to merely awful to avoid becoming the worst team in NBA history. Stephen Silas has endured terrible, horrible luck since taking over the Houston Rockets. Will he be around for what could be an extremely bitter end?
Statistics courtesy of Basketball Reference and Stathead.